Anne Proffit sounds off on the recent news regarding IndyCar's future at Pocono.
Associated Press broke a story today that Pocono is considering dropping IndyCar in the third year of its three-year contract, 2015. After doing some promotion in 2013 and getting a reasonable crowd out of it (30-35,000), it seems that the track run by third-generation promoter Brandon Igdalsky isn't too excited about the number of tickets sold for this Sunday's 500-mile contest, the second race of the Verizon IndyCar Series' Triple Crown.
Polesitter Marco Andretti, Andretti Autosport Chevrolet, second place Ryan Hunter-Reay, Andretti Autosport Chevrolet, third place James Hinchcliffe, Andretti Autosport Chevrolet
The big questions are: has he promoted the event to the maximum? Does he expect people to come simply because he's offering tickets? That's not the way it works in modern motorsports; everyone that's putting on a race has to get the word out continuously in order to get butts in seats. No longer can you say, "We're having a show," and expect the public to bob their heads and say, "Okay, we're in."
Losing Pocono would be a darn shame for the Indy cars, as this is a venerable track that was made for open wheel competition and sure was an exciting venue - albeit with only 400 miles of racing - last year. Even four-time NASCAR Sprint Cup champion Jeff Gordon came to watch on his day off after racing at Daytona; it was held during the same July 4th weekend and was a success, according to people that were there and for those watching at home. Gordon, as the AP story pointed out, was a bit dismayed to see how few patrons came to watch open-wheel racing, compared to NASCAR…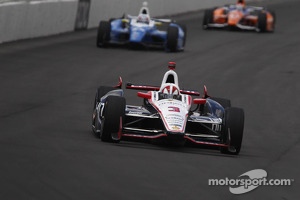 Helio Castroneves, Team Penske Chevrolet
The Verizon IndyCar Series has put on some massively good events this season, the doubleheader at Houston last weekend just the latest in a long line of success stories. Unfortunately, one of the poorly attended events leading up to this one was Texas Motor Speedway (although the "crowd" at Houston was marred by plenty of aluminum faces), the 1.5-mile oval near Ft Worth that used to draw more than 90,000 to watch wide-eyed at the spectacle of tight competition throughout the field.
Since the times when those 90,000 came through the gates, though, Indy car racing has changed its mode of competition, particularly on ovals and certainly for Texas. It seems the series is constantly trying to tweak its oval package so that the racers can race but not die doing it. Now there's a concept, but the show has suffered from the constant meddling and changes to the cars to stop them from running in tight quarters and, on occasion, flying when contact occurs.
If Igdalsky wants a good walk-up crowd for Sunday's race, he'd better get some print and bandwidth information out to the public, letting them know what a massively fine event this will be. And then it's up to INDYCAR to make sure that, in fact, it is a massively fine event. If everyone works in concert on this, both the series and the promoter, maybe Associated Press won't have to write these doom and gloom stories about the best open wheel series in North America (and possibly the world).
Just sayin'