Team Penske
Clean Sweep: Team Penske continued its fast start with Will Power's win in Long Beach two weeks ago. Power (Barber, Long Beach) and teammate Helio Castroneves (St. Petersburg) have combined to win all three IZOD IndyCar Series races in 2012. In addition, each Team Penske driver has won a pole position this season with Power winning St. Petersburg, Castroneves at Barber and Ryan Briscoe in Long Beach.
Power Play: Power has won both IndyCar races on the Streets of Sao Paulo dating back to the 2010 season with the 2011 victory coming from a start on the pole. He has now won seven of the last 11 overall road/street course races and has led a lap in 11 consecutive races.
Company at the Top: Team Penske leads the 2012 IZOD IndyCar Series Championship ranks with Power's 127 total points putting him in first place. Teammate Castroneves is not far behind in second place with 103 total points and Briscoe is ranked seventh in the standings with 73 points.
No Place Like Home: Castroneves returns to race in his hometown this weekend. The native of Sao Paulo will be looking for a strong result after two difficult finishes the last two seasons competing in front of his Brazilian fans. Castroneves claimed 9th place finish in 2010 and he was involved in an early-race accident on his way to a 21st place finish in 2011.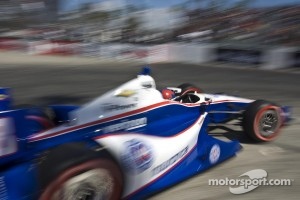 Helio Castroneves, Team Penske Chevrolet
Back to the Podium: After starting the season with a pole win and both a top-five and a top-10 finish, Briscoe will look to get back to the podium in Sao Paulo where he finished third in 2011.
Chevrolet Supremacy: Team Penske is proud to be a contributing member of Chevrolet's return to the IndyCar series this season. Paced by the performance of Team Penske drivers, Chevrolet has taken six of nine combined top-three finishes and 14 of 18 combined starting spots in the Firestone Fast Six over the first three events. Even after all Chevrolet-powered cars were assessed a 10 grid spot penalty for switching engines going in to Long Beach, six of the seven cars that finished on the lead lap were using Chevys.
Turn the Page: This weekend's race on the Streets of Sao Paulo marks the fourth consecutive event held at a street or road course to start the 2012 season. The next race is the first oval event of the season, the Indianapolis 500 on May 27, where three-time champion Castroneves will attempt to win his fourth race at the legendary Indianapolis Motor Speedway.
Top Tier Tires: In 2012 Firestone has received open praise for delivering what Team Penske President Tim Cindric called "the perfect tires," but this weekend in Sao Paulo the weather forecast calls for rain, a challenge that has yet to be seen during race conditions this season.
Street Sensation: Team Penske excels at street course circuits, including winning six of the last seven. Castroneves, Briscoe and Power have all earned road/street course victories over the last several seasons as the overall team produced 30 poles and 20 wins at road/street course venues since 2007. In 2011 Power repeated as the Mario Andretti Road Course Champion after earning seven poles and five wins on road/street courses.
Legacy of Success: Team Penske continues to set the standard of success in open-wheel racing. Throughout its storied history, the team has posted 162 race wins, 12 National Championships and 206 pole positions. In addition, Penske Racing has won the Indianapolis 500-mile race 15 times. Across all of its disciplines, Penske Racing teams have produced 353 major race wins, 414 pole positions and 23 National Championships.
Ryan Briscoe, Team Penske Chevrolet
WHAT THEY ARE SAYING ABOUT THE SAO PAULO INDY 300
Ryan Briscoe (@Ryan_Briscoe): "I am excited to go racing in Brazil this weekend and have another good showing in the Hitachi Team Penske car. The Streets of Sao Paulo are such a great circuit and the huge fan base makes it a fun event to be a part of. We are working hard preparing for the race and I look forward to seeing how the Chevrolet engines favor us on the long straightaway."
Helio Castroneves (@H3lio): "It's always exciting to go back to Brazil and race in front of the home crowd. This is such a fun circuit to drive, the fans are great and I am excited to see what the Chevy engine can do there. We hope to have good weather and get a good finish for the Penske Logistics car."
Will Power (@12WillPower): "It is going to be an interesting weekend as Sao Paulo presents new challenges. This is one of my favorite street courses and the passing points make it a circuit where you really get tested as a driver. The Verizon Team Penske team is going to keep working hard and hopefully we can continue to keep the momentum going."