IndyCar Series press release
Today's IZOD IndyCar Series, Firestone Indy Lights and Mazda Road to Indy headlines:
1. Barrichello completes successful test with KV Racing Technology
2. Rahal, Andretti join Super Bowl promotions
3. By the Super numbers
4. Wilson still reveling Rolex win
5. Helping Hands for Freedom event at Panther Racing
6. Panther Racing CEO receives medal for outstanding service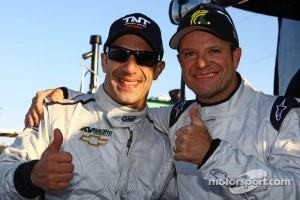 Tony Kanaan and Rubens Barrichello, KV Racing Technology
1. Barrichello completes successful test with KV Racing Technology: Rubens Barrichello apparently was having so much fun driving the No. 5 KV Racing Technology car that he decided to stay an extra day.
The Formula One veteran was scheduled to leave Sebring International Raceway after testing Jan. 30-31 of the new Dallara DW12 chassis powered by Chevrolet's 2.2-liter, twin-turbocharged V-6 engine. He canceled an appointment in Brazil to get in more laps Feb. 1 before turning over the No. 11 entry to longtime friend Tony Kanaan for the remainder of the session.
"It's been a really good morning," said Barrichello, who totaled 334 miles over the three days. "I was able to do a lot of laps in Tony's car and very happy to be in the No. 11. It's been my favorite number all my life. My feedback I think will be very beneficial to Tony and the whole team and I am satisfied with what we have achieved. I leave Sebring now with a good taste in my mouth."
Barrichello's smile at the completion of the first two days was an apt display of the sense of accomplishment. He had positive thoughts about the car, the atmosphere of the IZOD IndyCar Series and his abilities after a four-month layoff.
He left with an open invitation to compete in the series, and with options. Racing on ovals (there presently are four on the schedule, with the Indianapolis 500 on May 27 the first after four road/street course events) isn't a deal-breaker. An oft-repeated statement to that effect was made without consideration of ever competing in the IZOD IndyCar Series.
"I never thought I could come over to this side because I thought I would race 25 years in Formula One and I should be over and couldn't come this way," said Barrichello, who has made 332 F1 starts. "I did say that. It came out of my mouth. It is a not a big issue. It is not a problem. There are so many different situations that I could run. I could run on the road tracks; I could run Indy. There are so many options available, and I'm thankful for the choices at age 39 and still going fast in the car. That's all I could pray for when I was a kid.
"(He and wife Silvana) I'm sure we'll be talking about it. I'm not putting pressure on it; I have to think it through. If you go purely from joy, it wouldn't be a problem. I still have so much passion for the speed and I'm quite young in my mind and I'm not up to my top level of fitness. I'm just getting better and better.
"I'm just a kid enjoying myself. I woke up a few times before the alarm and wondered if I was on time because I was excited to get behind the wheel."
Another option for Barrichello, of course, would be a return to Formula One with another team. He said the move to replace him in the second seat at Williams F1 was precipitated by team economics and not his driving.
"I have an open mind," said Barrichello, who broke into F1 with the Jordan team. "I've been living there for 19 years and have been a fan of the Indy series for a long period as well. I've been to Indy, Milwaukee, Sao Paulo and many tracks. I like what I saw always; it's a great atmosphere with great racing."
Team co-owner Kevin Kalkhoven said "his feedback is amazing."
"Whatever happens for the future, all I said is I want Kevin, (co-owner) Jimmy (Vasser) and Tony to remember the day that I was here and say that Rubens tried it, made us go faster and let's try that at different circuits," Barrichello said. "I'm truly happy with the times I set and like what I saw."
Kanaan won't necessarily lobby his compatriot.
"Knowing Rubens, his timeline will be pretty short," said the 2004 IZOD IndyCar Series champion, who is entering his second year with the team. "You can tell by his face he's having a lot of fun."
2. Rahal, Andretti join Super Bowl promotions: Graham Rahal isn't concerned if he's upstaged by a celebrity Bulldog.
Rahal and Butler Blue II, the Butler University mascot, both spent an hour in front of the lights last week in filming "Super Bowl's Greatest Commercials," which will be broadcast at 8 p.m. (ET) Feb. 1 on CBS.
It was an opportunity to showcase the IZOD IndyCar Series and the City of Indianapolis, which is playing host to the NFL championship game Feb. 5.
Rahal's segment was filmed with celebrity fitness expert Jillian Michaels. Blue II shared the camera with Michaels and model Adriana Lima.
"Maybe I am taking second place," said Rahal when informed of the canine's on-camera companions. "I got a call from Robert the producer last night and he said mine was going to be the best part of the show, so I hope it is."
The segment was filmed at the new Dallara Automobili facility on Main Street in Speedway, Ind.
"It was fun and great to be with Jillian Michaels," Rahal said. "I must say she was awesome. I came to find that she's quite the gearhead actually; she loves cars, motorcycles and is a big Indy car fan. (For the conclusion of the scene) she got in the two-seater and had to go burning out of the building into the parking lot. She did an amazing job for someone who had never driven a race car with a clutch and all. For her to launch out of that I think she had some fun.
"I'm excited to see it."
Marco Andretti is also involved in a Super Bowl cross-over promotion between the Speedway, the IZOD IndyCar Series, the NFL and entertainment outlets this week in Indianapolis.
"Late Night with Jimmy Fallon" taped a segment, featuring Marco Andretti "racing" his Indy car against a Chevy Malibu with Fallon. The episode airs on the show at 12:35 a.m. (ET) Feb. 2.
3. By the Super numbers: Super Bowl XLVI will be contested Feb. 5 in Indianapolis, which is synonymous with another annual event that's been contested a tad bit longer: the Indianapolis 500.
There are multiple tie-ins between the Indianapolis Motor Speedway, the IZOD IndyCar Series and the NFL in the days leading up to the big game at Lucas Oil Stadium, including the Speedway playing host to a party for media from around the world.
So here are some numbers they can chew on relating "The Greatest Spectacle in Racing" to the 46th title game:
• Car No. 46 has appeared in the Indianapolis 500 13 times (1911, 1929-30, 1932-36, 1947, 1960, 1967 and 1979-80).
• The best finish for car No. 46 was third in 1980 with Gary Bettenhausen driving.
• The best start for car No. 46 was 11th in 1932 with Luther Johnson driving.
• A lap time around the Indianapolis Motor Speedway track of 46 seconds is an average speed of 195.652 mph.
• An average speed of 46 mph around the 2.5-mile Indianapolis Motor Speedway would take 3 minutes, 15.65 seconds.
• Bobby Unser ran the first sub-46-second qualifying lap. It was his second qualifying lap on May 14, 1972. His final two laps were also under 46 seconds.
• 46: Emerson Fittipaldi's age when he won in 1993.
• The 46th Indianapolis 500 was won by Rodger Ward in 1962.
• The 1946 Indianapolis 500 was won by George Robson.
• 46: Combined starts for brothers Al (27) and Bobby Unser (19).
4. Wilson still reveling Rolex win: Justin Wilson was more than happy to tell people the time.
The Dale Coyne Racing driver arrived at Sebring International Raceway about 24 hours after co-driving the winning Michael Shank Racing with Curb/Agajanian entry in the 50th anniversary Rolex 24 at Daytona. He teamed with AJ Allmendinger, Oswaldo Negri Jr. and John Pew.
Of course, Wilson was sporting the winner's watch from the title sponsor (though he'll have to withdraw a few links in the band for it to fit properly). Wilson took in the completed Honda-powered No. 19 Dale Coyne Racing car, which he'll be shaking down Jan. 31 on the Sebring short course, for the first time.
Wilson, twice at runner-up in the endurance race on the 3.56-mile, 12-turn Daytona International Speedway course, earned the victory in his fifth attempt. It was the first for Shank, who will enter a car in the 2012 IZOD IndyCar Series season.
"It's a fantastic feeling to finally do it," said Wilson, whose final stint in the early morning lasted more than 3½ hours. "It was flat out. We gave it everything on every lap and took every opportunity."
Six teams with INDYCAR drivers finished in the top 10 of the race.
5. Helping Hands for Freedom event at Panther Racing: Helping Hands for Freedom, a military charity that supports military children of fallen and wounded soldiers, will host its "Touchdown for Heroes Championship Party" from 5-10 p.m. Feb. 4 at Panther Racing. It's open to the public.
The party will feature live music, silent auctions, racing simulators, appearances by professional athletes and a stand-up comedy program that will include nationally recognized comedian Mark Viera.
Proceeds from the event will be used to help military children in Indiana through Helping Hands for Freedom. Tickets start at $100. For more information, visit www.hhffparty.com. Panther Racing is located at 5740 Decatur Blvd. in Indianapolis.
6. Panther Racing CEO receives medal for outstanding service: Panther Racing CEO and managing partner John Barnes last week was presented the Arizona Adjutant General's Medal for outstanding service and unwavering commitment to the United States National Guard.
The National Guard returns as the primary sponsor of the No. 4 Panther Racing car to be driven by JR Hildebrand in the 2012 season.
"I'm just unbelievably humbled by this honor and have to thank my good friend Gen. (Hugo) Salazar for everything he's done for Panther," Barnes said. "I say it all the time, but we're just doing what we feel is right for the soldiers who serve this country. I feel like every honor we receive as a team is more a testament to the hard work they do and how eager we are to help support those efforts."
Said Salazar: "Patriot citizens such as yourself have made the National Guard a proven operational force that is always ready and always there to defend America both at home and abroad. Your efforts reflect great credit upon yourself, your family and the Panther Racing team."