Birmingham
POWER LEADS OPENING DAY PRACTICE AT BARBER MOTORSPORTS PARK
Will Power, Team Penske
BIRMINGHAM, Ala. - Will Power, the pole sitter in the inaugural IZOD IndyCar Series race at Barber Motorsports Park in 2010, took a step to repeating that performance by topping the time chart through two practice sessions on the 2.38-mile, 17-turn natural-terrain road course April 8.
Power, driving the No. 12 Verizon Team Penske car, had a best lap of 1 minute, 12.7502 seconds in preparation for the Honda Indy Grand Prix of Alabama presented by Legacy. Scott Dixon was second quick (1:13.0272) in the No. 10 Target Chip Ganassi Racing car. The top 12 cars were separated by a second, and six different teams were represented in the top 10.
A 20-minute practice session early April 9 precedes three rounds of qualifications that will determine the PEAK Performance Pole Award winner and set the grid for the 26-car field.
Also on April 8, Peter Dempsey was the quickest of 15 Firestone Indy Lights drivers at Barber Motorsports Park in practice for the 40-lap race April 10 with a best lap of 1 minute, 18.8609 seconds in the No. 36 Pulse/02 Racing car.
DAY 1 NOTEBOOK:
The IZOD IndyCar Series will compete in the Honda Indy Grand Prix of Alabama, a 90-lap race at 2:45 p.m. Sunday. The Firestone Indy Lights will compete in the Grand Prix of Alabama, a 45-lap race at Noon Sunday. Both races will be televised live by VERSUS. The Star Mazda Championship- part of the Mazda Road the Indy ladder system - is also racing this weekend. Star Mazda will race at 1:45 a.m. Sunday.
*
Live timing and scoring reports from the Honda Grand Prix of St. Petersburg are available on the Internet at www.indycar.com. The live timing and scoring module provides statistical information, including track segment speeds, lap information and much more.
Feature stories, reports, driver quotes and notes, and photos will be posted on the site each day. More detailed information, including media advisories and VNF coordinates, is available at media.indycar.com.
*
Drivers will have 20 uses of the Honda overtake assist -an ECU software alteration - available for the race. It is activated by the driver via a button on the steering wheel and provides an extra 200 RPM (about 10 horsepower) to the Honda Indy V-8 engine. Parameters are updated before each race weekend to meet the circuit layout.
Each use will have a15-second duration, and there's a 10-second recharge period between uses. One overtake assist push will be available for the race day warm-up session.
*
Firestone tires
Firestone Racing is introducing a new primary tire this weekend while returning to Barber Motorsports Park with a proven alternate tire. The primary tire features the same body construction as the 2010 Barber primary, with an updated tread compound designed to produce a similar performance level as the 2010 spec. Teams participating in last month's Open Test at Barber Motorsports Park ran this tire spec.
"We're supplementing that with a very familiar Firehawk alternate tire that served as the alternate at both Barber and Edmonton last year, as well as the primary spec at Infineon," Firestone Racing executive director Al Speyer said.
*
First time a charm?: James Hinchcliffe, the 2010 Firestone Indy Lights championship runner-up, makes his IZOD IndyCar Series debut this weekend in the No. 06 Sprott Newman/Haas Racing entry.
The last time a rookie (Graham Rahal) in an NHR car missed the opening round of the season (2008) he won in his first race (St. Petersburg).
"Thanks, Graham," Hinchcliffe said about the precedent.
*
Strategist and Rahal familiar: Tim Keene will be the race strategist for Graham Rahal's No. 38 Service Central Chip Ganassi Racing entry. He's the team manager and race strategist for the Chip Ganassi Racing with Felix Sabates No. 01 TELMEX entry in Grand-Am. Keene worked with Rahal in the Rolex 24 At Daytona in January - a race they won.
*
A.J. Foyt returns to action in Alabama: After passing up the season opener to have a stent put in his main artery, A.J. Foyt is returning to pit lane this weekend.
"I feel pretty good," said Foyt, who will be watching Vitor Meira drive the No. 14 ABC Supply car. "I'm glad to be back." Meira finished eighth at St. Pete.
ABC Supply CEO David Luck is a 1971 graduate of Auburn University and is a staunch supporter of his alma mater, where he established an endowed professorship in the university's College of Business. He will attend the race.
Streaks and such: Tony Kanaan will attempt to make his 133rd consecutive start, the active leader among IZOD IndyCar Series drivers. Scott Sharp holds the series record with 138. JimmyVasser, co-owner of KV Racing Technology-Lotus for which Kanaan drives, holds the all-time record of 211. … Nine different teams were represented in the top 10 at St. Petersburg. … Thirteen different countries are represented on the IZOD IndyCar Series entrant list for Barber. Twelve different countries are represented on the Firestone Indy Lights entrant list.
*
The strongest aftershock following the devastating 9.0 magnitude earthquake and subsequent tsunami March 11 rocked northeastern Japan late Thursday local time, killing two people and piling misery and burdens on the region.
"It was very fortunate they didn't a tsunami this time, but it was still a big earthquake and it cut all the electricity," said IZOD IndyCar Series driver Takuma Sato, who a few weeks ago began a campaign to assist residents of his homeland. "It's still a very difficult time there."
"The 'With you Japan' campaign with IndyCar has started out quite brightly," Sato said. "At St. Petersburg, a photo was taken of drivers hand in hand, and it shows the support to Japan. People are getting the message."
"It was very fortunate they didn't a tsunami this time, but it was still a big earthquake and it cut all the electricity.
The main objective, according to Sato, is to support children, who have been affected not only by the loss of material items but by the sudden loss of family members, friends and schoolmates.
"(Children) are really having difficulty after the disaster," Sato said. "This is the main objective and hopefully for the long term I'd like to help as many as possible."
IZOD IndyCar Series drivers have donated their driving gloves, helmets, visors, etc., already for auctions on a Website that likely will be unveiled by next weekend, according to Sato. A texting system for donations also is being developed.
"At Long Beach we'll announce the way want to support the campaign properly and hopefully collaborate with other campaigns," he said.
At Barber Motorsports Park this weekend, spectators can make monetary donations through the Friends of Honda American Red Cross Donations. Collection boxes are located throughout the venue.
*
IZOD IndyCar Series officials have put cones out on the track 200, 300 and 400 feet from the start/finish line in order to help IZOD IndyCar Series drivers evaluate the various location for the restart zone for Sunday's race. INDYCAR officials will determine the restart zone based on the drivers' recommendation on a potential restart zone for the race. The zone will be announced in Sunday morning's driver meeting.
*
Johnny Rutherford knew the occasion, when a hot IZOD IndyCar Series driver would tie him for 10th on the all-time victory list, was coming sooner rather than later. He welcomed Dario Franchitti into the elite club.
"I think it's great. Records are made to be broken," said Rutherford, who amassed 27 victories in a four-decade Indy car career.
Franchitti reached the milestone in the Honda Grand Prix of St. Petersburg on March 27 in the No. 10 Target Chip Ganassi Racing car, and will seek to add another victory this weekend in the Honda Indy Grand Prix of Alabama presented by Legacy.
"The top 10 didn't occur to me until somebody mentioned it the other day," said Franchitti, who had been tied with Rodger Ward. "To me, the things that stuck out were obviously the 27 wins and to be alongside J.R. Not to blow smoke up his skirt but he's a legend of the sport.
"That's a big deal and something I'm really proud of, so hopefully we can keep going."
Next up for Franchitti is Rick Mears (29 wins), who recorded his first victory at The Milwaukee Mile in 1978. Among his victories (22 under CART sanction and seven under USAC) are four in the Indianapolis 500. Tied at seventh on the list with 31 victories are Paul Tracy Sebastien Bourdais, both of whom are still competing in the IZOD IndyCar Series.
Helio Castroneves and Scott Dixon (25) also could move into the top 10 this season.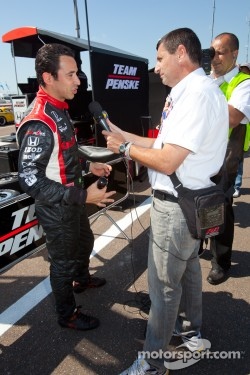 Helio Castroneves, Team Penske
"I can remember when I was fourth, fifth and then sixth in the standings," said Rutherford, who among his duties with INDYCAR is driving the Honda Accord Safety Car. "These young guys are earning their legendry. I enjoy my job in the Safety Car now because it's something that needs a lot of attention just like driving the race cars. I try to be an ambassador of the sport that's given so much to me and so is Dario. He's a great champion."
A.J. Foyt (67), another four-time Indy 500 winner, is the all-time leader. Nos. 2-6 are Mario Andretti (52), Michael Andretti (42); Al Unser (39); Bobby Unser (35) and Al Unser Jr. (34), the Firestone Indy Lights driver coach.
FIRESTONE INDY LIGHTS QUOTES:
PETER DEMPSEY (No. 36 Pulse/O2 Racing Technology): "Practice today went really well. The track has changed a lot since testing here in March. This made practice a lot trickier than everyone was expecting. For some reason we were running about three seconds slower on our pace than we did at the open test earlier in the year. Unfortunately, I locked up a tire and we had no other choice but to put on a new set of tires at the end of the session. We put on the new tires and I was hoping that would make us quick. I posted the fastest lap of the day just slightly faster than Anders Krohn. I think the wet session is going to help us this afternoon since it won't give anyone more track time. This allows us more time to work on the car and get ready for qualifying and hopefully put it on the front row again. This is the first time I have been at the top of the time sheet after practice, so I am proud to give the 02 Racing Technology team a top speed. We have a good car going in the Pulse / 02 Racing entry and we will work hard overnight to make some adjustments and get ready for tomorrow. It feels like the car is right where I want it so I just need to pull it all together in qualifying and hope that is enough to earn the pole position."
ANDERS KROHN (No. 9 Liberty Engineering Racing Special, second-fastest): "Practice today was very valuable for us as we weren't able to be here during the open test. We didn't have the opportunity to learn as much about the track as the other drivers did at the open test, but hopefully now we are catching back up. I think we made a step in the right direction during the second practice session. The times will tell for qualifying as there is not a lot of track time available for us to practice here. I am hoping we can get up to speed and stick it in the top five tomorrow. We will be spending some time making adjustments to the car and our strategy. Overall today was a good day for the Belardi Auto Racing team."
CONOR DALY (No. 77 Mazda Road to Indy/Sam Schmidt Motorsports, third-fastest): "The (SSM) cars are all good. It was a lot more encouraging for me today than the test. I was a bit worried after the test about coming back here. But immediately, the car was good. It was strange track conditions today. I am confident for tomorrow, though. We might make a few more small changes for qualifying in the morning. There were a few wet spots When we finally went out, and you knew the fastest car would be the last one to take the checkered flag because it was getting dryer every lap. But, we're not worried about that."
JOSEF NEWGARDEN (No. 11 Robo-Pong/Sam Schmidt Motorsports, fourth-fastest): "If there was a place where this was going to happen (rain), this was a good place for it to happen because we had pre-season testing here and we have some knowledge to go off of. So, it really didn't mess up our program today. As far as our checklist goes in what we wanted to accomplish in both sessions, I don't think we got everything done but we certainly got through the key things we needed to do. I was really surprised how well the track felt this afternoon. Though I only did two laps, it felt great. It felt better than it did in the first session."
ESTEBAN GUERRIERI (No. 7 Lucas Oil/Sam Schmidt Motorsports, fifth-fastest):"It was a surprise how different the track felt this afternoon compared to the earlier session. We knew it was going to be very slippery for the first session because on the track walk yesterday we could see all the loose rubber on the tarmac from the touring cars. We had trouble with the set-up this morning. But in just two laps this afternoon, the car felt real good and we are eager to see what happens tomorrow."
VICTOR CARBONE (No. 3 Neuvoni/Sam Schmidt Motorsports): "I think we are looking good for tomorrow. I am pretty comfortable and confident. It was a pretty tough day today, but tomorrow is going to be good."
*
Mike Conway, Andretti Autosport, Danica Patrick, Andretti Autosport, Marco Andretti, Andretti Autosport and Ryan Hunter-Reay, Andretti Autosport
Andretti Autosport announced Thursday that its #27 entry driven by Mike Conway will race in support of Window World Cares at select IZOD IndyCar Series events in 2011, beginning with this weekend's race at Barber Motorsports Park in Birmingham, Ala.
Window World Cares is Window World Inc.'s charitable foundation used for donations, community outreach programs, and other benevolent events. Since its creation in 2008, Window World Cares is responsible for raising more than $1.6 million for St. Jude Children's Research Hospital - enough to operate the hospital for one day.
Although it maintains a large focus on St. Jude Children's Research Hospital, Window World Cares also helps sponsor the Veteran's Airlift Command, which provides free transportation to injured soldiers, veterans and their immediate families.
Conway, who is in his first season with Andretti Autosport, posted a career-best qualifying result of second at Barber in 2010 before driving to a ninth-place finish on race day.
"This is a nice opportunity for me to represent a great organization in a high-profile manner and work with them to make a difference for those that are most deserving," Conway said. "Window World Cares has already done some great things in just three years and I hope oureffort this season will help them further along toward their goals."
*
Medical update from Dr. Michael Olinger, INDYCAR Medical Director: E.J. Viso was checked and released from the infield care center. He is cleared to drive.
IZOD INDYCAR SERIES QUOTES:
WILL POWER (No. 12 Verizon Team Penske, fastest of the day): "It wasn't a very good session for the Verizon Team Penske car. We had a few problems. We need to have a good think tonight about what we need to do. I wasn't really happy at the end. I went out on new tires this afternoon when everyone else was on old tires and I was able to get on it fairly quickly. This morning we had the same pace as this afternoon. I think the track got a bit slower and we need to find the pace."
RYAN BRISCOE (No. 6 Penske Truck Rental, third-fastest): "I think we've unloaded a good car here at Barber this weekend. Team Penske did some good work and preparation from our pre-season test here. We didn't do a lot of running today, but we know the Penske Truck Rental car is good, now we'll just work on making it better for tomorrow. "
SCOTT DIXON (No. 9 Target Chip Ganassi Racing, second fastest): "It was a demanding day as the weather was extremely tough with the rain. Since it was cooler, it was really hard to get the car the way you liked it balance wise and I think this is why you saw so much shuffling going on with the practice sessions. Overall the Target car was good and we were there all day. We didn't end up with the quickest time, but I think we have good speed in the car. Tracks like this that are high speed demand a lot of grip, and when it warms up you have no grip and the downforce is less."
Dario Franchitti, Target Chip Ganassi Racing
DARIO FRANCHITTI (No. 10 Clorox, fourth-fastest): "Today was certainly a lot better than the open test here. Although we are closer to the front, we are still struggling and it doesn't feel that great. Judging on everyone else's time, I think that several drivers are feeling uncomfortable. We will look at it overnight and the team will hopefully come up with some magic and we will see what we got for tomorrow."
HELIO CASTRONEVES (No. 3 AAA Insurance Team Penske, fifth-fastest): "The AAA Insurance car was pretty good today and it's good to finish in the top five. We're still working on some things, trying to find better balance in the car. The weather was a little bit different today than what we saw in the test here at Barber so we had to adjust. We'll continue working hard and hopefully we'll have an even better result tomorrow in qualifying."
GRAHAM RAHAL (No. 38 Service Central, sixth-fastest of the day): "Service Central Chip Ganassi Racing made huge gains this afternoon. The first practice session didn't go as planned; we tried information from the Open Test, but the track changed and it just didn't work. We made big changes, biggest changes I've ever seen, and it proved to work for the second session. The guys did a great job."
ORIOL SERVIA (No. 2 Telemundo Newman/Haas Racing, seventh fastest): "The day started strange; we are still trying to figure out what happened. The Grand-Am series ran in the morning and all day yesterday and there was a lot of different rubber on the track that we thought wasn't going to affect us too much. But the truth is that in the first session, both of our cars were very, very different to what they were at the test and the setup was the same. Not only were we slow but the cars didn't feel the same. We changed the Telemundo car a little bit for the second session but it got a lot better. We think it was just that the track got cleaner when it rained and it became a lot closer to how it was at the test and we were a lot closer to the guys at the front like we were at the test. We didn't get to run a second set of tires in the second session like some guys did so I think we are closer to where we were at the test - fifth or so. There is still more in the Telemundo car. It's only Friday so we hope to keep improving for qualifying and the race which is were the points are given."
JAMES HINCHCLIFFE ( No. 06 Sprott Newman/Haas Racing, ninth-fastest): "I think we had a respectable first day. Obviously, we came here with different conditions than we had at the test, other series were here and the weather is different. We struggled a little bit this morning in the first practice but the guys worked really hard in a very short break between sessions and we made big improvements on the cars. For the first day on the job as an Indy car driver getting a top-10 in practice for the Sprott car is pretty good. I think there is a little bit more time in it but it's just so competitive. I sit here and think 'Man, I wish we could be a couple of spots higher' and then I look at the names of the guys who are a couple of spots higher and think 'No wait, I shouldn't be anywhere near this.' The racer in me wants a little bit more but realistically I think the Sprott team had a really good first day. Thank you to the team for all of the hard work today."
ALEX TAGLIANI (No. 77 Bowers & Wilkins/Sam Schmidt Motorsports, 15th-fastest): "We had more things we wanted to do than we had time for. Staying out of the first session because we are in the top 10 didn't help, but we'd rather be in the top 10 than in the track. I'm fairly please with the way we funneled out the things that are good and the things that are bad. We are a little bit better than what we show on the time sheet. I think we're a top 10 car for sure. That's quite decent for us on this track. Last year, and even now, we struggled a little bit with the set-up but we made some pretty big gains. At the end there, we had a fairly good car to put us in the top 10 we couldn't do the good lap because of the wreck (Viso). I'm very happy with the way things progressed throughout the session considering the limited time we had."
SIMONA DE SILVESTRO (No. 78 Nuclear Clean Air Energy/HVM Racing, 17th-fastest): "Well, we only did five laps in the first session, so that wasn't great. But in the second session, I think we improved the car throughout the run. In qualifying tomorrow, it's going to be important to put a lap together and I think we're going to be able to do that. The guys have worked really hard and I'm confident we can have a solid qualifying run out here tomorrow."
CHARLIE KIMBALL (No. 83 Novolog and Levemir FlexPen, 21st fastest): "I continue to keep learning every time I'm in the No. 83 Levemir and NovoLog FlexPen car. We made a lot of changes today - the track is different from the Open Test, but we made progress. The Novo Nordisk Chip Ganassi Racing team will put all of the information together from today and we'll go out and get it done for qualifying tomorrow."
TAKUMA SATO (No. 5 KV Racing Technology - Lotus): "It was a difficult, but productive day. We learned a couple of things from the last test and came here this weekend with a different philosophy, which seems to be starting to work. We collected valuable data today, but we have a lot of work to do to improve the car and we need to put everything together for tomorrow."
Danica Patrick, Andretti Autosport
E.J. VISO (No. 59 PDVSA - KV Racing Technology - Lotus): "It's been a mixed day. In the first practice session we made a lot of changes and little by little we made progress. Unfortunately the session was cut short because of the rain. The second session, I felt the car was much better, however despite a good entry into turn one, my exit was too fast and I found the tire wall. Qualifying here is very important and it's hard to overtake, so I am hoping for a good result tomorrow."
TONY KANAAN (No. 82 GEICO - KV Racing Technology - Lotus): "Today we struggled a lot. The first session was cut short because of the rain, which didn't help. For the second session we tired something I really didn't like and we just ran out of time to make the necessary adjustments."
RYAN HUNTER-REAY (No. 28 Team DHL/Sun Drop Citrus Soda): "It was an up-and-down day with the rain. It kind of knocked us out of our rhythm a little bit. But, we're eighth and within reach of the top five, certainly, so we'll go to work tonight. The DHL/Sun Drop car is definitely a lot better than it was last year, so that is a big positive. The gap is only going to close tomorrow; all the competition is going to get tighter, so we're going to have to make some improvements tonight."
MARCO ANDRETTI (No. 26 Team Venom): "We've got some work to do on the Venom car overnight, for sure. But, I think we can get where we need to be. We were experimenting a bit today, but now we're going to go to what we know and hope that it is the right thing for us."
MIKE CONWAY (No. 27 Window World Cares): "I think we're OK, overall. We just went the wrong direction a little bit in the second practice, so we didn't get much time out of the car, but we'll be alright. We'll revert some changes, see what the other guys learned and be ready to go in the morning."
DANICA PATRICK (No. 7 Team GoDaddy): "I feel good about practice today. After looking at timing and scoring, the GoDaddy.com car isn't that far off the leaders. I'm hopeful we'll have a strong qualifying run tomorrow. Overall as a team, our cars are solid so I think it will be a good weekend."
*
The 2011 IZOD IndyCar Series continues with the Honda Indy Grand Prix of Alabama on April 10 at Barber Motorsports Park. The race will be telecast live in High Definition at 3 p.m. (ET) by VERSUS. The race will air live on the IMS Radio Network, XM channel 145 and Sirius channel 212 and www.indycar.com. The 2011 Firestone Indy Lights season continues April 10 at Barber Motorsports Park with the Barber 100. The race will be telecast live in High Definition at Noon. (ET) by VERSUS.
-source: indycar