1. Vautier claims another Mazda Road to Indy scholarship: With his racing career at a crossroads in Europe, Tristan Vautier saw opportunity in America in 2010.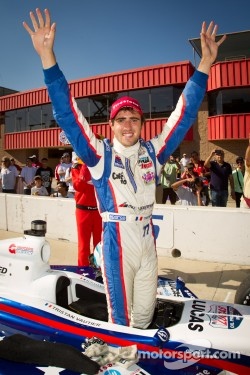 Indy Lights series 2012 champion Tristan Vautier, Sam Schmidt Motorsports celebrates
INDYCAR announced that it was starting a driver development ladder which would provide a defined path from karting to the highest level of the sport - the IZOD IndyCar Series. Vautier jumped at the chance.
"I came over to the USA because of the Mazda Road to Indy," Vautier said after becoming the second Frenchman to win the Firestone Indy Lights title in three years. "I was struggling getting up the ladder in Europe and I knew that if I was coming over here and was able to win the Star Mazda championship I would be able to get into the bigger cars. That was the goal."
For Vautier, who celebrated his 23rd birthday on Aug. 22, the Firestone Indy Lights title is his second consecutive championships - joining the Star Mazda title he won with JDC Motorsports in 2011.
He accomplished the feat this season against a stout lineup of competitors by accumulating four victories, 10 total top-five finishes and five Sunoco Pole Awards.
"It was a hell of a season," Vautier said. "It was hard work out there. It was not the kind of season where you take the lead at the start of the year and then manage it.
"I'm very thankful to my team, Sam Schmidt Motorsports. They did a heck of a job all year. Always gave me a great car, but they were as well very good at teaching me to get up to speed with this car, and I cannot be thankful enough to them."
Up next is likely graduation to the IZOD IndyCar Series where Vautier has earned a scholarship of up to $ 1 million to take to the next level.
"I cannot be thankful enough to Mazda for what they do for young drivers. Obviously, you have to earn it. You have to win championships. But it really rewards the winners. (Teams) don't pick you up because they like you; they pick you up because you earned it. You have to win to get into this scholarship system so I'm really thankful to that.
"Hopefully next year we'll be able to make the other step. It's going to be a tough one, but we're going to work hard to try to make it happen."
2. Inside the Box Score - MAVTV 500: Numbers to note following the MAVTV 500 the championship-deciding race of the 2012 IZOD Indy Car Series season.
1 - Win by Ed Carpenter with Ed Carpenter Racing. The last owner-driver to win an IZOD IndyCar Series race was Adrian Fernandez who also won at Auto Club Speedway in October 2004.
3 - Final margin in points between Ryan Hunter-Reay and Will Power in the final point standings. It is the closest margin since 2006 when Sam Hornish Jr. beat Dan Wheldon on a tiebreaker. Only INDYCAR 1996 (Tie between Scott Sharp and Buzz Calkins), CART 1999 (Juan Pablo Montoya won tiebreaker over Dario Franchitti) and CART 1985 (Al Unser Sr. beat Al Unser Jr. by 1 point) were closer margins. It also tied the 1989 CART championship where Emerson Fittipaldi beat Rick Mears by 3 points.
4 - IZOD IndyCar Series titles for Andretti Autosport. The team, which won the 2012 IZOD IndyCar Series title with Ryan Hunter-Reay, previously won with Tony Kanaan (2004), Dan Wheldon (2005) and Dario Franchitti (2007).
7 - Different teams represented in the top 10 positions at Auto Club Speedway.
9 - Finishing position of Katherine Legge, her best Indy car finish since she finished 6th at Las Vegas in 2007.
12 - Different leaders in the MAVTV 500
18 - Positions gained by Ryan Hunter-Reay en route to his championship-clinching fourth-place finish at Auto Club Speedway, most of any driver in the field.
29 - Lead changes. The most at Auto Club Speedway since 2002, when there were 39 lead changes…Second places by Dario Franchitti in his Indy car career. Franchitti tied Helio Castroneves and Scott Dixon for seventh on the all-time list.
56 - Laps led by JR Hildebrand, most of his Indy car career. James Jakes (10 laps) and Josef Newgarden (1) also set career highs for most laps led.
62 - Laps led by Ed Carpenter at Auto Club Speedway. Carpenter entered the race having led 63 laps in his Indy car career.
88 - Podium finishes for Dario Franchitti in his Indy car career, tying Al Unser Jr. and Bobby Rahal for fifth on the all-time list.
196 - Consecutive Indy car starts for Tony Kanaan dating to the 2001 CART race in Portland. Kanaan is second to Jimmy Vasser's 211 straight starts.
2012 IndyCar Series Season By the Numbers
2 - Races won by the pole sitter.
4 - Drivers who made first Indy car start - Jean Alesi, Rubens Barrichello, Bryan Clauson, Josef Newgarden.
8 - Different winners in the 15 races in 2012…Different pole winners in the 2012.
9.9 - Average number of lead changes per race.
12.2 - Average number of cars running on lead lap at the finish.
16 - Different drivers to finish on the podium in 2012.
18 - Drivers who competed in all 15 races.
19 - Average number of cars running at the finish.
21 - Drivers who led at least one lap.
22 - Different drivers with at least one top-five finish in 2012.
25.8 - Average number of starters.
35 -- Drivers who competed in at least one race.
1,968 - Total race laps. Helio Castroneves completed 1,965 laps, most of any driver.
3,503 - Total miles in 2012.
3. Brabham crowned USF2000 champion at VIR: Third-generation racer Matthew Brabham added to his family's championship-winning pedigree claiming the Cooper Tires USF2000 Powered by Mazda Championship title at Virginia International Raceway.
Brabham secured Cape Motorsports with Wayne Taylor Racing's second consecutive title in the Championship class by outlasting teammate Spencer Pigot in a season-long duel.
"I am over the moon at how the whole year went," said Brabham, the son of sports car and Indy car driver Geoff Brabham and grandson of Sir Jack Brabham. "I didn't expect to come into the year and, within the first couple of races, to be up to the front straightaway. So, my goals changed pretty quickly and I was going for the championship for the rest of the year."
Brabham only needed to finish 14th in the season-finale at VIR and finished eighth behind Pigot, who won a series best eight races -- including a sweep at VIR. Brabham credited his teammate for pushing him to the championship, which includes a scholarship from the Mazda Road to Indy to advance to the Star Mazda Championship.
"Spencer [Pigot] was really quick all year," Brabham said "We pushed each other so much, and I think we were in a class of our own the whole season and I am sure that he and I will be racing together the whole way up. It was definitely a good rivalry. I learned a lot and we pushed each other and learned more probably with pushing each other."
Norway's Henrik Furuseth helped Cape Motorsports with Wayne Taylor Racing sweep the series titles by winning the National Class title with two dominating race wins, to capture the title as USF2000 National Class Champion.
The feat is even more impressive when considering this was Furuseth's first year of racing in North America. The charismatic driver from Eidsvoll, Norway won the Scandinavian Formula Basic Championship last year, and with another championship title in the bag his sights are set on the 2013 season.
"My first season in the US has been amazing," he said. "Winning 7 out of 13 races. I had a big battle with RC Enerson and Mark Eaton this year, it was so much fun racing against them, as well as all the other National Class drivers. The team worked really hard all year long, and they have given me a fantastic car every single time out."
Source; IZOD IndyCar Series