Eric Mauk
Chevrolet Indy Car driver Ryan Hunter-Reay has scored three consecutive race wins, and is now looking to become the first driver since Sebastien Bourdais in 2006 to make four straight trips to Victory Lane.
Hunter-Reay leads a bevy of Chevys to Edmonton this weekend as the Bowtie Brigade looks to continue a dominant IZOD Indy Car Series season that has Chevrolet-powered drivers holding five of the top-six spots in the series point standings.
"It's been the best run of my career, but it's not something that's happened by accident," Hunter-Reay said. "It took a lot of persistence and perseverance to get to this point. Credit has to go to Michael Andretti, who hired me three years ago and told me he was going to bring this team back to its championship form. It seems surreal to say we've won three in a row, yet, at the same time, it's not something that seems unrealistic. I've always thought this was possible with the right team chemistry."
The Edmonton City Centre Airport course has seen some changes since it first brought 200,000 fans to the inaugural Champ Car event, but the current 2.224-mile layout provides a number of challenges for Indy Car's finest. Helio Castroneves seemingly had it mastered in 2010 until a last-lap penalty for blocking cost him a win – and his self-control.
"It is going to be great to go back to Edmonton in the Penske Truck Rental car this weekend," Castroneves said. "We have always done well there and are really working for another fantastic result. It's a fun circuit for the drivers and certainly taking the Chevy engine up there this year will make things even more interesting. Hopefully this is the week we can move up in the championship points and be the position to win it all at the end."
And of course, whether it be Chevy power or bicycle power, Canadian drivers are always all the rage at Edmonton. In the inaugural event in 2005, Champ Car merchandise sold out on the first day, so local hero Andrew Ranger had his own gear made up and the Canadian fans bought everything the Canadian had for sale!
James Hinchcliffe, Andretti Autosport Chevrolet
Canuck James Hinchcliffe is counting on that support to help him bounce back from a tough weekend In Toronto, as the young driver looks to maintain his standing in the top five in points.
"For me, racing in Edmonton is just as special as racing in Toronto in a lot of ways because the Canadian fans just give you such a buzz and so much support," Hinchcliffe reported. "The track in Edmonton is kind of unique, but the long straights and hairpins make braking and acceleration key. The team is on a bit of a streak at the moment so hopefully we can keep it up!"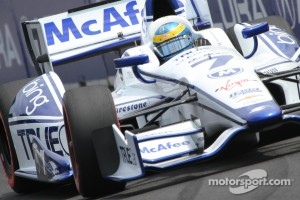 Sébastien Bourdais, Dragon Racing Chevrolet
And while this is the first actual visit for Chevrolet to the Edmonton Grand Prix, their driver lineup has four Edmonton wins to their credit – two from Will Power and two from Sebastien Bourdais.
"Following a strong showing for the True Car, McAfee entry in Toronto, I am really happy to head to Edmonton," Bourdais said. "Our package powered by the Chevy engine has given me great performance since the beginning of the relationship, and I am very excited to return to this track where I finished sixth last year."