Michael Andretti must be one heck of a chess player. While much of the paddock has been talking about the rumor that Roger Penske is actively recruiting Andretti Autosport's star driver, Ryan Hunter-Reay, Michael came in with stealth and put Penske's purported plan in check. This was accomplished with a simple contract extension which as a team owner Andretti could present to Hunter-Reay at any time during the extension period. His timing, however, was interesting because RHR had been telling us he wasn't going to decide anything until after today's MAVTV 500.
"Very interesting!" as comedian Arte Johnson used to say, "but shmart". The requisite press release revealed the news in a very typical manner: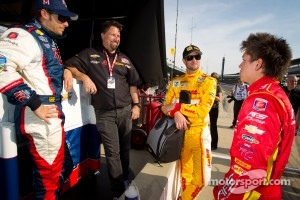 Marco Andretti, Andretti Autosport Chevrolet, Michael Andretti, Ryan Hunter-Reay, Andretti Autosport Chevrolet and Sebastian Saavedra, AFS Racing/Andretti Autosport Chevrolet
Michael Andretti, President, Chairman and CEO, Andretti Autosport: "We are happy to have Ryan (Hunter-Reay) back with us for the 2013 and 2014 IndyCar seasons. He is a tough competitor and has become an important part of our team. He is the ultimate team player and I know we can count on him, along with his teammates, to continue to be a foundation for us. We believe that he, Marco (Andretti) and James (Hinchcliffe) will continue to work together and take the team to great places with great success."
Ryan Hunter-Reay, Driver, Team DHL/Sun Drop Citrus Soda: "I have a lot of deep rooted relationships with the team and the team sponsors and I'm looking forward to continuing and further developing those relationships. I'm happy to be able to enjoy the off season knowing what the next two years hold. I'm looking forward to my return with Andretti Autosport and hope to have the opportunity to speak more on it soon, but today we are focused on leaving Fontana tonight with a championship."
What the story does not tell is that this extension makes Ryan Hunter-Reay a bonafide American driving star. No more (at least for now) waiting for the phone to ring to see where he will be driving next year. Because this agreement was signed before the race, it shows that Andretti has confidence that RHR is valuable to his team whether he wins or loses today's race or whether he wins the season championship.
Congratulations to Ryan-Hunter Reay, it's only taken a decade of hard work and competition to be an overnight sensation!
Story by: Lisa Day Davidson