Power wins Toronto, Hinchcliffe scores big at home
Will Power scored his third win of the season and his third career win in Toronto, as the initially dominant Scott Dixon got hosed by his pitstop strategy, falling one lap the wrong side of a yellow flag.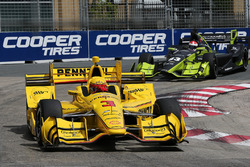 It was the 28th victory for Power who now goes to second in the championship, and within 50 points of Penske teammate and championship leader Simon Pagenaud who was on the same strategy as Ganassi's Dixon and thus missed out on a potential podium finish.
Helio Castroneves finished second despite an early puncture causing him to drop out of the top three, but his enforced alternate strategy perfectly meshed with how the yellow flags fell thereafter.
But the biggest cheers of the day from the crowd were reserved for James Hinchcliffe who started sixth but appeared to struggle with his Schmidt Peterson Motorsport car's handling for most of the day. Like Castroneves, he therefore switched to an alternate strategy and one that played out for him perfectly as he nursed his fuel to the end, finishing 1.2sec ahead of Tony Kanaan.  
Story of the race
There was a clean opening lap from the leading contenders, Dixon's Chip Ganassi Racing-Chevrolet leading from the three Penske-Chevys of Castroneves, Pagenaud and Power. However, further down and further around the lap, there was a collision between Ganassi's Charlie Kimball and Rahal Letterman Lanigan Racing's Graham Rahal at Turn 8, which spun Kimball, and sent Ryan Hunter-Reay into the side of the Ganassi car, losing his front wing. Rahal had to stop too, with a rear puncture.
Under yellow, the order was Dixon, Castroneves, Pagenaud, Power, Sebastien Bourdais of KVSH Racing, the Schmidt Peterson car of Mikhail Aleshin, Ed Carpenter Racing's Josef Newgarden, Hinchcliffe, the fourth Penske of Juan Montoya, Kanaan and Conor Daly who had dropped four places from his superb seventh starting position in the Dale Coyne Racing-Honda.
On the restart on lap 5 Newgarden tried to muscle past Hinchcliffe from Turn 3 but couldn't make it stick, and then there was a full-course yellow thrown on Lap 6, when Montoya ripped Newgarden's left-rear wheel pod, leaving debris on the back straight down to Turn 3.
That sent Newgarden to the pits, the team also switching him from black tires to softer reds. The incident went under stewards' review, but no action was taken. Newgarden meanwhile, almost lost a lap, but it cued up a brave charge from the rear.
The race was restarted on Lap 9, and Montoya passed Hinchcliffe for seventh with another muscular around the outside maneuver,  Hinch trying but failing to return the favor three laps later.
Up front, Dixon pulled out a 1sec lead over Castroneves who in turn had a 2sec lead over Pagenaud, Power, Bourdais, Aleshin, Montoya, Hinchcliffe, Kanaan and Daly. At the back, Newgarden on a clear track was setting fastest lap after fastest lap of the race at this point, half a second faster than leader Dixon.
Kanaan pitted from ninth at the end of Lap 16, complaining of oversteer, while Pagenaud in third was complaining of understeer. The top four were covered by eight seconds, with Bourdais' decision to start on the black primary tires appearing not to be paying off having dropped 3.3sec behind Power.
AJ Foyt Racing's Jack Hawksworth pitted on Lap 20, as did Hunter-Reay, with the second Foyt car of Takuma Sato pitting two laps later. In the lower reaches of the Top 10, Montoya, Hinchcliffe, Daly were all running in close convoy behind Aleshin, until both Schmidt Peterson cars ducked into the pits on lap 25.
But the main drama around pitstop time was when the front left tire of Castroneves suddenly deflated at Turn 1. He had to therefore complete almost a whole lap before he could pit, by which time he had dropped to ninth.
Dixon and Power ducked into the pits at the end of lap 26, switching to the black primaries, and Pagenaud stopped a lap later to do the same. Bourdais took the lead for a lap before he too pitted but going the opposite way compound-wise, grabbing red tires. Montoya and Daly then pitted, too.
That left Dixon back in front by Lap 34, with a healthy eight second lead over Pagenaud, who was 3sec ahead of Power, who was easily holding off the red-tired Bourdais, with Montoya a further 7sec adrift and being pressured by the recovering Castroneves. Aleshin, Kanaan, Daly and Hinch completed the Top 10.
Bourdais' reds appeared to help him little, as he fell four seconds behind Power within five laps, as Montoya closed on the KVSH car. At the same time, Pagenaud and Power were homing in on Dixon and their efforts were exaggerated by Dixon getting held up by Hunter-Reay, who was desperately trying to stay on the lead lap. By lap 43 Pagenaud was only 1.3sec behind the leader, and Power just a further 1.2sec back.
Hunter-Reay's stubbornness was rewarded when the full course caution flew on lap 45 for debris in Turn 3 and track inspection in Turn 5, as the curb surface was getting torn off and tossed across the surface.
Dixon, Pagenaud, Power, Bourdais, Montoya, Castroneves, Aleshin, Daly, Kimball, Hinchcliffe was the top 10 as the pits opened on lap 47. Dale Coyne took the bait and pitted Daly, SPM did the same with Hinchcliffe, but the frontrunners stayed out. Those on this alternate strategy  came out in the order Hinch, Sato, Daly, Chilton, Newgarden, Pigot, Hunter-Reay, Munoz.
The Lap 51 restart was clean and Dixon got the hammer down, pulling 2.1sec in three laps over Pagenaud, with Power a similar distance behind his teammate. Montoya and Castroneves, meanwhile, were pushing Bourdais hard for fourth place, Montoya eventually going around the outside of the KVSH car at Turn 3 on Lap 56, while Castroneves pitted. A lap later, Bourdais also hit pit road, switching from reds back to blacks.
Newgarden, whose right hand pain had been exacerbated by the Toronto bumps, finally lost it at Turn 5 on lap 58, bouncing off the inside curb, having the wheel ripped out of his hand and sending the #21 into the outside wall.
That served as Power's lucky break. Having seen Pagenaud starting to get held up by a backmarker, the Tim Cindric had elected to pit Power, and the yellows for Newgarden came on as the #12 car came down pitlane. For anyone not already on pitlane, of course, the pits were closed, so Dixon and Pagenaud had to lead the field around at a crawl for their final stop, followed by Montoya, Kimball, Montoya, Filippi, Rahal and Rossi. 
That left the order at the front as Kanaan – who'd need to stop again – Power, Hinchcliffe, Sato, ECR's Spencer Pigot, Castroneves, Aleshin, Bourdais, Hawksworth, Marco Andretti, Daly and Hunter-Reay.
Another clean restart on Lap 64 saw Hunter-Reay sweep around the outside of Pigot for 11th, Dixon followed through and then commenced something of a charge, passing Hunter-Reay for 10th and Andretti for ninth.
Up front, Dixon's teammate Kanaan was carving out the fastest laps of the race, gaining as much ground as he could before a splash-n-dash. He did well and very soon the Brazilian veteran was five seconds ahead of Power with Hinchcliffe nine seconds behind the silver Penske, and also trying to make miracle fuel mileage without losing too much ground to his rivals. 
Castroneves, who like Power had no fuel worries, passed Sato for fifth on Lap 74 and zoomed onto the tail of Hinchcliffe who he passed on Lap 76.
Kanaan had done such a fine job of charging away in the lead that when he pitted on Lap 76, he was able to rejoin in fourth. Behind him, Aleshin was trying in vain to pass Sato, and Dixon was succeeding in separating Hawksorth from eighth place.
Kanaan, now with no fuel worries, should have been able to zoom in on Hinchcliffe who was treading lightly on the loud pedal, but Ganassi had speeded up TK's stop by electing to leave him on used rubber, and a lack of traction out of corners was hurting him. 
Suddenly Hinch was thrown a lifeline on when on Lap 81, Montoya understeered on marbles and into the tire wall at Turn 5…. where Hawksworth was already parked, complaining that Pagenaud had punted him into the wall.
By the time JPM had been removed, there was only time for one lap of green, and with six push to pass boosts left, Power had no problem escaping from Castroneves. Hinchcliffe, meanwhile now had enough fuel to use his last remaining P2P as a defense, and the field was effectively set.
The results leave the championship standings as follows –  
1, Pagenaud 432; 2, Power 385; 3, Castroneves 358; 4, Dixon 349; 5, Newgarden 344; 6, Kanaan 339; 7, Rossi 300; 8, Hinchcliffe 299; 9, Kimball 294; 10, Munoz 293. 
Toronto race result
P.
N°
Driver
Team (Engine)
Time
1
12
 

Will Power

 Penske (C)
 1h42m38.6925s
2
3
 

Helio Castroneves

 Penske (C)
1.5275
3
5
 

James Hinchcliffe

 Schmidt (H)
2.5303
4
10
 

Tony Kanaan

 Ganassi (C)
3.7758
5
14
 

Takuma Sato

 Foyt (H)
4.0568
6
7
 

Mikhail Aleshin

 Schmidt (H)
5.1145
7
11
 

Sébastien Bourdais

 KVSH (C)
5.6393
8
9
 

Scott Dixon

 Ganassi (C)
6.1020
9
22
 

Simon Pagenaud

 Penske (C)
6.6355
10
27
 

Marco Andretti

 Andretti (H)
6.9746
11
83
 

Charlie Kimball

 Ganassi (C)
7.4782
12
28
 

Ryan Hunter-Reay

 Andretti (H)
8.0690
13
15
 

Graham Rahal

 Rahal (H)
8.5989
14
19
 

Luca Filippi

 Coyne (H)
8.9217
15
18
 

Conor Daly

 Coyne (H)
9.4068
16
98
 

Alexander Rossi

 Andretti-Herta (H)
9.6896
17
26
 

Carlos Muñoz

 Andretti (H)
10.0568
18
8
 

Max Chilton

 Ganassi (C)
10.6502
19
20
 

Spencer Pigot

 Carpenter (C)
11.4494
20
2
  Juan Pablo Montoya
 Penske (C)
1 tour
21
41
 

Jack Hawksworth

 Foyt (H)
5 tours
22
21
 

Josef Newgarden

 Carpenter (C)
28 tours
(C) = Chevrolet, (H) = Honda
Be first to get
breaking news
Power wins Toronto, Hinchcliffe scores big at home