With an eighth-place finish, Helio Castroneves earned his 10th top-10 result in 11 races this season. Penske teammate Will Power took the checkered flag in the fourth position.
Castroneves qualified sixth for Sunday's event in IndyCar's first race at Pocono Raceway since 1989. After securing a spot in the top five on the opening lap, Castroneves ran among the leaders and was positioned inside the top 10 throughout the race.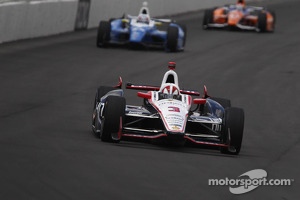 Helio Castroneves, Team Penske Chevrolet
Following the second pit stop of the race for the No. 3 Hitachi team, Castroneves moved up to third place when other cars came to pit lane under a caution on Lap 66. He ran inside the top three until his next stop.
After his final pit stop on Lap 128, Castroneves ran in either seventh or eighth position as he conserved fuel in order to make it to the end of the race.
With an eighth-place finish, Castroneves earned his 10th top-10 result in 11 races this season. Castroneves built on his lead in the IZOD IndyCar Series championship standings as he emerged with a 22-point advantage on Ryan Hunter-Reay. With the result, Castroneves also moved into a tie with Hunter-Reay for the oval course championship lead.
Helio Castroneves: "Well, it's definitely good to come out of this race building our lead in the championship. The Hitachi team did a fantastic job this weekend. The race was very challenging. For us, as a team, we had to make a lot of decisions during the race. Ultimately, the key was saving fuel for a good result and we'll take a top-10 finish and move on to Toronto with the good points we earned here."
ON THE RETURN TO RACING IN POCONO THIS WEEKEND... "Thanks again to the fans here. They were awesome and it's good to be back racing at Pocono. I look forward to coming back next year and now we know a little bit more what to expect on track."
Will Power No. 12 Verizon Dallara/Chevrolet

Power started Sunday's 160-lap race from the fourth position after a strong qualifying effort on Saturday – the fourth time he has qualified inside the top five in five oval races this season. He maintained his top-five position in the running order throughout most of the race. He led the event four times for a total of 15 laps.
After battling Marco Andretti for the lead with 50 laps remaining, Power made his final pit stop of the day on Lap 130. He returned to the track in fifth place and battled his way to fourth with three laps remaining and took the checkered flag in the fourth position.
The result marked Power's third top-five finish on the season and his second top five on an oval in the last three races.
Power improved a position in the championship standings as a result of Sunday's finish as he ranks ninth overall. He now trails Castroneves by 114 points but is just 11 points outside of eighth place. In the series Oval Course standings, Power now ranks sixth among all 2013 drivers. Sunday's effort marked Power's 50th career top-five finish.
Will Power: "It was a good day and a good finish for the Verizon team. The boys gave me some great pit stops today and it was really important for us to score some good points and continue to make up ground in the championship.
ON ANOTHER STRONG OVAL RESULT... "Yeah, it's good for us to keep getting solid finishes on the ovals. We keep improving and now we just need to carry that momentum and success over to the street and road courses we have coming up."
ON HIS FIRST RACE AT THE POCONO RACE CIRCUIT... "I really like this track here at Pocono. It seemed like it was a good crowd and we gave it all we had out there. A very physical race, but a good result for us in the end."
Team Penske