Simon Pagenaud qualified 21st while Vautier & Legge will attempt to qualify on Bump Day
INDIANAPOLIS (May 18, 2013) - Simon Pagenaud qualified 21st for the Indianapolis 500 with a four-lap average speed of 225.674 mph on his first qualifying attempt with Schmidt Hamilton Motorsports.
"We expected to be faster, but the handling of the car is fantastic," Pagenaud said. "I'm not too worried about it because I know we have a good race car. But somehow, we didn't have the speed we expected. It is one of those things where the balance is there, but there's something else we need to find."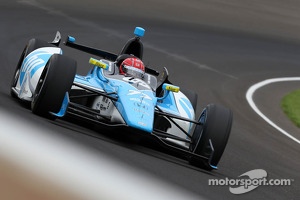 Simon Pagenaud, Schmidt Peterson Motorsport Honda
Pagenaud's No. 77 Schmidt Hamilton HP Motorsports Dallara/Honda/Firestone car will be back on the Indianapolis Motor Speedway oval tomorrow to continue practicing for the Greatest Spectacle in Racing.
"All in all, it's good that we're in the show so we just have to worry about the race car tomorrow," Pagenaud said. "We'll see how things go next week and try to drive to the front."
Rookie Tristan Vautier made a qualifying attempt in the No. 55 Lucas Oil/Schmidt Peterson Motorsports Dallara/Honda/Firestone car, but was bumped from the field at 3:51 p.m. ET by Marco Andretti.
Vautier made a second qualifying attempt in the final half-hour of qualifications, but did not find enough speed in the No. 55 car. His team scrambled to put him back in the qualification line for a third and final attempt, but he was too late and could not get on the track before the qualifying session ended at 6 p.m. ET.
"I really thought I could have found enough speed if I went out one more time, but unfortunately we ran out of time," Vautier said. "This track is so tough, and that was very clear today. There are a ton of quality teams sitting on the outside looking in, including us. We're going to put our heads together tonight and come back strong tomorrow to put this car in the field."
Vautier will be back on track to practice for Bump Day qualifying at 9 a.m. ET, and then attempt to qualify for his first Indianapolis 500 at 12 p.m. ET. Schmidt Peterson Motorsports will also attempt to qualify the No. 81 SPM Dallara/Honda/Firestone entry with driver Katherine Legge on Bump Day.
Schmidt Peterson Motorsports