Pagenaud: Phoenix IndyCar race will be "very different" with 2018 car
Simon Pagenaud, who scored his first ever oval win at Phoenix's ISM Raceway last year, says the radical change in the 2018 aerokit should ensure a very different race in two weeks' time and one that emphasizes a wider range of a driver's talents.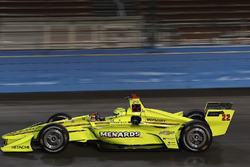 The 2016 IndyCar champion said that the improved feel and the higher tire degradation on the 1.022-mile oval, as he experienced six weeks ago in Spring Training, have thrown up a far greater challenge to the drivers, both in practice and the race.
Pagenaud told Motorsport.com: "Phoenix is the only oval I've driven with the new car but I felt like the car behavior was really good.
"I felt more tire degradation, but in a reasonable, predictable way, and I ran in traffic on the last night and it felt really good then, as well. Those are all key to having a good racecar. I think it will be a very different race than last year.
"We can definitely feel the car a lot more, which is good because we had got to a point where on short ovals making changes was difficult to feel because we had so much downforce. Now every change we make, it's very clear what it's doing to the car."
The removal of 1200lbs of downforce from the cars at Phoenix has resulted in much more lateral movement in the car, and that, along with Firestone's changes to its compounds, will cause more tire degradation. The increase in degradation is such that needing new tires, rather than more fuel, may dictate when a driver makes his pitstop, and Pagenaud admitted that remained a topic of discussion within the Penske-Chevrolet team.
"I was just talking about that with my engineer," he said, "and honestly, we don't know the situation yet. If you pit early on a short oval and go two laps down, and it goes yellow at the wrong time, you've lost your two laps and you're probably not going to win the race. And you also don't want to add a pitstop, either, because that will just kill your chances.
"So there's a line you have to walk, and that's why you need a really strong car on long runs to cover that period of tire degradation.
"But greater tire degradation is a good thing. You're having to think a lot in the racecar and it's back to the driver adjusting the tools in the cockpit and setting up his racecar really well in practice. Those are things that a strong oval driver should have to do."
Pagenaud said there were ways to slow the rate of tire deg in the April 6-7 race – but that they have their downsides, too.
"You can run a little more open line to the turns to try and save the tires, and it's not as quick, and you'll use the rear tires a little bit more," he said. "But then if you tighten the line you'll use the right-front tire a little more but it's more security for you.
"Problem is that the drivers who are struggling are usually going to do those same things that you are doing, and so they will be on the same line as you. So you always need to adjust and, depending on your tire wear and how the car behaves, you're going to have to move.
"We didn't have to do that much with the last car because we didn't have the degradation. Now it's becoming very interesting again because you have to think about your line, your tools, your wing angles."
St. Pete experience not helpful for Long Beach setups
Pagenaud says that relative car performance as seen in the season's opening round at St. Petersburg will likely be carried over to the Toyota Grand Prix of Long Beach – just a week after Phoenix – but that the setup requirements between St. Pete and Long Beach remains very different.
"I would expect Andretti Autosport, Schmidt Peterson and Penske to be strong in Long Beach," he said, "but St. Pete is usually a very different kind of street circuit than Long Beach.
"Long Beach, Detroit and Toronto are all about braking, whereas St. Pete is all about rolling speed – it's like a road course with walls. And it's often a race where a lot of stuff happens because it's the first race of the year.
"So you can see the behavior and characteristics of the car from St. Pete and take out some trends, but I wouldn't say that setup would work in Long Beach."
Explaining the significant number of mistakes by veterans of the series in the opening round, Pagenaud said: "It's a bit of an adjustment for a lot of us. It's a very different car, the weight distribution moved and there's definitely quite a bit of difference in the driving style of the car.
"I think the other thing is that we were also trying to learn how to race the car for the first time – how aggressive you had to be to pass people. It was the veterans who had more confidence to take the risks… but some of us overstepped the boundaries, because we were so used to so much grip for so long.
"These cars don't make it easier to pass, because the draft has been reduced, which is why you saw so many, late, banzai moves. We were all getting impatient back there.
"With this car you can follow as close as you want and the tires don't degrade, so that's good. But the car doesn't draft. The advantage of these cars is that if the guy in front makes a mistake, you are now close enough to take advantage."
Pagenaud: Phoenix IndyCar race will be "very different" with 2018 car
Red zone: trending stories