Birmingham
Tough race weekend at Barber, Alabama, for Mike Conway
It was a challenging weekend for Mike Conway in the Grand Prix of Alabama at the Barber Motorsports Park.
The weekend started well with Conway posting the fifth quickest time in the first free practice session. Unfortunately Mike and his Andretti Autosport team weren't able to find the right set up for qualifying which left them struggling for speed and grip and resulted in them finishing the session in P16.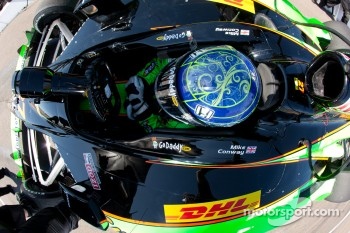 Mike Conway, Andretti Autosport
As Conway lined up his 'Window World Cares' car behind the safety car on Sunday afternoon, he and the team were hopeful that they would be able to make up some positions during the race.
When the race went green, all of the cars in the field made a clean start and Conway held his position behind Kanaan. Conway and the team had made the strategic call to start on primes (blacks), while most of the field were on softs (reds). This meant that the first stint was tough for Conway as the other cars had better grip and were able to pull away.
On lap 20 Conway pitted for his first scheduled stop and rejoined the field in P23 behind Kanaan. With red tyres now on, Conway's pace quickened and he was able to put in a number of fastest lap times. Having a different tyre strategy to the majority of other drivers meant Conway was able to make some solid passes on the field and to begin to make his way through the field.
On lap 47, following one of the restarts, Conway came up the hill at Turn 4 and passed Patrick on the inside. However, as he came over the top of the hill he got understeer and was then was clipped on the left rear which sent him off into the grass and into one of the barriers, ending his race due to damage to his car.
""It is really disappointing not to have recorded a finish at Barber.|Mike Conway|right''
"It is really disappointing not to have recorded a finish at Barber. We were going solidly in the race and were hoping for a top ten finish. This weekend was certainly a tough one, but at the end of the day, it's racing, and you have to take the bad weekends with the good;" commented Mike Conway.
"The next race is only one week away so now we turn our focus to Long Beach. I've raced there the last two years and Andretti Motorsport won there last year so we will be aiming to secure both a strong qualifying position and a solid race finish;" commented Mike Conway.
Mike Conway heads to Long Beach on the 17th April for round three of the 2011 IZOD Indy Car Series.
-source: mike conway PR