Andretti Autosport team owner has already talked to the Colombian about the idea.
Michael Andretti, team owner for Andretti Autosport in IndyCar Series, is working on a deal to bring Juan Pablo Montoya back to open wheel racing in 2014.
Earnhardt Ganassi Racing, the Colombian's team in NASCAR Sprint Cup Series since 2006, will not renew his contact for next year, which opened the door for Montoya to think of different options in order to continue racing.
Montoya, 37, faced the media last Friday at Michigan International Speedway, where he stated that the only thing he cares about for 2014 is to have a car capable of winning races, no matter the series.
Montoya won the CART championship in 1999, and in 2000, he was the Indy 500 winner, and owner of a remarkable past in Formula One with seven Grand Prix victories. Montoya's talent in open wheel cars is unquestionable, and no doubt one reason that Andretti wants to make sure that talent is on his side.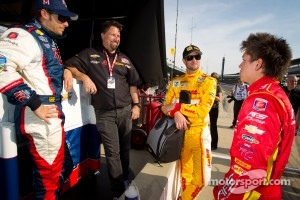 Marco Andretti, Andretti Autosport Chevrolet, Michael Andretti, Ryan Hunter-Reay, Andretti Autosport Chevrolet and Sebastian Saavedra, AFS Racing/Andretti Autosport Chevrolet
"I have talked to Juan about IndyCar and told him 'Hell yeah, let's find a way to put something together," Andretti said to The Associated Press on Monday.
"I think he could bring what he brought the last time — it seemed like when he raced, half the stands were full of flags supporting him," Andretti added. "When he first got to NASCAR, he had a huge effect there. He brings a huge crowd, a huge support. He's a big personality, and he could be a good personality for IndyCar because he definitely has that 'don't give a (crap) attitude'."
In spite of his success in CART and the victory in 2000's edition of the Indianapolis 500, Montoya never seemed to garner much attracted by the IndyCar Series during his days in NASCAR, which could be understandable as he was focused trying to succeed in a totally different mode of racing.
Now, in his seventh full season in the Sprint Cup, having just two victories in the series –both in road course circuits- Montoya wants to feel a winner again on regular basis, something that looks hard to find in NASCAR's top division for 2014.
The situation appears to fit just right for Andretti Autosport –reigning champion in IndyCar and a proved winning champion team in the series for several years- to make a quick move and secure Montoya's talent, even if the Colombian has been out of open wheel racing since he left Formula One in 2006, which doesn't seem to worry to Michael Andretti.
"I've driven against him and I think he's one of the best drivers I've ever driven against. It just comes down to sponsorship. So we're looking, and if it's a possibility, we want to do something with him", he said.