2012 Firestone 550 race winner will start from 10th row (p20) on grid; started the 2012 race from 17th
Fort Worth, Texas (8 June 2013) –Firing the celebratory guns in Texas Motor Speedway's victory circle after his breakthrough win in 2012 was a highlight to remember for Dale Coyne Racing's Justin Wilson, and the affable Englishman is hoping to get the chance to do the same thing on Saturday night.
The Honda-powered Dale Coyne Racing pilot will start Saturday's Firestone 550 from 20th on the IZOD IndyCar grid with the No. 19 Boy Scouts of America machine after posting a speed of 207.807 mph in qualifying with a time of 50.4121-seconds on the 1.5-mile circuit on Friday. The two-day race weekend format sees track time on the high-speed oval at a premium, with teams afforded just one practice session ahead of the grid-setting single-car qualifying.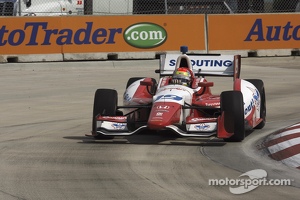 Justin Wilson, Dale Coyne Racing Honda
Knowing that the track will change dramatically as the race runs into the Texas night on Saturday, the teams were eager to get more practice laps as the IZOD IndyCar machines took to the track for Friday's final practice session.
The Dale Coyne Racing squad, which celebrated three podium appearances in last weekend's Grand Prix of Detroit double-header, continued to work to find speed over the long run for Wilson's Boy Scouts of America entry. That strategy was key to victory at the track last year and the team is hoping to once again move from deep in the pack to score a strong result.
"Today wasn't fully what we were hoping for, but we made a lot of progress and I think we've got a solid car for the long run," said Wilson. "The new downforce levels and different tires are a new challenge. We are working as hard as we can to have a car that is as strong early in the stint, as it is at the end. I think this (technical) package continues to put more of the racing in our hands. I think that's going to make for another good race tomorrow night and hopefully we can be a factor at the finish."
Justin Wilson Racing