Exhibition Place
Justin taken out in Toronto; finishes 15th
Justin and Dreyer & Reinbold Racing came tantalisingly close to their first podium finish of the season in Sunday's Honda Indy Toronto, but hard contact from behind on a Lap 76 restart left the No. 22 car minus a rear wing and forced to limp back to the pits. The Z-Line Designs crew got Justin back out as quickly as possible with a new wing and he set the fastest lap of the race (60.6386s) before finishing 15th and 2 laps down at the chequered flag. Dario Franchitti and Scott Dixon provided Chip Ganassi Racing with a 1-2 while Ryan Hunter-Reay (Andretti Autosport) rounded out the podium. Ana Beatriz, Justin's team-mate, finished 11th in the No. 24 Ipiranga car.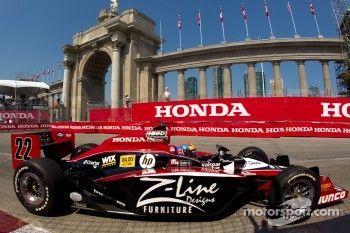 Justin Wilson, Dreyer & Reinbold Racing
Justin started from 11th on the softer, red-sidewalled Firestone tyres, passing Ryan Briscoe (Team Penske) for 10th and gaining a further position when Tony Kanaan (KV Racing) crashed out on Lap 2. The No. 22 car suffered from understeer during the opening stint, causing excess tyre wear and forcing an early pit-stop on Lap 23. Half a turn of front wing went some way to improving the car's balance, but the early stop proved to be fortuitous for another reason. Eight laps later (Lap 31) the first full course caution flew, before many of those in front of Justin had pitted. When they did, on Lap 32, Justin was vaulted to 3rd on the timesheets, offering the prospect of a podium finish.
Justin kept 3rd spot through another yellow before grabbing 2nd from Oriol Servia (Newman Haas Racing) on Lap 44 and was closing down race leader Dario Franchitti at a rate of knots before another caution flew on Lap 48. A good second pitstop by the Z-Line Designs crew on Lap 49 brought him out just behind Dario, but earlier off-sequence pit work meant some other drivers stayed out and Justin dropped back to 7th. When the race went green on Lap 52 he made another good restart, getting past team-mate Ana, then Franchitti and Simona de Silvestro (HVM Racing) to move up to 4th by Lap 54.
Justin's front wing got clipped by EJ Viso (KV Racing) on Lap 63 and he was lucky there was no damage, but the loss of momentum allowed Scott Dixon to get past, dropping Justin to 5th. With enough fuel to run flat out to the end Justin was looking forward to the prospect of picking off positions in the closing stages, but on Lap 76 his race unravelled. Marco Andretti (Andretti Autosport) made an over-ambitious move into Turn 1 on the restart – for which he later apologised - was unable to back out of it, and took out Oriol Servia who in turn collided with Justin. Pitting for a new rear wing ended what would easily have been his best performance of the season so far.
"It's really frustrating," said Justin. "We were racing hard and on that last restart we just got taken out. Oriol Servia and I were racing hard and gave each other room and somebody else stuck their nose in there and pitched Oriol up into the air and took out five cars. It's really frustrating when you are that close to the end, to have a pretty decent day be ruined by some bad driving, but it's just how it goes. It's really disappointing, but we can take a lot of positives out too; we had a pretty quick car and managed to overtake some people and move forward and attack. The first two thirds of the race were a lot of fun. Now we just need to move on and have a good race in Edmonton."
By: justinwilson.co.uk