Exhibition Place
Justin qualifies 11th for Honda Indy Toronto
Justin will start from 11th in the No. 22 Z-Line Designs car in tomorrow's Honda Indy Toronto after a qualifying session that promised much in the initial stages, but ended in disappointment after a leaking tyre in the second round. Will Power took pole position for Team Penske with a quick time of 59.577s (106.047 mph) in the Firestone Fast Six, and Scott Dixon (Chip Ganassi Racing) starts alongside him on the front row. Justin's team-mate Ana Beatriz will start from 26th (60.792s, 103.929 mph).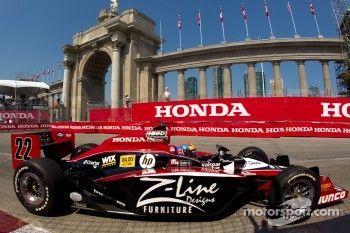 Justin Wilson, Dreyer & Reinbold Racing
Justin had run all of the practice sessions in the top 6 and was 4th fastest in his group during the first round of Saturday's qualifying session, setting a time of 59.520s on the red-sidewalled alternate Firestone tyre. The balance felt good and the team made no significant changes, but when he went out with fresh reds in the second round of qualifying the car felt completely different and his quickest lap was four tenths of a second off (59.964s, 105.364 mph), and three tenths slower than that required for a spot in the Firestone Fast Six final qualifying round. After the session, the team traced the problem to a leaking rear tyre.
"In the first qualifying session the Z-Line Designs car was really good," said Justin. "We didn't change anything between that and the second session but we lost a lot of performance. At first I was really confused, but it turns out that we had a leaking right rear tyre, which explains a lot of things. Hopefully we won't have that again and we can be back up there as one of the quick cars and have a strong race tomorrow."
By: justinwilson.co.uk