Edmonton City Centre Airport runways
Justin looks forward to new Edmonton layout
After a rare weekend off, Justin and Dreyer & Reinbold Racing are back in Canada for this weekend's IZOD IndyCar Series race at City Centre Airport in Edmonton, Alberta. It's another venue with fond memories for Justin, who won here in Champ Car with RuSPORT in 2006 and finished on the podium in 2007 and 2008. Suspension problems for Justin in last year's race meant it was one to forget, but he's is looking forward to getting to grips with the new 2.256-mile, 13-turn layout this year.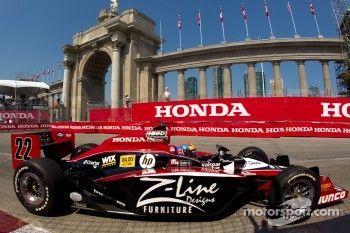 Justin Wilson, Dreyer & Reinbold Racing
"It's always fun going to a new track," said Justin. "It's a clean sheet of paper and it will be interesting trying to work it out and get the car set up there. I'm looking forward to the challenge. Edmonton is a great city as well, so it's always good to go and race there."
For Justin, the only thing in common between this weekend and last weekend in Colorado are the bumps. Last Saturday he was among almost 750 competitors in the Leadville Silver Rush 50 Mile Mountain Bike Race. Starting at 10,000 feet, and involving climbs totalling more than 7,500 feet, it was hardly relaxing, but finishing in just under 7 hours was satisfying.
"I looked at Leadville as a fun, unique opportunity to test myself," said Justin, who does a lot of training on road bikes and mountain bikes during the season. "It was a lot of fun, but it was a lot of hard work. There are a lot of very fit, very tough and completely insane people living in Colorado who compete in that race. I'm really pleased that I did it and that I finished. I got a lot of cramping in my left leg early on in the race and it lasted the last 30 miles. At one point, I didn't think that I was going to be able to finish, but I managed to keep plugging along and make the finish. I was really happy about that. It took me 6 hours, 59 minutes and 15 seconds, which wasn't as quick as I would have liked, but with the cramping I still made it under the 8-hour cut-off which was the main goal. Now, I'm back into car racing mode again."
By: justinwilson.co.uk