HVM Racing
Improvements Continue as HVM Racing Looks Toward Race Day at Mid-Ohio
Each track session at the Mid-Ohio Sports Car Course is bringing new improvements for Simona De Silvestro and her HVM Racing team.
After the first session on Friday afternoon, the Nuclear Clean Air Energy team posted a P11. An encouraging result, given that traffic prevented her from giving it all she could with the car.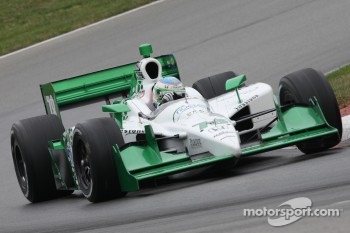 Simona de Silvestro, HVM Racing
"At the end there, on new tires, we didn't really get a clean lap," she said, "but I think we were able to use the things we learned at the test last week. I'm happy with how things are evolving here."
The second session on Saturday morning gave the team even more time to make improvements heading into qualifying. De Silvestro had a great qualifying run with a time of 1:08.42112, putting her P7 in her group by less than a tenth of a second. She'll start Sunday's race in P14.
"It's kind of frustrating, but I think we'll have a strong car for the race. It's kind of tough to pass here - we'll aim for making some passes at the start and go from there. We've been starting from this position several times this season and managed to come out with a good result, so we're going to work a little bit more for tomorrow and see what we've got."