Indianapolis Motor Speedway
Wheldon Wins Amazing 100th Anniversary Indy 500
An incredible finish, one that any Hollywood screenwriter would reject as "impossible", saw Dan Wheldon passing a crashing JR Hildebrand on the last turn of the last lap to win his second Indianapolis 500, at Sunday's 100th anniversary running of the Memorial Weekend classic at the Indianapolis Motor Speedway.
Victory circle: race winner Dan Wheldon, Bryan Herta Autosport with Curb / Agajanian celebrates
For the sixth consecutive year, Honda powered the entire 33-car Indianapolis 500 starting field, and for a record-extending sixth consecutive time – and the only six times in Indy 500 history – there was not a single Honda engine failure in today's race. Over the two weeks of practice, qualifying and racing, drivers logged a total of 40, 655 miles without the loss of a single Honda Indy V-8 engine.
In the closing laps, it was Panther Racing and promising rookie JR Hildebrand who looked poised to pull off an upset victory, as pre-race favorites Target Chip Ganassi Racing split fuel strategy with drivers Dario Franchitti and Scott Dixon; while Team Penske's three drivers surprisingly never featured in today's 200-lap contest.
But, on the final lap and with victory in sight, Hildebrand came upon the slower car of fellow rookie Charlie Kimball, who was just getting up to speed after making a late-race pit stop for fuel. Hildebrand attempted to pass Kimball on the outside in Turn 4 but edged out of the racing "groove" just slightly, enough to send him into the outside wall.
Wheldon, who had been closing in second, swept past Hildebrand's crippled racer in the final dash from Turn 4 to the checkers to claim the victory. Hildebrand brought his damaged Honda Dallara across the line in second, followed by Graham Rahal, who had his own memorable race, coming from 29th on the starting grid.
Another hard charger, Tony Kanaan, passed dozens of cars – some twice – and finished fourth after starting 22nd, moving up to mid-field during the first 60 miles, then falling back down after being blocked in his first pit stop and having to work his way through the field once more.
After leading a race-high 73 laps, Dixon held off Oriol Servia by just one ten-thousandth of a second for fifth. But Servia did become the first Spaniard in "500" history to lead the race, heading the field mid-race for 18 laps.
The IZOD IndyCar Series now takes one week off before continuing a run of oval track races, resuming June 11 with a "double-header" race weekend at Texas Motor Speedway in Fort Worth.
Dan Wheldon (#98 Bryan Herta Autosport Honda) started 6th, finished 1st, his second Indianapolis 500 victory (he also won in 2005) in his first IZOD IndyCar Series race of 2011: "On the radio with 20 laps to go, they said 'this is the deal, some guys are going to try and make it on fuel. You're going to have to go and get the maximum out of your car all the way to the end'. So, I was going to drive that thing like I stole it every lap to the finish and see where we ended up, whether it was winning, or second or whatever. I knew on the last lap that anything could happen, and we were fortunate to be on the winning end today. I have to thank Honda, enormously. Honda has always stood behind me 110 per cent and I can honestly say they are the major reason why I'm here today.
J.R. Hildebrand, Panther Racing crashes into the wall in turn 4 on the last lap
"It's tough to beat these big teams. This is a 'Cinderella' story, but it shouldn't take anything away from what Bryan and Steve have put together here, with the assistance of Sam Schmidt, Alan MacDonald and everyone at Sam Schmidt Motorsports. We can honestly be proud of everything we've accomplished today. I love Indianapolis, I love this city, and I love everything about this place. I don't know what more I can say. I'm numb."
JR Hildebrand (#4 Panther Racing Honda) started 12th, finished 2nd, highest-finishing rookie, led six of the final seven laps until making contact with the Turn 4 wall on the final lap, the fourth-consecutive 2nd-place Indy 500 finish for Panther Racing: "On the last lap, there were cars coming out of the pits and not up to speed yet. I starting catching them as we entered [turns] 3 and 4 and I ended up catching the #83 [Charlie Kimball] going into Turn 4, an inopportune area. I knew the #98 [Dan Wheldon] and others were coming on strong, so rather than slowing down [and following Kimball through Turn 4] I decided to use a move that had worked earlier in the race, and pass him on the high side. But I got up in the marbles and that was it. But even after hitting the wall, I was at 'flat chat' trying to drag the [car] to the finish line.
"This [finish] is not really about me, at this point. My disappointment is for the team and for the National Guard as a sponsor. We knew we had a fast race car and if the race came to us we had a good shot at a top-three finish. As it turned out, we were in a position to win the race. We should have won the race. It's not so much that I'm disappointed not to [win], but I feel bad for my team and sponsor. It's a helpless feeling."
Graham Rahal (#38 Chip Ganassi Racing Honda) started 29th, finished 3rd: "Well, on the one hand I feel great about [finishing third]. On the other hand, if the race had gone two laps longer, I'd probably be drinking milk right now. On long runs, I think we had the best car out there today. Someone told me we passed 67 cars today – and didn't win. At the end, we were probably running a little too much downforce on the car. I don't know what happened to J.R. [Hildebrand], but he must have gotten really high. I've made the same mistake here twice myself."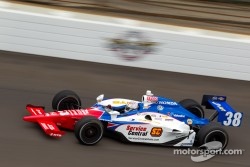 Graham Rahal, Service Central Chip Ganassi Racing
Erik Berkman (President, Honda Performance Development) on today's race: "This was a finish for the record books, and in a way, a fitting end to the 100th anniversary Indianapolis 500. I'm very happy for Dan Wheldon, Bryan Herta and their outstanding achievement today against many larger, more established race teams. But I think Panther Racing and JR Hildebrand also demonstrated, particularly at Indianapolis, they are a formidable organization and would also have been deserving winners. From start to finish, this was a memorable event this year including exciting qualifying for the pole, an intense fight just to make the race on Bump Day, and today's race. The weather and large crowd added to the atmosphere here today. Congratulations to all our associates at Honda Performance Development and our technical partner, Ilmor."
-source: honda