Harvey confirmed for Shank-Schmidt IndyCar entry in six races
Michael Shank Racing will join forces with Schmidt Peterson Motorsports to run Jack Harvey at four races next season, with backing from SiriusXM and AutoNation.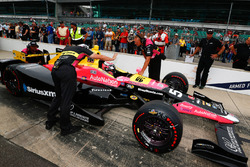 As reported on Motorsport.com last month, IMSA stalwart Michael Shank, who ran Harvey's Andretti Autosport car in this year's Indianapolis 500, will enter an SPM-Honda on a limited schedule for 2018. The six races tabbed are St. Petersburg, Long Beach, the Indy 500, Mid-Ohio, Portland and the season finale at Sonoma.
Harvey, the 2012 British Formula 3 champion went on to twice finish runner-up in the Indy Lights points table for Schmidt Peterson, before making his IndyCar debut at Indy this year in a sixth Andretti entry. He then raced SPM's #7 car for the final two races of the IndyCar season.
A thrilled Harvey stated: "I had a very positive experience racing for Mike Shank in the Indianapolis 500, and it was great to build on that with SPM in the last two races of the year.
"Now to be racing for Mike and to also have the support of SPM for this program, it is the best of both worlds for me. I want to do as well as we possibly can for AutoNation and SiriusXM,  and I cannot wait for St. Pete to get here."
Shank himself commented: "I'm so happy to have everything come together and to be able to make this announcement — there was a ton of work that went into just getting to this point, and of course it is just the start," said Shank. "This is a very big deal – for me and my wife Mary Beth, and for my race team.
"We are really excited to have Jack (Harvey) back with us, and very focused on making the most of this multi-year program. It is a big undertaking but I've been working on this nonstop, every day for months to have everything in place for us to be able to go out and build a competitive program."
Team co-owner Sam Schmidt, too, said he was pleased to keep Harvey under the SPM umbrella.
"Ric [Peterson], myself and everyone at SPM are really excited for this partnership with Mike Shank, his team and, of course, Jack Harvey who we're so pleased to welcome back into the organization," said Sam Schmidt. "We're really looking forward to working with AutoNation and SiriusXM again as well. We continue to look for ways to strengthen our team and improve our core operations, and we think this multi-year partnership will do just that.
"Mike's history in motorsport speaks for itself, and we're pleased he has decided to expand his IndyCar program and involve us in that endeavor."
Harvey confirmed for Shank-Schmidt IndyCar entry in six races