Sonoma, CA — The movie Groundhog Day where the protagonist relives the same day over and over would be a good analogy for Mike Conway's race Sunday afternoon at Sonoma Raceway. He passed a lot of cars over and over but the record will show he started 14th and finished 14th.
The start of the 85-lap race around the 2.38-mile road course saw Conway scrambling to avoid a skirmish involving Scott Dixon and Helio Castroneves which resulted in Conway dropping three spots before the first lap was completed.
He worked his way back to 14th by the time of his first pit stop at lap 16 but then dropped to 22nd as different fuel strategies began to evolve. Now on the quicker red alternate tires, he moved up to 13th by the time he stopped again on lap 39. The ABC Supply crew slapped on a set of used reds as they wanted to save the remaining set of new red tires for the final fuel stint.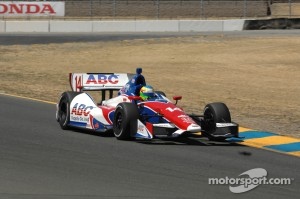 Mike Conway, ABC Supply Co./A.J. Foyt Racing Honda
Unfortunately, Conway became stuck behind a lapped car about the time the used tires were showing their wear. Conway radioed in "The tires are gone." Team Director Larry Foyt told him to try to hang on as he'd pit in about five laps. Conway slipped from 12th to 15th and went a lap down before he could pit on lap 61 for new tires.
He dropped to 20th but as pit stops cycled out he was back to 15th. A full course caution came out on lap 65 for an incident involving Sebastian Bourdais and Josef Newgarden. Because the caution occurred within 20 laps of the end of the race, the lapped cars (from 10th back) were shuffled to the rear to allow the leaders to race unencumbered by slower cars.
Conway lined up 14th for the restart, which he described as, "It's like driving in Italy…during rush hour." By the time the dust settled, Conway was 13th having passed Sebastian Saavedra, and was setting his sights on James Jakes. However on lap 79, Oriol Servia tagged Conway's rear, spinning him. Losing three spots, Conway kept the car going and was able to pass Saavedra again for 15th. Servia was assessed a drive-through penalty with four laps remaining which put Conway 14th…right where he started.
"It was a tough race. We started making headway and were moving up through the field in the first two stints," Conway said. "Then we put on slightly used reds, which we thought would be better than another set of blacks, but that was probably a mistake. The tires went off just as I was trying to pass a lapped car. I lost a lot of track position and then went a lap down and that killed our race. It's a shame because the ABC boys gave me good pit stops, but we just couldn't catch a break. We passed a lot of cars but it's frustrating that we don't have more to show for all the effort. "
Ryan Briscoe won the race, assuming the lead when his teammate and pole winner Will Power had a problem during his final pit stop. Power finished second ahead of Dario Franchitti, Rubens Barrichello and Graham Rahal.
Source: Foyt Racing