Pagenaud 8th; Vautier 11th on the starting grid for the Indy 200 at Mid-Ohio
Lexington, OHIO (Aug. 3, 2013) - Qualifying for the Honda Indy 200 at Mid-Ohio for teammates Simon Pagenaud and Tristan Vautier exemplified the need for perfection to excel at the challenging 13-turn, 2.258-mile road course.
After advancing convincingly out of Round 1, both drivers narrowly missed the Firestone Fast 6. Pagenaud will roll off the starting grid from eighth, and Vautier will start 11th.
Pagenaud was second quick in No. 77 Schmidt Hamilton HP Motorsports car during the first qualifying round.
"I'm very happy with the car," he said. "I think we found what we needed to because the car is incredibly fast."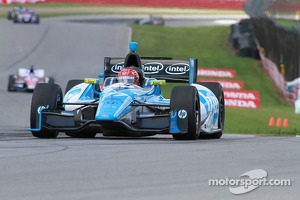 Simon Pagenaud, Schmidt Peterson Motorsport Honda
In Round 2, Pagenaud was held up by other traffic on his flying lap. His lap of 1 minute, 5.9412 seconds at 123.273 mph was good enough to start eighth.
"We just missed the Firestone Fast 6 because we got held up in the last corner on the final run," he said. "I have to say the competition is just fierce here. We're definitely fast enough to be up there so we'll take eighth today and have a strong race tomorrow."
Tristan Vautier, driving the No. 55 Angie's List / Schmidt Peterson Motorsports Dallara/Honda/Firestone car, advanced out of Round 1 of qualifications with the fourth quickest lap of his group.
In Round 2, Vautier's quickest lap of 1 minute, 6.3379 seconds at 122.536 mph landed him in the 11th starting position.
"It's been a tough stretch of races for us lately so we were happy to advance out of the first group," Vautier said. "Unfortunately the second round didn't go as we were hoping. I knew I had to push it a step further to make the Firestone Fast 6 but I made a few little mistakes."
Throughout practice, the 13-turn road course has proven trying for veterans and rookies alike.
"The tires are designed not to last that long so if you make a mistake on your flying lap you're in trouble," Vautier said. "The car was good though and I'm very happy to have Angie's List on board starting this weekend. Overall our qualifying effort was improved and we'll be ready to race to the front tomorrow."
Pagenaud echoed Vautier's sentiment on the difficulty of succeeding at the Mid-Ohio Sports Car Course, which has been compounded by changes in weather conditions.
"The tough thing this week has been that the track changes every day after it rains each night," Pagenaud said. "It keeps gripping up at the end of the day and then we'll be back to being slick each morning. We've been having to make so many adjustments for that and I want to thank the HP team because they've been right there each time."
Ryan Hunter-Reay won pole for the Honda Indy 200 at Mid-Ohio. He will be followed to the green flag by Will Power and Scott Dixon.
Schmidt Peterson Motorsports