Birmingham
DREYER & REINBOLD RACING CONTINUES TO BUILD MOMENTUM DURING PRACTICE AT BARBER MOTORSPORTS PARK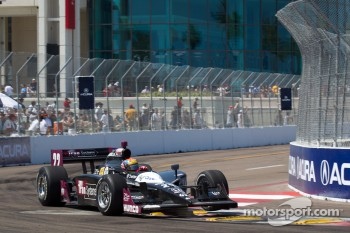 Justin Wilson, Dreyer & Reinbold Racing
Birmingham, AL (April 8, 2011) - Dreyer & Reinbold Racing hit the pavement at Barber Motorsports Park in Birmingham, Alabama today. It was a matter of putting the laps in and getting the car just right for tomorrow's qualifying, and that's exactly what the team did in practice. Today turned out to be a very successful day for DRR pilots, Justin Wilson (No. 22 Charter), and Simon Pagenaud (No. 24 Ipiranga/Blazemaster), as they practiced for the second round of the IZOD IndyCar Series, the Honda Indy Grand Prix of Alabama.
After a successful test at the 2.38-mile picturesque circuit a couple of weeks ago, DRR and Wilson had plenty of information to build on for this weekend. The team continued to build the momen tum that they accomplished at the test, and today they kept getting a couple of steps closer. Both practice sessions were about dialing the car in and continuing to try different things. The Brit clocked the 8th quickest time in practice one with a time of 1:13.9165. As the second session rolled around, the No. 22 Charter crew continued to make changes, but didn't quite find the right one. Luckily, they are getting closer and feel like they have a path to head down for tomorrow. Wilson clocked the 11th quickest time of 1:13.6526 in practice two.
Making his IZOD IndyCar Series debut today was Frenchman, Simon Pagenaud, who is filling in for the injured Ana Beatriz and is driving the No. 24 Ipiranga/Blazemaster car. It was all about laps and experience for Pagenaud. Not only was today his first time in an IZOD IndyCar, but it was the first time at Barber Motorsports Park as well. The goal for the Frenchman was to get more track time under his belt and to adapt to the car. Pagenaud and DRR made the necessary progress and have a good direction for tomorrow. The 26-year old was 25th fastest in the first session and 23rd fastest in the second session with times of 1:15.2944 and 1:14.4426.
What they have to say about the Honda Indy Grand Prix of Alabama...
I've got some work to do, but I should get there.
Justin Wilson, No. 22 Charter: "Today was okay. We made a couple of changes to the car and that was good. We are not quite quick enough yet and not where we want to be, but it's pretty tight. A couple of tenths would put us in a good spot. We just have to keep working on it and trying to get a little bit more grip as well as keep working on the balance. I think we need a little bit more performance and we did a few things there and it was good, but we never put on new tires. We'll just keep working on it."
Simon Pagenaud, No. 24 Ipiranga/Blazemaster:. "Getting used to the car, getting used to the team, there are a lot of new things for me. It's a great challenge to be honest. It's obviously a lot of work, but I'm happy that I get to represent Ana and Ipiranga/Blazemaster this weekend. The least I can do is my best and to help her recover quickly, that's the main thing. I'm also really happy to have joined Dreyer & Reinbold Racing. It's really good to be here. I enjoyed racing Champ Car in the past and coming back here this weekend will stand out in my memory for me. I've got some work to do personally, but that's normal because I didn't know the track and I didn't know the car this morning. I've got some work to do, but I should get there."