Birmingham
DREYER & REINBOLD RACING QUALIFIED 5th AND 23rd FOR THE HONDA INDY GRAND PRIX OF ALABAMA
Leeds, AL (April 9, 2011) - Dreyer & Reinbold Racing proved that their hard work has paid off as they had successful results in today's qualifications for the Honda Indy Grand Prix of Alabama presented by Legacy. Justin Wilson, pilot of the No. 22 Charter machine, qualified 5th on the grid for tomorrow's event. His teammate, Simon Pagenaud, pilot of the No. 24 Ipiranga/Blazemaster car, will start 23rd for the race.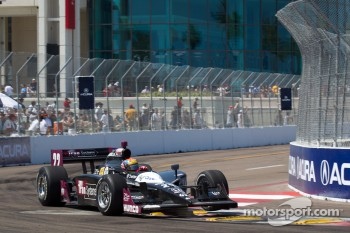 Justin Wilson, Dreyer & Reinbold Racing
Yesterday DRR worked diligently to get Wilson's car just right for qualifying as they dialed it in and tried different things. The changes were successful and the Brit advanced into the Firestone Fast Six. Wilson made his second qualifying attempt at Barber Motorsports Park and battled his way through the sessions. A broken wrist didn't hold the veteran back as he recorded a time of 1:12.3085 (114.509mph), earning him a 5th place starting position. Wilson qualified 11th and finished 7th last year for the race.
Last season, Wilson earned DRR's best result since team co-owner, Robbie Buhl, won in 2000 at Walt Disney World Speedway, as he came home with 2nd place finishes for the organization in St. Petersburg, Florida and in Long Beach, California. He started competing in the IZOD IndyCar Series in 2008 and since then he has won on a street course (2008 Belle Isle) and a road course (2009 Watkins Glen). Wilson has also advanced to 17 Firestone Fast Six sessions since 2008. Out of those sessions he has qualified in the top-5 ten times.
Laps and experience were just what the doctor ordered for Pagenaud. This weekend, the reigning ALMS champion has been able to get more track time under his belt. With each session the Frenchman continued to knock time off his lap times and as a result saw him within four-tenths of a second off of his teammate, Justin Wilson's time. Unfortunately, Pagenaud did not advance to the fast 12. The 26-year old clocked a time of 1:12.5900 (114.065 mph) and will start 23rd.
Dreyer & Reinbold Racing will be on track tomorrow for the Honda Indy Grand Prix of Alabama presented by Legacy in Leeds, Alabama. The race telecast will air live at 3:00 pm (ET) on VERSUS. The race will air live on the IMS Radio Network, XM channel 145, and Sirius channel 211. For more updates on the team, please visit www.dreyerreinboldracing.com.
What they have to say about the Honda Indy Grand Prix of Alabama presented by Legacy...
We have some more improvements to make, but I have to improve myself as well.
Justin Wilson, No. 22 Charter: "We had a pretty good day. The Dreyer & Reinbold guys have worked really hard. The set-up really came together and this morning the Charter car felt pretty good. We made a couple more changes in qualifying and it's right there. I'm really pleased to make it into the Fast Six. I got a little carried away going into the second to last corner and lost the rear. I had already set my quickest time by then, so I wasn't too concerned. I knew the grip level for me was down a little bit and I had done pretty much all I could do."
Justin on his wrist: "The wrist is okay. It's uncomfortable, but when it comes down to qualifying, you've just got to get on with it. The race is going to be tough, especially with Oriol [Servia] breathing down my neck. But hopefully we'll have a good day tomorrow in the Charter car."
Simon Pagenaud, No. 24 Ipiranga/Blazemaster: "It wasn't too bad compared to how it shows on the time sheet. Obviously, this was my first time in the car this weekend and looking at the lap time that's not too bad. I was in a strong group and it is what it is. Overall, we have improved the Ipiranga/Blazemaster car a lot and I'm pretty happy in the car. We have some more improvements to make, but I have to improve myself as well. I'm not too far from Justin, which was my goal this weekend to get as close as I can to him, which I was about four-tenths in the session and it was my first time on the Firestone "red" tires. We keep getting closer and improving every time. The race will be key tomorrow with a different strategy that will hopefully pay off. Looking at our position we will probably need to gamble something, but we will find the right way to do things."
-source: ddr