Dale Coyne Racing will now focus on preparing to defend Wilson's big 2012 victory at Texas Motor Speedway.
Detroit, Mich. - After experiencing the highs of a hard-fought podium run to third place on Saturday, the second race of the Duals in Detroit provided some unwanted lows for Justin Wilson on Sunday.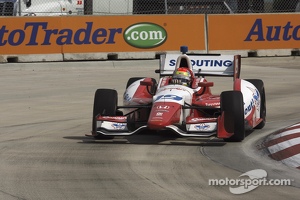 Justin Wilson, Dale Coyne Racing Honda
The Honda-powered pilot was caught up in a multi-car crash on a lap 24 restart, causing enough damage to the No. 19 Boy Scouts of America entry that the Dale Coyne Racing squad was forced to call it an early day in round seven of the 2013 IZOD IndyCar Series championship.
Wilson opened the race from eighth on the grid, moving up to run fourth before a lap 22 yellow flag saw engineer Bill Pappas call Wilson into the pits for his first service of the day. A routine stop for fuel and a new set of Firestone reds, and Wilson was on his way.
Looking for the green flag from 19th position, Wilson was greeted with a melee of IndyCar machines that created a complete roadblock at the exit of turn one. The incident caused significant damage to the front suspension as Wilson was placed 22nd in the unofficial results.
"People were driving crazy," said Wilson. "I had several close moments which were totally unnecessary but everybody wants to win this race and crazy things like that happen. People knew they had to look after their cars yesterday, and today they don't care and started to use them as weapons.
I came through the corner and literally the track was just completely blocked and I decided rather than pile into them, I'd try and hit the wall and try to take the speed off of it.
I'm disappointed for the Boy Scouts of America team. It's just frustrating because we had such a great day yesterday and today I think we had a chance - maybe not to win but maybe for another podium."
The team will now focus on preparing to defend Wilson's big 2012 victory at Texas Motor Speedway when the IZOD IndyCar Series returns to race action in just six days' time.
Justin Wilson