Allan Brewer, IndyCar correspondent
Barrichello signs, Kanaan extends, at KVRT
Former Formula 1 driver Rubens Barrichello signed today with KV Racing Technology to drive the team's No. 8 Dallara DW12/Chevrolet in the upcoming 2012 IndyCar series season. He will join countryman Tony Kanaan, whose contract to drive for the KVRT team was extended for another two years today, and the newly-resigned EJ Viso as teammates.
The move completes a surprising journey for the 39-year old Brazilian, who once promised his wife he would never race on the oval tracks that make up part of the IndyCar schedule.
"I am over the moon," Barrichello said. "It was a month ago I tested at Sebring and at Sonoma with my brother Tony (Kanaan) and I got a fantastic reception. I had such a good time from there on. When I got an invitation to join from (team co-owners) Jimmy Vasser and Kevin Kalkhoven, I knew what I wanted to do."
We are very excited to have both Rubens and Tony.
Barrichello's announcement brings the most experienced driver in F1 history to IndyCar and to the Indianapolis 500 in May. He raced to 11 wins and 14 poles on 322 starts in the championship series.
After being dismissed in favor of young Bruno Senna at Williams F1, most observers assumed the long-lived Barrichello would transition into retirement with the record for starts in the championship series. It took a bit of chicanery to avoid the rocking chair, and long-time friend and IndyCar veteran Tony Kanaan played a part in it.
"I was with Rubens when he got the call from Williams," said Kanaan. "I asked Rubens to test my car to help me out. I went to Kevin (Kalkhoven) and Jimmy (Vasser) and told them Rubens already had sponsorship, they should just give him a few laps, and I stepped out of my car for one day. Then, it became four days. Then I talked to Rubens and he liked it, then he thought about it, then we let Kevin and Jimmy know there wasn't a sponsor. There were some frowns, but at the end of the day we found a sponsor and everybody's happy."
"Before the first test I said it's about a ten percent chance Rubens would ever drive one of our cars," said KVRT team co-owner Kevin Kalkhoven. "Afterwards, when it became obvious he liked it, it was on to the decision makers in Rubens' life: his wife and kids."
"We are very excited to have both Rubens and Tony," team co-owner Jimmy Vasser added. "The addition of Rubens and the return of Tony along with EJ gives KVRT a very strong driver lineup and one I am sure can compete for podium finishes and race wins."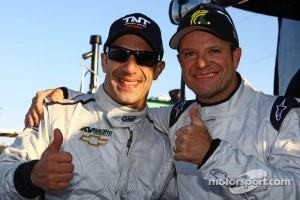 Tony Kanaan and Rubens Barrichello, KV Racing Technology
"I love the challenge," said Barrichello of the work ahead in developing a new car and learning a slate of race courses entirely new to him. "With Tony and EJ I think we can take it to a different level."
"I'm extremely happy," Kanaan said of his contract extension, which will keep him at KVRT through 2014. "I've been living in the shop for the last month, it's such a pleasure to be here. If it wasn't for Kevin and Jimmy signing me last year none of this would have ever happened. Now that Rubens is here we can improve on the results that we had last year."
The season-opening Honda Grand Prix of St. Petersburg is March 25.