Allan Brewer, IndyCar correspondent
Second day of IndyCar summit heats up stove-top competition and driver line-up rumors
The second day of State of IndyCar presentations in Indianapolis brought the return of single-file restarts, a tri-heat qualifying process for Iowa and fresh information on former Formula 1 stand-out Rubens Barrichello's bid to enter the series.
IndyCar President of Competition and Race Director Beaux Barfield announced that the series will qualify with 3 30-lap heat races at Iowa Speedway when it returns there on June 22nd. Barfield is also considering the possibility of a standing start similar to those used in Formula 1 racing at select tracks in 2012. He offered a sop to drivers concerned over safety of double-file restarts by stating that single-file restarts will return to the competition rule book for the ovals at Indianapolis, Texas and California Speedway.
The stewards will really take a step back from being so involved in what the race director does."
Barfield also took control of communications regarding rule implementation during the race, by stating that he personally will announce to teams and TV if an incident is under review. In addition, rules inquiries from teams will receive a text-written response, rather than verbal, to eliminate misunderstandings. The move marks a diminished level of responsibility for the stewards in the race control suite and a consolidation of rules interpretation under the newly-commissioned race director.
Barfield said most race control personnel relating to operational roles in 2011 will return, with the functions of the stewards to be altered. Two-time Indianapolis 500 champion Arie Luyendyk and former IndyCar driver Johnny Unser were appointed earlier this week to the race stewards' role.
"It takes a group of eight or nine people to do specific jobs, whether that's communicating with corner workers or dispatching the safety team," Barfield said. "All are necessary to provide a good officiating system. The stewards will really take a step back from being so involved in what the race director does."
"There have been several schools of thought over the years whether there should be one person making the decisions or three," he continued. "It's my job in a drivers' meeting to communicate exactly what my expectations of the drivers are, so it should be one person. That leaves the stewards to be more in a role of a safety net."
"We're going to follow Beaux's lead and we'll be another set of eyes looking at the race and trying to keep it safe for everybody," commented Luyendyk of the move.
"We're there to support him, to watch monitors, to watch what's going on from the front of the field to the back of the field. We're there to keep it fair for everybody," added Unser.
Graham Rahal, Chip Ganassi Racing
A presentation of the on-track performance of the new 2012 Dallara DW12 race car confirmed earlier reports that its speed on the oval tracks is lacking (225 mph tops at Indianapolis), but it is breaking new ground for the series in road-racing configuration and in terms of driver safety (i.e., additional driver padding in the cockpit and lessened risk of airborne-flip from wheel-on-wheel contact).
Performances at the Sebring road circuit have proven a 1.5 second per lap advantage for the new engine and chassis packages, not surprising given the additional boost offered by the turbocharged V-6 power plants over the previous normally-aspirated Honda Racing V-8. Boost is limited to 46 psi on the road circuits, with smaller limits enforced on short ovals (41 psi) and the superspeedway at Indy (38 psi).
Rules-makers also implemented a ban on the "overtake button" for the initial races of the season with re-evaluation as the year transpires. Rev limiters will be set for 12,000 rpm with each engine expected to last for 1850 miles of use at speed. As previously announced each engine will have an aluminum block and cylinder heads, direct ethanol-fuel injection and twin-turbochargers.
A possible shortfall of engine production was avoided when Honda and Chevrolet committed to offering more than their original allotment of 10 engines apiece. Ed Carpenter Racing received the largesse of the engine-manufacturers on Monday when Chevy announced his team would enter their camp for 2012. The other teams using Chevrolet power are Team Penske, Andretti Autosport, KV Racing Technology and Panther Racing. Sarah Fischer Racing may soon join them in the Chevy fold.
It will be great to have the famed Bowtie back in the IndyCar Series.
"We are extremely excited to partner with Chevrolet," said Carpenter, who earned his first series victory at Kentucky Speedway and the first for SFR just last October. "Chevrolet has been an American legend for over a century and a winner in all forms of competition. It will be great to have the famed Bowtie back in the IndyCar Series."
Chevrolet has recorded 104 Indy car wins, including six series championships and seven Indianapolis 500 victories.
Honda will power Ganassi Racing, AJ Foyt Racing, Rahal Letterman Racing and Dale Coyne Racing in 2012, while Lotus engines will sit behind the factory entry of Katherine Legge and HVM's Simona deSilvestro in addition to drivers Oriol Servia and Alex Tagliani at Dreyer & Reinbold and Bryan Herta Racing respectively. All 3 manufacturers will compete for the newly-minted IndyCar Manufacturers Trophy.
Former Formula 1 driver Rubens Barrichello, who recorded 323 starts between 1993 and 2011 and scored 11 wins, will be back behind the wheel of the KV Racing Technology Dallara DW12, testing at Sonoma, California on February 25th and 26th for the team.
A mid-day report from FOX offered that owners Jimmy Vasser and Kevin Kalkhoven have found the $6 million needed for full season IndyCar sponsorship of Barrichello. KVR team manager Mark Johnson also hinted that Barrichello was close to nailing down a spot on the grid for the St Petersburg, Florida opener on March 25th. "It's like we did last year with Tony (Kanaan)," Johnson told the Indianapolis Star. "We all sat around a table and said, 'You in? You in? You in?' And we made it happen."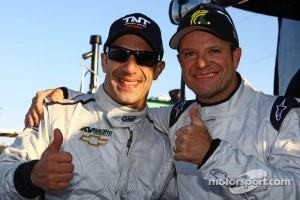 Tony Kanaan and Rubens Barrichello, KV Racing Technology
Potential KVR teammate Tony Kanaan remained mum on the issue, commenting to reporters, "I'll give you guys Jimmy Vasser's phone number." Kanaan is close friends with Barrichello, a fellow Brazilian, and has been instrumental in luring Barrichello to the U.S. Barrichello had previously sworn never to race on ovals in deference to a request from his wife not to do so, but more recently told reporters that the issue was now "solved".
At Rahal Lanigan Racing, 2011 GP2 runner-up Luca Filippi and 35-year old Michel Jourdain, Jr are thought on the cusp of a deal to drive alongside last year's Iowa pole-sitter Takuma Sato. Filippi was a test driver for the Honda F1 team that folded in 2008, while Jourdain has previously driven for RLR in the Champ Car series. Either or both drivers could end up with a partial-season ride from the negotiations.