Birmingham
ANDRETTI AUTOSPORT IZOD INDYCAR SERIES NOTES AND QUOTES, POST-QUALIFYING HONDA INDY GRAND PRIX OF ALABAMA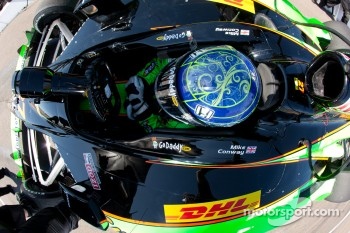 Mike Conway, Andretti Autosport
MARCO ANDRETTI, #26 TEAM VENOM ENERGY DRINK CAR
Will start tomorrow's race in ninth position "We got what we could get from the car and that is where it put us today. We have to be better than that tomorrow if we want to make anything happen. We're off where we need to be right now and we've got to find it pretty quick."
MIKE CONWAY, #27 TEAM WINDOW WORLD CARES CAR
Starts the race in P16 "We're just trying to find speed and haven't gotten there yet. We never got the car how we wanted it. I'm disappointed, really. We all seem to be struggling. Marco showed a bit more speed, so we'll see what we can learn from him and go from there."
RYAN HUNTER-REAY, #28 TEAM DHL/SUN DROP CITRUS SODA CAR
Will start the race in P17 "We're just not getting the grip out of the 'red' tires that we need, that everyone else is getting. We need to look at our overall balance and setup is. Now, we're going to be going into Sunday changing everything and that's not ideal for us at all. We came here trying some pretty radical stuff that didn't work for us and now we're playing catch-up because of it. "But, we're up as a team and down as a team, and tomorrow is the only day that counts this weekend. We've got every expectation to still get a good result tomorrow."
DANICA PATRICK, #7 TEAM GoDaddy.com CAR
Starts tomorrow's race in P22 "Today's qualifying run wasn't the result we were looking for. We'll have to play it smart and work our way through the field to have a successful race for the GoDaddy.com car. Hopefully there will be some opportunities for us to make some advances in the field. We'll just have to play it safe and work hard tomorrow."
-source: aa