St. Pete
Vitor Meira: No. 14 ABC Supply Dallara/Honda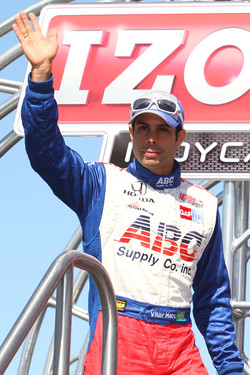 Vitor Meira, A.J. Foyt Enterprises
Vitor Meira and the ABC Supply team will start their third season together and make their third appearance in this race together. Vitor's best finish is fifth (2005 and 2006) while the ABC Supply team's best finish is ninth (2006 with Felipe Giaffone and 2009 with Meira). Vitor's best start is ninth (2007) while the ABC Supply team's best start is fifth (2007 with Darren Manning). Meira will be celebrating his 34th Birthday on race day!
ABC Supply returns for its seventh year as primary sponsor of A.J. Foyt's No. 14 with GAF signing on for another year as associate sponsor on the car's engine cover.
Continuing its patriotic red, white and blue livery, the No. 14 ABC Supply car is sporting a new design which is meant to evoke the scheme of A.J. Foyt's 1961 Indy 500 winning car. This year marks the 50th anniversary of his first of four Indy victories as a driver.
Meira on testing at Barber Motorsports Park last week: "We were definitely better than we were last year, we know more of the direction we have to go when we come back. It's still a tough place, a very tough place with tough competitors so we have to make sure what we do is right and not guesswork. We just have to make adjustments and get what we have a little bit better everywhere."
Did testing at Barber help for St. Petersburg? "I think testing in Barber always helps a little bit. We ran new parts on the car and we learned about the behavior of these new parts so we most likely will be using that in St. Pete. It was very good to go through these changes so we can make sure we take everything out of it. I think was very valid."
Do the double file restarts on road courses put less of a premium on qualifying? "No, I think qualifying on road courses is always going to be very important. A double file restart allows you to have more opportunity to pass--and be passed. I think the double file restarts will be good on the road courses but I never did it before in my career so it's very hard to know what's going to happen. Aside from the start itself, I have never done a double file restart. Once we do it, everyone is going to have an opinion about it and share it with the league and try to improve the system. It's in the rules, but I'm sure if there's something that the team owners, the drivers and the league are not pleased about, they will change it. It's going to be very interesting this first race and I myself want to experience it, not only the restart itself but also getting arranged on the last lap before the restart. That will be interesting."
Key factors for the race? "You have to have a good set up, and a good qualifying run. Your setup must have longevity; it can't just be fast, it has to be one that runs good with older tires. St. Pete is one of the street courses that allows you to pass—you can pass in two or three places—so having your car work towards the end of your fuel stint is important."
Is this race physically demanding? "It's not the most physical course—it grips up a lot during the race and you feel it but there are tracks that are more physical than St Pete. Still, you have to be prepared and if you're not prepared, you're going to be losing time towards the end of the race."
Thoughts on limiting the field to 26 Cars (except for Indy 500)? "I haven't spoken to many people about it and I'm sure the limiting factor at some tracks is the pit lane as just so many cars can fit there. But without really knowing all the reasons behind the decision, it's hard seeing somebody not being able to race because everybody makes such a big effort to be there to compete. For this reason, I would like to see maybe a limit on people enrolling—let's say just 26 cars enroll for the championship, so you're not sending guys home. If the guy's on track trying, he should have the right to race. It's going to be hard to see this happening."
ABC Supply roofing customer Dale Tadlock Roofing, of Tallahassee, FL, will be featured atop the sidepods of the No. 14 ABC Supply Dallara/Honda. In addition, Dale will receive selected merchandise, race tickets, hospitality and garage passes, plus a Meet and Greet with Vitor Meira.
William Harrell, of ­­­­Tampa, Florida, is the ABC Supply Honorary Crew Member of the Race this weekend. ­William will spend race day as part of the pit crew, doing odd jobs as the team preps the car for the race. He will also be in the pits during the race where he will experience the action up close.
-source: ajfr