Takuma Sato comes to Sao Paulo as one of Indy's favorite pilots after winning at the Long Beach street circuit.
Japan's Takuma Sato took his first victory in the IndyCar Series at Long Beach in California, and will now be in the fight for the first position in the Sao Paulo Indy 300, which will be held this weekend.
Last year, the new pilot for A.J Foyt Racing this year ended third on the streets of Sao Paulo. "That was one of the most fantastic days (I had) in my career", the competitor said about his podium last year.
Those who watched the 2012 Sao Paulo race on the street circuit will certainly remember that the 36 years old race driver ended up in at the finish line in third place after being in the 26th position and making the race a historical one for himself.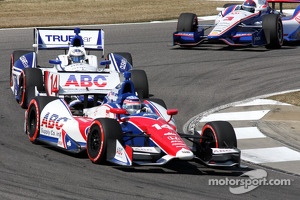 Takuma Sato, A.J. Foyt Enterprises Honda
When the 2013 season began with his new team, Sato believed in himself and Foyt Racing. At Long Beach, he made history as the first Japanese pilot to win an Indy car race. "Today is just amazing the whole crew did a tremendous job", he said.
He now comes to Brazil as one of IndyCar's favorite pilots.
But we never know what might happen in Sao Paulo, which has been the scenario for incredible and unpredictable races. Will Helio Castroneves keep his leadership by winning the race?
Castroneves' team colleague, Will Power, has won the Sao Paulo Indy 300 race three times but this year the Brazilian is off to a good start with the early points lead. While it is the home race for Castroneves, Sato could be the 2013 winner on the Sao Paulo street circuit
We have to wait and see.