How Reddy started racing at 23 and dominated Indian motorsport
Anindith Reddy's rise to prominence in the domestic motorsport circle has been nothing short of exceptional, especially when one considers how late his racing career began.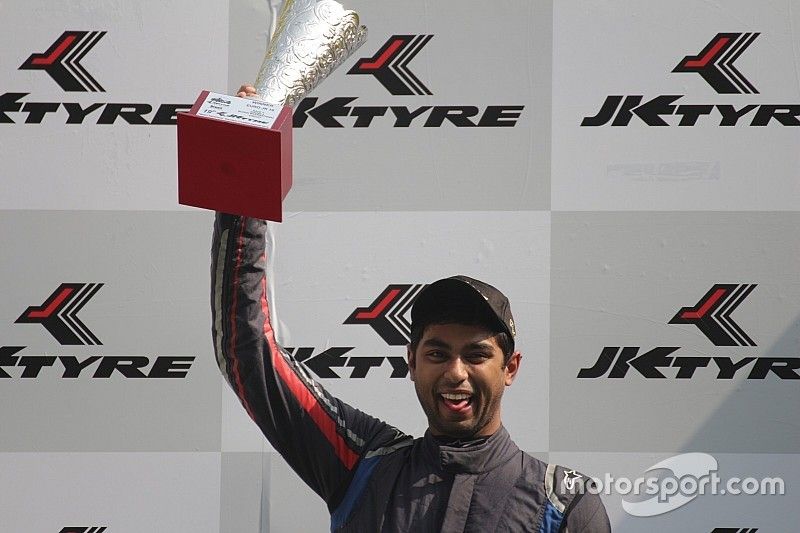 It would have been easy to overlook Reddy when he signed up for the Volkswagen Polo R Cup in 2014. At the age of 23, he was older than majority of the field. And with just two weeks of karting background - dating back to 2003 - he wasn't the most experienced man either.
However, what followed over the next four years changed the perception about age in a sport where professional karting begins as early as eight.
In his very first season of racing, Reddy finished a joint third in the standings and was highest placed among all rookies.
"I did one year [of karting] when I was about 13-year-old. It was a JK Tyre four-stroke championship," he told Motorsport.com. "That time there was no two-stroke racing in india. And they had regional events. And I only did two weekends of racing.
"After that I took a 10 year sabbatical from racing and never raced anything on a professional level.
"When I moved back in 2013 to India me and my friend Ishaan [Dodhiwala] talked about doing the Polo R cup as a joke. But we went to selections and did well over there."
Anindith Reddy
What started off as a joke soon turned into a profession. After a successful maiden campaign, Reddy competed in the Vento Cup, which replaced the outgoing Polo R Cup, in 2015.
The Hyderabad-based driver consistently raced at the sharp end of the grid that year and managed to overtake overall points leader Karminder Singh to win his first ever title.
There had never been a question about Reddy's pace, but improvements in racecraft made the difference between finishing third and clinching the crown.
"I think it was a big learning year," he said. "While the pace was there, my racecraft was very amateurish or non-existent.
"Driving one fine lap is totally different from having 18 cars on the grid and competing against them. And that was the first year I really learnt racecraft.
"Even leading from pole is not just as straightforward. Because there is a car right behind you and he is always pressuring you. And you have 15 laps to not make a mistake. So even leading the pack there is a lot of racecraft involved." 
Anindith Reddy
Having tasted success in touring car racing, Reddy jumped to single-seater racing in 2016. Normally this sort of transition can be tough for most drivers, given the varying nature of both types of cars.
However, for Reddy it was a different story. He was up to pace straight away in MRF F1600, scoring two podiums in the opening round. He ended the season fourth in the standings, with one victory to his name 
Along with MRF F1600, he also competed in the JK Tyre's Euro JK series, emphatically winning the championship after coming on top in a three-way fight with Nayan Chatterjee and Ananth Shanmugam.
While Reddy had the advantage of a dual campaign, not many drivers can claim to win a single-seater championship in their very first year. 
"Actually the transition didn't feel like a major step for me," he said. "I was quite comfortable from the first time I got in a Formula 1600.
"I think paying attention to the car, it's dynamics, how they kind of different prepping yourself to that and how they react to your input and understanding what the car is doing played a major role in my transition.
"That was something I was doing before I entered racing as well. So that's what I really benefited from"
Reddy carried the momentum from 2016 to '17, winning both MRF F1600 and JK Tyre titles in supreme style to assert his authority as one of the rising Indians stars.
Age factor
Given all the championships he's won in his first four years of racing, it's easy to forget that he was 23 when he first raced in a competitive championship. 
But Reddy is unfazed by the whole perception about age in motorsport, saying a session-by-session approach has been key to his success.
"I'm one of the people who thought I'd never find myself winning Euro JKin my third year of racing. My approach to every weekend is to think about the very next session and tried to be sensible about the championship when it comes down to it," he explained.
Future
Succeeding in a domestic motor racing series is one thing while racing against some of the best drivers in the world is quite another. And Reddy is up for that challenge.
For 2018 Reddy has his sights on sportscar racing series across Asia, with the Hyderbased-driver specifying categories that involves GT3 or GT4 spec cars as his preferred choice.
Despite a recent Formula Renault test in Italy, Reddy, however isn't too keen on forging a long-term career in single-seaters, citing his age.
"Honestly I would love to drive formula cars for as long as I can but if I have to think about my career I need to change to GT cars," he explained.
"That's what I really want to do next year. Driving something along the lines of GT4, GT3, Super Trofeo or the Blancpain GT series. That will be my goal for next year." 
Anindith Reddy
Subscribe and access Motorsport.com with your ad-blocker.
From Formula 1 to MotoGP we report straight from the paddock because we love our sport, just like you. In order to keep delivering our expert journalism, our website uses advertising. Still, we want to give you the opportunity to enjoy an ad-free and tracker-free website and to continue using your adblocker.
Become a subscriber.
Disable your adblocker.