Westbrook on top in IMSA TUDOR qualifying in Detroit
It was a happy day for the Spirit of Daytona race team in Detroit.
Richard Westbrook (in photo) made the most of the final minutes of qualifying with a pole-winning run for the Chevrolet Sports Car Classic on The Raceway at Belle Isle Park. He put the No. 90 Visit Florida Spirit of Daytona Racing Corvette Daytona Prototype in the number one starting position forthe TUDOR United SportsCar Championship race with a fastest lap time of one minute, 25.011 seconds (1:25.011) to capture his first pole of the 2014 season, and his fifth career Prototype pole. Second was Ryan Dalziel in the Extreme Speed Honda P2 car, just 0.018 seconds back. Third was Christian Fittipaldi in the Action Express Corvette DP.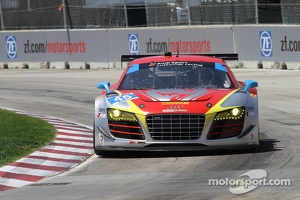 #45 Flying Lizard Motorsports Audi R8 LMS: Nelson Canache Jr., Spencer Pumpelly
Photo by: Art Fleischmann
In GT, Spencer Pumpelly (#45-GTD Audi R8 LMS) had the fastest time at 1 minute, 32.914 seconds. Just behind him was the Dodge Viper of Jeroen Bleekemolen. "This is actually a really good track for the R8," Pumpelly said. "One thing this car does better than most others is handle bumps. [The track] has gotten a ton better than last time we were here, but it's still a bumpy race track. We kind of had high hopes this weekend, coming here: doing well, getting the pole, win the race. So far so good, we just have to get that chip off our shoulder tomorrow and finally come through with not an almost, but a did."
As for the Prototype class, "Winning the pole for the Chevrolet Sports Car Classic is a great way to start the weekend at Chevrolet's home race here in Detroit," said Jim Lutz, Chevrolet Racing Program Manager, TUDOR United SportsCar Championship Prototype. "Richard Westbrook and the No. 90 Spirit of Daytona Racing Corvette Daytona Prototype team were well prepared to make pole run for the race. With the race being only 100 minutes, track position is going to be critical. Our Corvette DP teams have been working very hard to be well prepared for this event. We are looking forward to a very competitive race on Saturday."
The Chevrolet Sports Car Classic is slated to start at 12:10 p.m. ET on Saturday, May 31. Live coverage by MRN Radio will be aired on IMSA.com along with live timing and scoring as well as select MRN outlets. Fox Sports One will air the race tape-delayed on Saturday May 31 starting at 1:30 p.m. ET.
RICHARD WESTBROOK, NO. 90 VISIT FLORIDA SPIRIT OF DAYTONA RACING CORVETTE DP:
"Yes, it was like déjà vu in Laguna. There was so much chatter on the radio and it was like "P1, now you are P2, now you are P1 and then P2". Then I did a twenty-five one I think with three laps to go and I thought, yes I am done now. I did a cool down lap and then fortunately they came on the radio on the last lap and said you are going to have to go a twenty-five zero. Then I just threw caution to the wind and sometimes you get rewarded for that on a street circuit and sometimes it can bite you. But today just felt like our day. It was a welcome surprise when we rolled off the truck and we weren't that competitive but it's nice to see all the boys smiling at SDR. We found some pace at Sebring and we are definitely on the up. The results will come but for me it's just great that we got our pace back again."
WHAT WOULD A WIN IN THE SHADOW OF THE REN CENTER MEAN FOR YOUR TEAM, OBVIOUSLY A CORVETTE TEAM, BUT THE SEASON HASN'T BEEN EVERYTHING YOU HAVE WANTED YET?
"No, you are right. Results-wise it hasn't and I don't want to hex it by talking about a win tomorrow so I am going to say we are aiming for the podium. To get a good result in Detroit, the backyard of Chevy, and give yourself a nice big smile on the way to Le Mans as well -- it's obviously an important week next week as well, it would mean so much to do well here. Let's see because there is a lot of work to do and like I said, we have a good pacey car now and that is the really pleasing thing right now. Let's see if we can convert it tomorrow."
CAN YOU TALK ABOUT THE LOGISTICS PROBLEMS FOR WHEN YOU HAVE TO GET OUT OF HERE TOMORROW AND GET TO LE MANS TO PARTICIPATE IN THE MANDATORY TEST?
"Well, it's not that straightforward as we found out a year ago when we missed our flight and then missed scrutineering. So Mr. Fehan was not a happy person. So we are under strict orders this time and he looked at our flight details to make sure we are on the safest route. So thank god the race isn't starting too late so we have plenty of time to get to the airport and we fly direct to Paris. Then we get a train from Paris to Le Mans and can just about make the afternoon session. Fingers crossed that it doesn't rain for that afternoon session in Le Mans.
Chevrolet Racing, IMSA
Westbrook on top in IMSA TUDOR qualifying in Detroit