People in this week in racing history include: Ayrton Senna, Ray Keech, Gary Bettenhausen, Jochen Rindt, Glen Seton, Arturo Merzario and Mario Andretti.
This Week in Racing History
Michael Stucker
www.vintageRPM.com
April 21
Ayrton Senna, driving a Renualt-powered Lotus 97T, scores his first Formula 1 win, in the Portuguese Grand Prix of at Estoril (1985).
April 22
Ray Keech, driving the White Triplex "Spirit of Elkdom", sets a new one-mile Land Speed Record of 207.552 MPH (1928).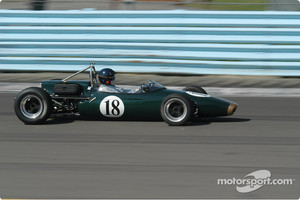 Brabham BT18
April 23
Gary Bettenhausen wins the Trenton 200 USAC Championship race in Trenton, New Jersey, USA, driving an Offenhauser-powered Penske
McLaren
M16B (1972).
April 24
Jochen Rindt, at the wheel of a Roy Winkelmann Racing Brabham BT18, wins the F2 Eiffelrennen on the Nurburgring in West Germany (1966).
April 25
Alfa Romeo T33/TT/12s finish 1-2-3 in the 1000K race at Monza, Italy. Arturo Merzario and Mario Andretti winning over Jackie Ickx and Rolf Stommelen, with Andre de Adamich and Carlos Facetti finishing third (1974).
April 26
Glen Seton wins the ATCC race at Wanneroo, Western Australia, driving a Nissan Skyline (1987).
April 27
Rally driver Ari Vatanen born (1952).