Pirelli makes successful Australian GT debut
Round one of the Australian GT Championship saw Pirelli tyres make its debut during the 12 Hours of Bathurst event. Australian company Trofeo Motorsport was granted the rights as the supplier for the Pirelli brand.
After competing as one of three tyre suppliers to the Australian GT Championship in 2012, Pirelli's Australian motorsport supplier Trofeo Motorsport was granted the rights to become the control tyre supplier for the 2013 season, and the naming rights sponsor for the category for the next three years.
Whilst under Bathurst 12-Hour regulations some registered Australian GT entrants were able to run with other manufacturers tyres, Pirelli came away from the event - which was book-ended by Safety Car periods and intense weather - with victory in the opening round of the Australian GT Championship presented by Pirelli, and a podium finish in the Liqui Moly 12-Hour event.
"We're very happy with the end result all things considered," Trofeo Motorsport's Rod Wilson admitted. "We weren't the predominant supplier in the field, because the 'open' tyre rule for this event over-rode the 'control' tyre situation with Australian GT, but our results speak for themselves.
"The event really was a lottery in many ways, with the traffic playing a big part in the result, and the weather at the end, but there was no denying the winner, so congratulations to Erebus Motorsport and Clearwater Racing for a fantastic final stint of racing.
"Congratulations too to all the competitors that made the trip to Bathurst. Like any other endurance race in the world, it's a test of survival in many cases, and the field of over 50 cars and some extreme weather conditions really tested the teams, so to those Pirelli competitors who missed out this year, congratulations on your efforts, it was a mammoth task just to be a part of that event.
"For us too it was a huge task to gear up for Bathurst, with two transporters bringing 800 tyres to the event (two dry compounds and wet weather tyres). We had more than 30 staff on the ground and we were here for five days ensuring our customers had everything they needed to get maximum performance from their cars.
"We're were also here to kick of the GT Championship as part of our new partnership with the series, and with the VIP Petfoods team finishing on the podium, it topped off a very big day for us in our full-time return to top level competition in Australia.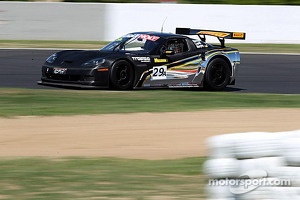 #29 Trofeo Motorsport Corvette Z06 R-GT3: Jim Manolios, Greg Murphy, Ivan Capelli
Photo by: Bathurst 12H
"In AGT we finished with two cars on the podium - first to Klark Quinn, Shane Van Gisbergen and Matt Kinsgley (Porsche GT3-R), and third to Jim Manolios, Greg Murphy and Ivan Capelli (Corvette Z06.R). We also had two class winners, with Michael Hovey in the Ginetta and Ben Foessel in the Porsche, so that's a great way for them to kick off the season, taking maximum points into round two at Clipsal, and of course at Clipsal, every GT car will be on Pirelli."
With the iconic Italian tyre manufacturer now in their third year as the sole tyre supplier to Formula One, is there any flow down effect to categories like Australian GT?
"I think Pirelli have built their product range up over many, many years around motorsport. I think certainly with their current involvement with Formula One. Clearly it is a brand that is known, and they're also associated with a range of top marques as original equipment - Ferrari, Lamborghini and Porsche to name a few, so I think it's important for them to support Formula One, because it appeals to that end of the market.
"They also support sports car racing all over the world, from the FIA GT Championships (GT1 and GT3), the Blancpain Endurance Series [on which much of the AGT rules are based], so Australian GT really completes that picture, and of course with the addition of Porsche GT3 Cup Challenge presented by Pirelli - we've pretty much covered the whole spectrum of sports car racing in Australia.
"Ideally we would like to draw on some of the ideas that have filtered down from Formula One with multiple compounds. We have a single DH compound that is going to be used in AGT this year but certainly we've talked about trying to spice things up, and this is part of a multi-year relationship with AGT, in that plan there is an idea to use multiple compounds. That will also depend on where the races are, the logistics, how long they are, etc..
"If we can come up with some programs that will achieve the kind of results we're now seeing in Formula One through multiple compounds, we'll do it for sure.
"For us it's now on to the second round of the Australian GT Championship presented by Pirelli at the Clipsal 500 [28 February - 3 March], where the GT cars will all be competing on the control Pirelli DH. Clipsal can be a challenging event in intense heat, but the Pirelli tyre has shown through the Bathurst weekend that it's more than up to the task, and with more than 20 entries already registered, we're really looking forward to showing the rest of the GT world, just how good our tyres are."
2013 Australian GT presented by Pirelli - calendar
Rnd#1, 8-10 February - Bathurst 12-Hour, NSW
Rnd#2, 28 Feb - 3 March - Clipsal, Adelaide, SA
Rnd#3, 24-26 May - Phillip Island, Victoria
Rnd#4, 12-14 July - Sydney Motorsport Park, NSW
Rnd#5, 2-4 August - Queensland Raceway, Ipswich, QLD
Rnd#6, 8-10 November - Highland Motorsport Park, NZ

Signature Series Group
Pirelli makes successful Australian GT debut