The Canadian driver will make his debut at the Le Mans round (April 27-28) with teammate Eric Cayrolle.
Former F1 World Champion Jacques Villeneuve will join the French GT Championship (GT Tour) for the 2013 season, driving a Ferrari 458 entered by Sport Garage.
After Olivier Panis, the series will have another F1 star among its ranks. With 164 Grand Prix starts, the 1997 Driver's World Championship, an Indy 500 win and CART championship in hand, Villeneuve rejoins Sport Garage, a team he competed with in the Trophée Andros (ice racing). The French-Canadian will race with teammate Eric Cayrolle, three-time French Super Touring champion.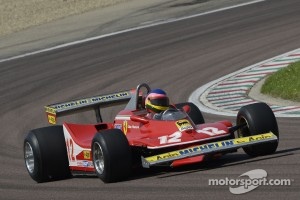 Jacques Villeneuve drives his father's 312 T4
Jacques, what motivated you to join the French GT Championship?
"I raced on ice this winter with Sport Garage and Christian Petit, the team boss, told me about this possibility. I like working with this team, the Ferrari 458 is a good car, Eric Cayrolle is a good teammate and the sponsor, Samsung, is both international and prestigious. Everything is there for it to be a professional project. I also have the chance to work with an engineer that I've worked with for the past three years on ice. That's important for me, because I won't have much time to get ready before the first race."
What is your previous experience with GT racing?
"I did a race last year in Baku. The rules are relatively close and I'm familiar with driver changes through my time in endurance racing. I know that the most important thing is to have a good balance between the two drivers. I think it's very important for me to be able to count on my teammate, and I think that's the case with Eric Cayrolle. When it's one race for fun, that's different, but here we have to lean on each other."
So it won't be just for fun then?
"Driving, that is fun! But I wanted to have a professional approach in order to work well. It's hard today to fix a precise objective. I don't know the car and GT racing is a new discipline for me. That said, I'm confident. I'm in it to win and get podium finishes. I like new things and I'm excited to discover this series."
To be in a Ferrari, that will be special...
"The most important thing is to be in a fast car! And then, it's always nice to race with a constructor such as Ferrari, knowing that the only Ferrari I've ever driven was my father's old F1 car at Fiorano."
Translated by Rainier Ehrhardt Source: GT Tour