Get alerts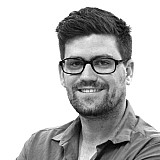 Competitive cheerleading. Yes, it's really a thing. And it might just be the key to one Australian becoming a professional racing driver, as Andrew van Leeuwen reports.
I'm on the Gold Coast for the Australian finals of the Nissan GT Academy. Twenty sim racers, with dreams of turning pixelated glory into reality, are being filtered through a mock press conference, myself and several colleagues assessing how they deal with the questions we throw at them.
In comes Simon Feigl, a 30 year old from Melbourne. He's asked about his life outside of Gran Turismo, and he talks about his wife, his young daughter, his love of remote control cars, and his dedication to competitive cheerleading.
Wait, what?
"Competitive cheerleading," he repeats. "Have you ever seen the movie Bring It On? It's pretty much like that."
Different, but somehow the same
In the end, Feigl is one of the six chosen to make up Team Australia at Silverstone. That means he's on the verge of going from cheerleader to professional racing car driver in the space of a few weeks.
As it turns out, cheerleading might just be the link between sim racing and real racing that helps him get across the line on the big stage in England. For starters, it's made Feigl one of the fittest of the six gamers Silverstone-bound. And it's also given him a proper understanding of teamwork, a crucial factor come the GT Academy finals.
"[In cheerleading] we work in a team of 20 to 24, swapping between different stunt groups at various times, and it might just be you and one other person from the group before," he explains.
"There is a constant team environment that you need to maintain. And it's actually about positive culture.
"Before they did the announcement [for the GT Academy], we've all done a really good job this week, and I wanted to give a round of applause to everyone because it's worth noting, you know. It's that kind of positive outlook that you can try and bring to the team, and that's what I'll be doing with our group from Australia. I want an Australian to win the GT Academy."
Realisation of a dream
Feigl is genuinely passionate about his cheerleading – it's a hobby he shares with his wife and the training alone takes up eight hours of his week – but he makes no secret of where his real passion lies.
"I've always wanted to work within motorsport, and be a driver; that's kind of the dream, the dream for all of us as kids is to do that," he says.
"That's really where I'm coming.
"This GT Academy is unique, there's nothing else like it. If you want to have that opportunity, there's nothing else to get into the sport without having a lot of backing.
"It's been cost-prohibitive for me. So this is an avenue to display the talent that I probably could have displayed earlier had I gone into karting or something at a younger age. It's something even my family wish we did, but I guess they didn't really see the talent that I had until I got into sim racing, which was when I was about 18.
"Now is the time, and I'm very grateful to have the opportunity. It's good to have all this hard work finally get me through to Silverstone, but this only the start. I'm so keen to get across the line."
The Fear Factor
Being good at Gran Turismo is one thing. Tackling a high-speed circuit like Silverstone in a real racing car, with no reset button, is another.
That's always been the challenge with the GT Academy. The likes of Lucas Ordonez and Jann Mardenborough have proved it's possible to make the transition, but that doesn't mean it's easy. And that's the next challenge facing someone like Feigl, who has zero real-world track experience outside of his lounge room.
"It's going to be a big step," he admits.
"But my experience from all the Gran Turismo simulations that I've done is going to stay to stand me in good stead. And I'm also going to draw on my experience, in terms of my racing experience with remote control cars.
"Car set-up is also something, I don't know if we'll delve into it too much there, but I've got a lot of experience from the remote control car side – and it does directly translate. So I'll be drawing on a lot of that.
"It's what I've been working so hard for. It's what I really want to do, and without a doubt I will be hitting the track before I go to Silverstone. I will be hitting the track in any way I can as preparation.
"I'm not going there to make up the numbers. My goal was to get to Silverstone, but now I'm there I want to win. I want this to be my career."