No. 24 WeatherTech Racing Audi was the fastest Audi in Rolex GT in qualifying.
DAYTONA BEACH- Filipe Albuquerque, of Portugal, will start the No. 24 WeatherTech Racing Audi R8 from the third row on the GT grid when the green flag drops for this weekend's 51st GRAND-AM Rolex Sports Car Series Rolex 24 at Daytona.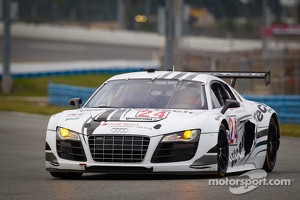 #24 Audi Sport Customer Racing/AJR Audi R8 Grand-Am: Filipe Albuquerque, Oliver Jarvis, Edoardo Mortara, Dion von Moltke
Albuquerque's fastest lap (1:48.282, 118.358 mph) came on his fifth trip around the 12-turn, 3.56-mile Daytona modified oval track. Overall, he was happy with the car's performance and the fact that the No. 24 WeatherTech Racing Audi was the fastest Audi in Rolex GT heading into Saturday's race.
"I really happy with the performance," Albuquerque said. "I managed to do one good lap, which is what I wanted. It was a good lap - P6. We are in front of the other Audis. I am happy with the car's performance. There's still some work to do. But, it's a good place for the 24-hour race. We are in the front leader group. That's the most important. The lap came out perfectly. That's what we needed and we saved the tires for the race.
I waited for the tire pressures to come. I didn't want to push too early or push too late. I knew when I had a shot I was a bit concerned because I was getting the slip stream. But, it was not enough to overtake on the main straight. I took some risk and I dove into corner one. For a momentum, I had some oversteer, but I managed it. It was a perfect lap. I must admit it. With the right tow, it was brilliant."
"We're real pleased about the Audi's P6," Alex Job, team owner, said. "We thought it would be tough to get in the top 10 with the Audi and it surprised us. The Audi came to us as the (tire) temperatures got warmer. That car is really good right now. We're starting sixth with this car, which is good. But, we've got more work to do with that car for the race setup. We'll see how the race shakes out Saturday afternoon."
Alex Job Racing