Automatic Racing and Invisible Glass Prepare for GRAND-AM's Southern Swing
ORLANDO, Fla.—Automatic Racing prepared for next weekend's GRAND-AM Continental Tire Sports Car Challenge race with a two-day test at Barber Motorsports Park. The test was an opportunity to get the No. 99 Invisible Glass BMW M3 set up for Barber's new track surface, and a warm-up for GRAND-AM's two rounds in March.
Co-drivers Rob Ecklin and Steve Phillips handled the driving during the test, and each of them were quick to declare the test a success. "The test went very well. The combination of car and drivers is much improved!" Ecklin says. "The balance on the car right now is really well suited for Barber. It's very predictable, it's coming off the corners well, and it seems to adapt well to that tight configuration."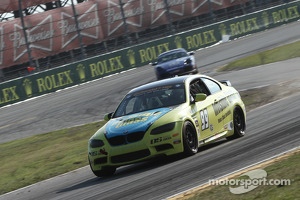 #99 Automatic Racing BMW M3 Coupe: Rob Ecklin Jr., Steven Phillips
Phillips adds, "We had a great two days at Barber. It really culminated at the end of the second day and showed that we accomplished a lot. We haven't had a chance to get two back-to-back days like that, so it was a successful effort. Automatic always puts us in a great car, and they do fantastic preparation."
That preparation will be key next Saturday, April 6, when the 2.5-hour race starts at 4:00 p.m. CT. The track surface at Barber was recently recut, and the result is faster lap times. Paired with 59 entries on the 2.3-mile track, having the right setup and running a clean race will be vital.
After Barber, Automatic Racing will have less than two weeks before heading to Road Atlanta for round four of the GRAND-AM Continental Tire Sports Car Challenge. It will mark the track debut for both the series and the No. 99 Invisible Glass M3.
The test went very well. The combination of car and drivers is much improved!
Phillips, who lives in Isle of Palms, South Carolina, has competed in SCCA, NASA and Mustang Challenge events at Road Atlanta. When he returns with Automatic Racing, he will have family and friends there to cheer him on.
"Road Atlanta is a great mixture of elevation changes, straight-line speed and high speed cornering. You've got a little bit of everything. We hope to have a great spectator turnout so we can put on a good show for the fans with the Invisible Glass M3," says Phillips.
Automatic Racing