By SDR-Motorsports
Spirit of Daytona Hopes to Start Second Half on High Note
Inaugural race at Road America an unknown for teams.
At the halfway point of the GRAND-AM Rolex Sports Series season, a season's worth of highs and lows brings with it high expectations for Spirit of Daytona heading into the final six races. Carrying the momentum from four consecutive front row starting positions -- but the disappointment of a season-best finish of 8th to date -- the No. 90 Chevrolet-powered Coyote is poised for a podium finish and the team hopes that comes this weekend in the inaugural prototype event at Road America.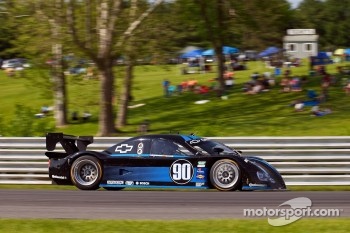 #90 Spirit of Daytona Chevrolet/ Coyote: Paul Edwards, Antonio Garcia
While Road America may be a relative unknown to many DP class drivers, Spirit of Daytona driver Antonio Garcia has experience at the 4-mile permanent road course in Elkhart Lake, Wis., testing for Corvette Racing in preparation for the 24 Hours of Le Mans and expects a solid showing this weekend.
"I found the track to be very technical and it should be even more fun to in our Coyote/Chevy. The race will be challenging with a lot of overtaking points," said Garcia, who earned his third class victory at Le Mans one week ago. "We've proved that we have the speed this year and I hope this will be the track Spirit of Daytona and Coyote gets their first race win. I'll be pushing100 percent to achieve that."
Bad luck has plagued Spirit of Daytona since the season-opening Rolex 24, but the team hopes Garcia's GTE Pro class victory at Le Mans could be the start of a successful second half. Through six races, Spirit of Daytona has led 93 laps.
"We've had a rough first half of the season with some bad luck and reliability issues, but we are all determined to get results going into the second half. The team has been working overtime at the shop to make that happen," said co-driver Paul Edwards. "This is the first time at Elkhart Lake for the series so it will be a steep learning curve for everyone. I've watched some video of the track and driven a few laps in the simulator, but that's it."
To assist drivers and teams with the limited track time at Road America, GRAND-AM has scheduled an additional test day leading up to Saturday's Rolex Sports Car Series 250 presented by VISIT FLORIDA. Still, limited notes will provide a unique challenge for each prototype team.