John Pew and Ozz Negri drove to a fifth place finish while Gustavo Yacaman and Justin Wilson teamed in the No. 6 Ford-Riley to take home sixth at the checkered flag.
Elkhart Lake, Wis. – Michael Shank Racing returned to Road America looking to once again step up to the podium at the legendary track, but despite a strong group effort, didn't find the edge needed to score a big result on the tricky four-mile road course.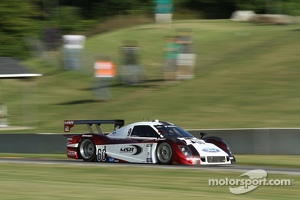 #60 Michael Shank Racing Ford/Riley: John Pew, Michael Valiante
Veteran Michael Shank Racing drivers John Pew and Ozz Negri drove to a fifth place finish in the No. 60 Ford-Riley while Gustavo Yacaman and Justin Wilson teamed in the No. 6 Tuvacol/AERO Ford-Riley to take home sixth at the checkered flag.
Making his first ever start at the high-speed track, Yacaman showed his quick adaptation to the circuit by starting the day off strong in the No. 6 Ford-Riley DP, moving up to run third in the opening laps. "It was feeling really great," reported Yacaman of the car, and he was able to maintain position and hand the car over to Wilson in third position.
Similarly, Pew delivered a strong first stint in the sister No. 60 Ford-Riley DP, gaining position early before settling into a race pace. After passing the No. 3 car of 8Star Motorsports to take 11th place, Pew put a conservative approach in play to make sure he had all the tire underneath him that he wanted late in the stint.
Reeling laps off through a long green flag stint, Pew held station before turning the car over to Negri to take to the finish.
The rest of the race saw both cars running consistently strong, but without the outright lap times needed to make up track position on sheer pace.
"It's frustrating because it's so hard to compete with where we are at and all we can do is keep trying to do our best," said team owner Mike Shank. "All of the drivers did a really great job.
Gus had a great stint, he got up to the third position and really did a great job. It was one of his better drives. Ultimately we just didn't have the pace we needed to win, but I'm happy with the performance of everybody on this team."
The team now looks forward to the series' first race at Kansas Speedway next weekend and hopes their hard work and previous testing at the new venue will pay off with a solid result.
Gustavo Yacaman, No. 6 Ford-Riley DP: "I had a really strong stint and gave the car to Justin (Wilson) in third place. We just didn't have the pace for the leaders and the strategy wasn't on our side this time. I am a little disappointed, but we have to move on and keep working. I had a good start. I picked up a couple of spots and then Memo (Rojas) made a mistake and GAINSCO had a little bumble in traffic so I was able to maximize that and pass them and then get up to third place so that was good."
Justin Wilson, No. 6 Ford-Riley DP: "The car was really good. I was really happy with it. It was a little difficult on the straight, that is no secret, but that is just how it goes. I think we had a really good car and things didn't quite work out strategy-wise and we shuffled our way to the back, but that is racing. We will keep working on it. I think we have a good package and it would just be nice to finish higher than sixth in a car that is handling that well. I want to thank everyone at Michael Shank Racing, and Gus (Yacaman) did a great job during his first stint. I am looking forward to the next one."
John Pew, No. 60 Ford-Riley DP: "Ozz and I were talking before the race and we thought we had a fifth-place car and that's how it ended up. We didn't have the pace of some of the leaders, so I am pretty happy with where we finished. My stint was pretty good, largely uneventful. I was trying to save the tires. But I had a good time. I was behind the No. 3 car for a bit and once I got by him I could take off and go a little bit. I gave Ozz the car in one piece and then he did a great job."
Ozz Negri, No. 60 Ford-Riley DP: "This is the best car I have driven here, race-pace wise. It is a little bit frustrating when you catch the guy in front of you on the braking because you roll more speed and you go back on the gas early and they pull away. But this team is based on strength and fighting and we are going to keep pushing. We know that we are behind, but we will keep working hard on the car. I definitely thought we had a really good and fast car today. I'm just afraid it wasn't enough. We'll go to Kansas next week and do the best we can, as always."
Michael Shank Racing