Lime Rock Park
Angelelli: Repeat Lime Rock Win Could Produce Domino Effect
Returning to the scene of SunTrust Racing's lone victory of 2010, Max Angelelli (No. 10 SunTrust Chevrolet/ Dallara) hopes to return to victory lane in Monday's Memorial Day Weekend Classic at Lime Rock Park. The Monte Carlo resident is looking forward to a domino effect that will carry over into the Sahlen's Six Hours of The Glen and many other races this season. Angelelli co-drives with Ricky Taylor.
We believe we have the winning car...
"Last year was our first race at Lime Rock, and we were happily surprised at how well our car did there," Angelelli said. "The next two tracks – Lime Rock and Watkins Glen – really suit our car, especially Watkins Glen." Angelelli and car owner Wayne Taylor won the 2005 edition of the Sahlen's Six Hours of The Glen, and finished second in last year's event.
"We believe we have the winning car that we did in the past, and we will have it for the rest of the season," Angelelli said. "Unfortunately, just a few minor unlucky events kept us from a win, but everyone in the paddock knows as soon as we put everything together, the car is there, the drivers are there and the team is there. When we put everything together at the same time we will win – and we will win again and again and again."
Last year's Memorial Day Classic was Ricky Taylor's first Daytona Prototype victory, and he's looking forward to an encore at the 1.5-mile circuit.
"Just a few little things have kept us short of winning this year," Taylor said. "I think the speed is definitely there, and Lime Rock is definitely going to suit our car."
Taylor and Angelelli have three top-five finishes this season – including third in the Grand Prix of Miami – and are fourth in the standings, 33 points behind Scott Pruett and Memo Rojas (No. 01 TELMEX BMW/Riley), who have three victories in 2011.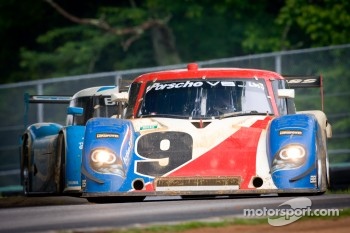 #9 Action Express Racing Porsche Riley: Joao Barbosa, Terry Borcheller, JC France leads the field
***
Action Express Proves Three-Driver Lineup Success
Action Express Racing claimed the $25,000 bounty by stopping TELMEX Chip Ganassi Racing with Felix Sabates' six-race winning streak at Virginia International Raceway. And they did it in an unconventional way – using the three-driver lineup of Joao Barbosa, Terry Borcheller and JC France (No. 9 Action Express Porsche/ Riley), who are now second in the DP points standings.
The race was the first under GRAND-AM changes to fuel cell capacity and fuel flow restrictors that added a third scheduled pit stop for races of two hours, 45 minutes in duration. While teams were adding less fuel, the change to the fuel flow restrictor was designed to maintain the average length of the pit stops – giving teams the option to make an additional driver change without losing extra time.
Barbosa, Borcheller and France became the first three-driver team to win a Rolex Series "sprint" race of three hours or less. They also became the first team using a Pro-Am driver to win since Michael Shank Racing won at Miller Motorsports Park in the 2008 season finale, with driver John Pew (No. 60 Crown Royal XR Ford/Riley).
Autograph session: Scott Pruett and Memo Rojas
***
Pruett, Rojas Look To Rebound From 2010 Lime Rock Race
Scott Pruett and Memo Rojas had a dream season in 2010. They won nine of 12 races and finished second in two others to capture the DP title. But, their lone failure was at Lime Rock Park, where Rojas went off course in the first turn of the first lap after contact with Jon Fogarty (No. 99 GAINSCO Auto Insurance Chevrolet/Riley).
While the Chip Ganassi Racing with Felix Sabates team managed to repair the car enough so that Rojas and Pruett could drive the minimum distance required to score points, they finished last in the 26-car field. While Pruett and Rojas had bad luck in their lone DP start at Lime Rock, they're returning to the scene of their biggest success the following weekend. The TELMEX team is riding a three-race winning streak in the Sahlen's Six Hours of The Glen, which will be held five days after Lime Rock. Pruett is the leading winner in the history of the event with four victories. In addition to his three recent victories, Pruett won for Chip Ganassi Racing with Felix Sabates in 2004, co-driving with Max Papis.
-grand-am