By Cameron Curwood
Almost always at the beginning of a new year or season, we get bombarded with 'best-of' lists, and 'a-look-back-to' lists, or predictions and thoughts of the future. People giving us the highlights, and telling us what was the best and worst of the year that just passed, or what will come in the upcoming season. This is not one of those lists. Instead, I give you the best and the worst of Formula One since its inception in 1950.
Greatest Driver: Jim Clark
When Jim Clark died in an F2 accident in Hockenheim in 1968 he had the most wins ever by an F1 driver, with 25. That record lasted almost six years until Jackie Stewart got his 26th at the Dutch Grand Prix in 1973, but Clark remained in second place for another 14 years, when Alain Prost got his 26th in Brazil in 1987. Even today, 42 years later, he sits seventh all time. Clark scored his wins in an era where there were only about 10 races a year, and cars were not that reliable. He is still tied for third in pole positions, behind only Senna and Schumacher, both of whom had many more race starts (more than double).
John Surtees, 1964 F1 World Champion, Jody Scheckter, 1979 F1 World Champion, Mario Andretti, 1978 F1 World Champion, Sir Jackie Stewart, 1969, 1971, 1973 F1 World Champion, Damon Hill, 1996 F1 World Champion, Nigel Mansell, 1992 F1 World Champion
We can look at the stats of a number of drivers and come up with reasons to call them the best. We can think about how much higher Clark's (and Ayrton Senna's) would be had he lived. We can look at how Clark missed some F1 races so he could compete (and win) in Indianapolis, but there is one stat for me that pushes Clark over the edge. He finished in second place, only once -- yes, just once -- in his entire career. If the car was anywhere near the front, he had it in the lead. If the car didn't fall apart, he'd make it win. He never lucked into any wins.
Most Underrated Driver: Graham Hill
Can a two time World Champion, an Indy 500 winner, a Le Mans 24 hours winner, 14 time Grand Prix winner, and five time Monaco Grand Prix winner be underrated? You betcha. Whenever people mention the greatest drivers of all time do you ever hear Hill's name mentioned? Not often enough. He is the only man ever to do the triple of wins mentioned above (the triple crown of racing), and add to that the five Monaco GRAND PRIX wins also mentioned (a feat only matched by Senna and Michael Schumacher) and you have one-of-a-kind accomplishments. We do not hear his name enough when discussing the greatest drivers of all time, especially when we consider racing beyond F1.
Overrated Driver: Giancarlo Fisichella
Fisichella has competed in 231 Grands Prix, in some great cars like Benetton, Renault and Ferrari, including a couple that won the championship. His result of three victories are not sufficient for the opportunities he was given. Has there ever been a race where you sat watching, enthralled by his performance? A race where you shook your head afterwards and thought, wow, this guy is a great driver -- a future world champion? A race where you thought he had an outstanding drive but his result was less than he deserved? None come to my mind. Jarno Trulli is similar, with 238 entries and one victory, though he never had a championship winning car, and least had the 1997 Austrian Grand Prix, where he was very impressive, leading the race in the Prost-Mugen-Honda.
Best Ambassador: Jackie Stewart
The Wee Scot is perhaps the best-known F1 driver in North America, along with Mario Andretti, and most of that is due to his work and promotion of the sport after he finished racing. While racing, Stewart began his tireless effort to make F1 safer -- for drivers, fans and marshals -- attempting to turn it from a blood sport, a sport where drivers expected to die, to one where everyone expected to go home safely at the end of the day. His commentating, usually for North American fans not completely familiar with F1, was always informative for the novice and expert alike.
He would always say great things about his sport, yet always be honest and critical where needed. Like the great champions of other sports, he never felt he was bigger than F1, was always humble within it, and always thanked it for what it gave him. He carried all of these attributes with him through being a driver, commentator, public relations expert, and successful team owner.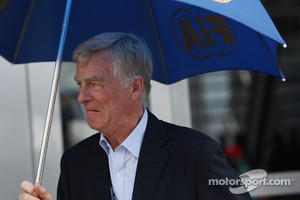 Max Mosley, FIA President
Worst Ambassador: Max Mosley
I could go on a huge rant about each reason Mosley was bad for F1. Instead I will just point out a few of the low-lights. The most boring races in history. The 1994 Australian Grand Prix. Flip-floppy, ridiculous rule changes. Qualifying procedures that seemed to change daily. The smallest fields since the 1950s. European Union Competition law violations. Breakaway series threats. The 2005 United States Grand Prix. His outrageous criticism of Stewart. We are extremely lucky that Schumacher slipped off the track and could not continue at the European Grand Prix in 1997, after trying to knock Jacques Villeneuve out of the race, because I don't think Mosley and the FIA would have done anything to take away the championship from Schumacher had he won it.
Best Pass (Tie): Nelson Piquet - Hungarian Grand Prix 1986
Piquet was sitting second behind Senna when he got into Senna's slip-stream on the main straight. Piquet pulled out to the inside of the track, with Senna ever so slightly squeezing him. Piquet got alongside and it was now a matter of who would brake last for the corner, a 180 degree right-hander. Piquet did that, but he carried a bit too much speed as he turned into the corner. The back end of his car slid, and he struggled to maintain control as it went wide, and Senna slipped down the inside and maintained his lead.
On the next lap, Piquet was again right behind Senna as they entered the main straight. This time, Senna protected the inside, forcing Piquet to attempt a pass on the outside. Piquet pulled out and got alongside Senna on the outside. Again, it would come down to who would break last, and who could hold onto the car through the corner. Piquet again braked last, turned in, and again his car slid, almost uncontrollably. He held on, keeping the front end of his car next to the curb on the inside, so Senna could not nip through the inside. Remarkably, it worked. Piquet took the lead, and went on to win the race 17 seconds ahead of Senna and a lap ahead of Nigel Mansell. It was a move (two of them actually) of absolute bravery, skill, determination and car control.
Best Pass (Tie): Jacques Villeneuve - European Grand Prix 1997
This was not one of those flashy, spectacular passes where cars are sliding, wheels are locking and smoke is coming off the tires. Instead, it was rather simple looking. However, the repercussions of this pass were like no other. For one, it was a pass to decide a championship. Villeneuve needed to pass Schumacher to win the championship and Schumacher needed to keep Villeneuve behind. On a track that is difficult to pass on, Villeneuve lulled Schumacher into a false sense of security, and made a move from so far back Schumacher could not have expected it. Incredibly it worked. A pass that gave Villeneuve the championship.
The start: Michael Schumacher in front of Jacques Villeneuve and Heinz-Harald Frentzen
However, the pass also had other effects. Schumacher, the big star, looked like a fool with his ridiculous attempt to knock Villeneuve out of the race by turning into him and crashing his car against Villeneuve's. Suddenly, the 1994 Australian Grand Prix, where Schumacher crashed into Hill as Hill attempted to pass, didn't look so innocent. A man who was the golden boy of F1 now faced the wrath and ridicule of the world. Never has a pass done that before, or since.
Best lap: French Grand Prix 1979
Gilles Villeneuve's and Rene Arnoux's last lap in the 1979 French Grand Prix at Dijon. This one is famous enough I don't need to say anything.
Worst Race: French Grand Prix 1996
Nothing happened. There isn't much else to say. Not much happened in the 1995 French Grand Prix either.
Best Race: European Grand Prix, Nurburgring, 1999
The race started with a Jordan on Pole Position -- a Jordan, whose driver, Heinz-Harald Frentzen, was still in the championship hunt. A second formation lap led was needed then the race featured: a barrel-roll accident, rain, some cars on dry tires, some cars on wet tires, good pit- stops, bad pit-stops, accident damage, a disastrous retirement for Frentzen, a new leader, more rain, more cars on wet tires, more cars on dry tries, the new leader David Coulthard on dry tires in the rain sliding off to retirement, and another new leader -- Ralf Schumacher -- also on dry tires. Then, Ralf pitted, and Fisichella (see above) became the leader (still on dry tires). Fisichella also spun off, and then Ralf had a puncture.
This put Johnny Herbert into the lead in the Stewart, with Minardis in fourth and seventh. Luca Badoer, the Minardi driver in fourth, broke his gear box, and Villeneuve (also in the points) lost his clutch, and the BAR team's first chance at points. Mika Hakkinen battled and got his way up to fifth, passing Eddie Irvine in the process. Irvine could not pass Marc Gene in the other Minardi for sixth. The two points difference between Hakkinen and Irvine would be huge in terms of the championship. The podium was an unusual Stewart - Prost - Stewart in terms of constructors.
Honorable mention: 1986 Australian Grand Prix had three of the great drivers -- Prost, Piquet and Mansell -- battling for the championship at the last race of the year. The race was eventful, with each guy looking like he would win it at some point, and the one with the least chance, Prost, finally securing it with his win.