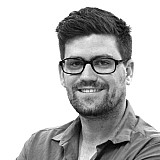 Eight-time Australian Sports Sedan Champion Tony Ricciardello has been named Shannons Nationals Driver of the Decade.
The West Aussie was given the nod in a special poll held to celebrate the first 10 years of the series, Ricciardello winning out ahead of Formula 3 regular Tim Macrow and Production Car stalwart Stuart Kostera.
Ricciardello and his beastly Alfa GTV Sports Sedan have been a regular part of the Nationals across the last decade, picking up eight titles and staging countless thrilling battles with long-time rival Darren Hossack.
"I have a passion for racing and sports sedans allows me to be able to engineer, develop, build and race a car that is filled with horsepower and speed," Ricciardello said.
"It also gives competitors a challenge and has versatility on the grid. The Nationals gives us a great environment to race in at affordable yet high standards, I guess that's why we keep coming back.
"The first title definitely stands out, especially since it was my first year of racing. Each title comes with a story and are as good as each other. Holding this amount of titles in one category is a huge achievement, it proves that out hard work pays off. Winning the championship is what we always aim for.
"Sports sedans has developed a great camaraderie, I remember growing up at the track watching it and now I get to experience being in the middle of it."
Shannons Nationals Driver of the Decade Top 10
1. Tony Ricciardello – Eight-time Sports Sedan Champion
2. Tim Macrow – Two-time Australian Formula 3 Champion
3. Stuart Kostera – Three-time Australian Production Car/AMChamp Champion
4. Darren Hossack – Two-time Sports Sedan Champion, Two-tim Australian Superkart Champion
5. Ryan Simpson – Porsche GT3 Cup Challenge winner
6. Matt Kingsley – Porsche GT3 Cup Challenge winner
7. James Winslow – Two-time Australian Formula 3 Champion
8. Jake Camilleri – Multiple AMChamp class champion
9. Des Wall – Sports Sedan Champion
10. Bruce Heinrich – Five-time Australian Saloon Car Champion