Race Of Champions makes historic switch to Saudi Arabia
The Race Of Champions will become the first-ever international motorsport event to take part in the Kingdom of Saudi Arabia in early 2018.
Saudi Arabia will become the 10th country to host the end-of-season, head-to-head racing extravaganza when Race Of Champions travels to the Middle East for the first time in its 30-year history.
The two-day event will be held in early 2018 at King Fahd International Stadium in the nation's capital, Riyadh, in partnership with the General Sports Authority of the Kingdom of Saudi Arabia. Nicknamed 'The Pearl', the stadium usually hosts football and athletics events.
ROC will once again unite superstar drivers from across the world of motorsport for a final, winner-takes-all showdown in celebration of the 2017 season. Formula 1, Le Mans, IndyCar and Rallycross will all be represented in ROC's unique head-to-head competition to determine the next Champion of Champions.
An official statement read: "Further details, driver announcements and exact dates for ROC's Saudi Arabian debut will be announced shortly, but the General Sports Authority has confirmed that Race Of Champions will be a family event, open to both genders and feature drivers, exhibitions and activities all suitable for the Kingdom's specific cultural requirements."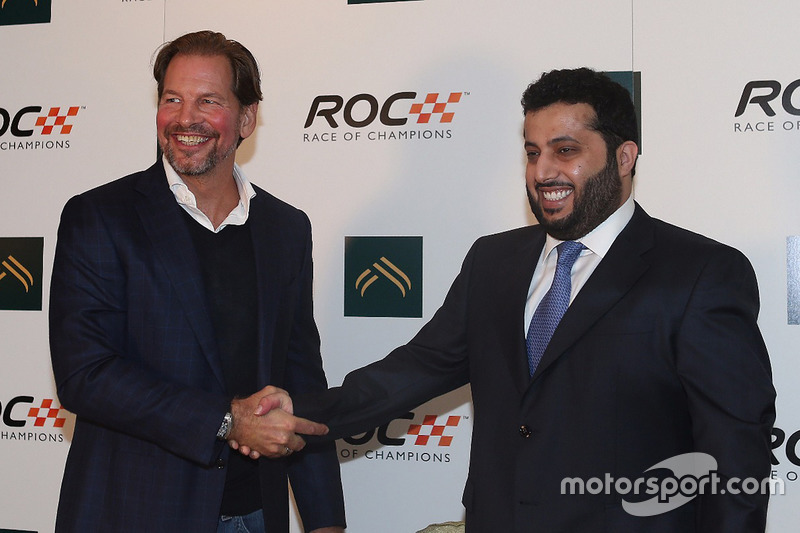 ROC President Fredrik Johnsson and his Excellence Turki Al-Sheikh, President of the General Sport Authority of Saudi Arabia
Photo by: Race of Champions
Time of great change
The move comes at a time of change in the Arabian state, which is the fifth-largest in Asia and second only in size to Algeria in the Arab world.
Last month, Saudi Arabia's King Salman issued a royal decree that it was easing restrictions on women driving from next year. Crown Prince Mohammed bin Salman, the 32-year-old son of the king, has also laid out a reform package for the kingdom's economy and society called Saudi Vision 2030.
"Our organisation is honoured to be working with the President of the General Sports Authority, his Excellency Turki Al-Sheikh, to bring Race Of Champions to the region for the first time in the event's 30-year history," said Fredrik Johnsson, Race Of Champions President.
"As motorsport's most forward-thinking property, ROC is an event perfectly suited to Saudi Arabia, which is emerging as a modern sports market on the global stage.
"With women able to drive in Saudi Arabia from 2018, we feel this is an auspicious moment to be bringing a motorsport event to Riyadh. Race Of Champions is more than just a race: it is a truly global contest that includes many of the world's best drivers along with top-quality entertainment for families."
Team Germany Sebastian Vettel, beats Team Colombia Juan Pablo Montoya, driving the Ariel Atom Cup
Photo by: Race of Champions
Miami return also on the cards
Riyadh's 75,000-capacity King Fahd Stadium will join a list of prestigious venues to have hosted ROC that include Beijing's Bird's Nest and London's Olympic stadiums, the iconic Stade de France in Paris and Wembley Stadium in London, plus Miami's Marlins Park – the event's first North American destination.
ROC organisers are also in the process of agreeing upon the site of its 2018 season finale, which is expected to return to Miami, Florida at the end of 2018.
Indy 500 and Monaco Grand Prix winner Juan Pablo Montoya is ROC's reigning Champion of Champions after the Colombian claimed his first title in Miami this year, while four-time FIA Formula 1 World Champion Sebastian Vettel helped Team Germany win its seventh ROC Nations Cup.
Race Of Champions makes historic switch to Saudi Arabia