Berthold Bouman, F1 Correspondent
Story Highlights
2012 Calendar - too hot to handle
Indian Buddh Circuit ready in time
Ecclestone dreams of over 20 races
2012 Calendar - too hot to handle


Last week this column already reported teams were not happy with the by Bernie Ecclestone published 2012 Formula One calendar, but it is in fact the circuits and their owners who should be worried about Ecclestone's relentless efforts to squeeze as many Grand Prix events on the calendar as possible, thus maximizing profits for FOM and CVC, the commercial rights owners. Despite the team's worries about four back-to-back races at the end of the 2012 season, the 80-year old FOM boss has again hinted he wants more than 20 races per season and as usual has already begun the preparations for the 2013 calendar by dropping a few bombshells here and there.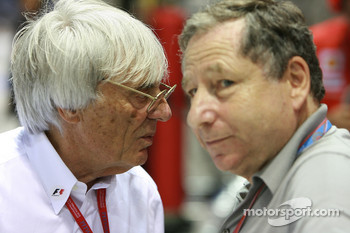 Bernie Ecclestone, President and CEO of Formula One Management and Jean Todt
It was reported Ecclestone wanted 21 races in 2012, but apparently FIA President Jean Todt insisted on 20 races, but Ecclestone hasn't given up yet as he dropped one of his famous bombshells by suggesting teams would agree to an extra race if the race in Monaco would be dropped instead. "If we say we have got to get rid of Monaco, they would say we would rather not," he said last week. Which is of course blackmail, he's actually saying 'agree to an extra race or I will drop one of your favorite races instead'.
First problem for the 2012 calendar was the inaugural US GP, with 20 slots already taken, one race had to be disposed of, in this case the Turkish Grand Prix. Not only that, the race to be held at the brand-new Circuit of the Americas near Austin, has also been moved from June to November 18, which makes one wonder if Ecclestone knows something others doesn't know at this stage. It has been rumored Ecclestone has moved the race because the circuit wouldn't be ready in time, but Ecclestone claims the hot Texan summer would not have been a good time for a US GP. "We have for example moved Austin to November because it's 40 degrees in the summer [there]. We don't want to have the experience of Dallas again," he said, referring to the 1984 US Grand Prix in Dallas, where drivers mostly had to battle the soaring heat and the crumpling asphalt instead of each other.
Second problem was seemingly no longer a problem, Ecclestone had mentioned two races in Spain were not acceptable, but nevertheless the Spanish and European Grand Prix are still on the calendar. The Spanish Grand Prix at Barcelona has been moved and is held one week earlier, but circuit officials had no problem with that. "Bernie asked us if we were ok with the date change and as we are still the first race in Europe we accepted completely," director of the Circuit de Catalunya Salvador Servia said. The third problem was how to cash the 40 million Euro race fee from the venue that has been in the news for almost the entire 2011 season: the Bahrain Grand Prix. And Ecclestone solved this problem by - as he himself called it, 'screwing the whole calendar up' to please his Arab royal friends as well as the commercial rights holder. The Bahrain International Circuit was happy with the date change, and apparently the political situation is no longer an issue. "We are extremely happy to host the Grand Prix in November," a circuit spokesman said. "Due to high temperatures in our summer, either early or late in the season is better. November is the best month for us."
Bahrain is still on the calendar despite political and civilian unrest
With the Bahrain race now moved to November, another race had to be moved to April, the Indian Grand Prix, and the promoters of the race are worried about the heat as well. Vicky Chandhok, president of the Indian Motorsport Federation and father of Team Lotus third driver Karun Chandhok, "I am not happy with April because it's going to be hot, I really think that the ideal dates for India are when it's cooler. Maybe March or you go to October, November or December." Typical temperatures in New Delhi in April are around 35C, and in May it is even hotter.
It seems the last word about the 2012 calendar hasn't been said, teams are still worried about the very busy schedule and would like to see a few changes. Ecclestone says teams have no say on this subject, but neither has Ecclestone, the 2012 calendar has to be approved by the FIA World Motor Sports Council (WMSC), the first meeting of the WMSC will take place just ahead of the Singapore Grand Prix
Indian Buddh circuit ready in time


New on this year's calendar is the Indian Grand Prix to be held on October 30 on the Buddh International Circuit, situated about 40 km from New Delhi. According to Chandhok the 5.14 km long circuit will be one of the fastest in the world, "I have been to every single racetrack in the world. It's going to be one of the fastest circuits in the world." And added, "1.2 km straight and three corners that have now been redefined. They are following the new FIA guidelines to encourage overtaking." And the Indian predicted, "I think it's going to be phenomenal. There will be lot of scope of overtaking."
But as always, a new circuit has to be homologated by the FIA, and the date FIA delegate Charlie Whiting will make a final inspection has been postponed by one month, and will now take place on September 1. But as Chandhok said, this was for practical reasons and the circuit will be finished in time, it was in fact Whiting who suggested another date so he could combine his inspection with the visit he will pay to Korea.
"He [Whiting] is visiting Korea at the end of this month. On his way back he is flying over Delhi. So he will stop over at Delhi as it will make logical sense for the FIA," Chandhok explained. And rubbished the rumors the circuit would not be finished in time, "We said we are fine with it. It's purely procedural and a matter of convenience for the date of inspection. Nothing else."
Buddh International Circuit
Compared to the problems the builders of the Korean track last year experienced, the New Delhi circuit has less to worry about, as it is not a completely new circuit, but an existing circuit that had been re-designed and upgraded to accommodate modern Formula One racing, the total costs are estimated at $400 million. Force India team owner Vijay Mallya, who is also a member of the FIA WMSC, is also adamant there are no problems and the circuit will be completed when Whiting makes his final inspection round in September.
"The promoters of the race, who are also the owners of the track, are very confident that everything will be ready," Mallya said to reporters this week. However, he did point out perhaps not all spectators facilities would be ready in time. "They have designed a huge grandstand with a massively cantilevered roof. All that is taking a bit of time to erect," he explained. "Everything may not be 100 per cent in terms of the grandstands and the spectator facilities, but the technical areas, the pits, the motorhomes, the paddock club and of course the track itself seems to be almost ready already."
About Chanhok's worries concerning the 2012 date of the venue he reckoned the heat wouldn't be such a problem, "It's doable. It's going to be hot, but it's doable. We'll discuss it at the WMSC, the next one is before Singapore, and I guess in the scheme of things, as far as the race promoter is concerned, you take what you get."
Ecclestone dreams of over 20 races


And in case Ecclestone gets what he wants, more than 20 races a year, he has already lined up a whole list of circuits and countries interested in hosting a Formula One race.
Autodromo Hermanos Rodriguez in Mexico
With A Russian Grand Prix coming up in 2014 at the city of Sochi he has already at least one candidate for a 25-slot race calendar, and recently more candidates have emerged. The Mexican Autodromo Hermanos Rodriguez hasn't hosted a Formula One Grand Prix since 1992, and as Sauber driver and Formula One rookie Mexican Sergio Perez has sparked a new interest in Formula One in his home country, officials do not, as they always call it, 'rule out nothing' and a race on Mexican soil is 'possible'.
FIA President Todt was in Mexico last week. "As part of the meetings I am doing I intend to see the Hermanos Rodriguez circuit," the Frenchman said. "Today Mexico is an economically strong country and I am convinced that in the future it [F1] is possible. We know that the races have a cost. There are also a number of criteria for the approval of an event, especially in the safety parameter," he commented. Carlos Slim Helu, son of Mexican billionaire Carlos Slim Domit, admitted the return of Formula One was 'being studied', and also hinted a street race in the western city of Guadalajara was one of the possibilities.
Recently the French government has installed a commission to investigate whether France could again host a Grand Prix, and Todt supports the idea. France has several options; they have a number of existing circuits, but are also considering building a new circuit near Disneyland Paris. At the other end of the world, New York, there are also serious talks about organizing a second US GP, the Wall Street Journal recently revealed. The mayors of New Jersey townships Weehawken and West New York, Richard Turner and Felix Roque said in a joint statement they are talking with investors about a street race in 2013.
New York City by night
"In these uncertain economic times when every direct and indirect revenue source is vital, our own Formula One race could be a very positive boost to our citizens." The statement further read, "This said, we need to ensure that the financial benefits from the privilege of having these races in our towns are equitably shared and that no tax dollars are used. The investor group has already told us that our towns would be substantially compensated annually."
Meanwhile, officials in Turkey are trying to get their race back. Although their contract expires at the end of 2011, and it was rumored Ecclestone had doubled the race fee, chairman of the of the Turkish automobile sports federation (TOSFED) Mumtaz Tahincioglu said he had been working on rescuing the event. "We are seeking a way to keep F1 in Turkey and Mr Minister is ready to do everything for this goal. We will invite Mr Ecclestone to Turkey. We want to conclude our negotiations," he was quoted by the Anadolu state news agency.
How many races there will be after the 2012 season is anybody's guess, it also depends on the new Concorde Agreement, an agreement between FIA, FOM and the Formula One teams. Until now there has been a clause in the agreement that limited the number of races to 20 per season, but it is good to see that Formula One is more popular than ever, hence the renewed interest for the sport in countries like Russia, the United States and Mexico.
Join us again next week for another episode of "Formula One: On and off track"