By: Berthold Bouman, F1 Correspondent
Story Highlights
Silverstone circuit ready for new era
Race debut Nicolas Hamilton
Jean Todt versus Bernie Ecclestone
Silverstone circuit ready for new era


The UK Silverstone circuit has been going through a major face lift for the last 12 months, the objective was to get the circuit ready or the next generation of Formula One, after the owners, the British Racing Drivers Club (BRDC), had secured a 17-year deal with FOM CEO Bernie Ecclestone. The Formula One boss had warned the facilities at Silverstone had to be improved significantly, and the BRDC has so far spent about $44 million on improvements.
Silverstone is ready for a new era
The Grand Prix circuit layout and new Stowe complex had already been finished, and after last year's Formula One race works had begun to build a complete new pits and paddock complex. The new complex has new garages, a race control building, a media center and new hospitality and VIP spectator zones. The new 360 meter long complex has been finished exactly on schedule and the owners hope to reestablish Silverstone as a world-class race circuit again.
The Silverstone Wing, as the complex is called, has now been finished and Red Bull team principal Christian Horner was one of the first VIP's to check out the new Wing. "I think it's fantastic. I think it puts Silverstone right with the best circuits in the world. It's quite staggering the scale of what's been built here in a very short space of time. It gives the circuit a whole new feel and dimension to it," Horner said to Reuters after his visit.
Ecclestone has been highly critical at the circuit's facilities, and at one point even said: "I like visiting Silverstone -- it's a reminder of what racing was like in the 1950s." But Horner was impressed with the new facilities and thinks even Ecclestone will be happy, "It takes a lot to impress Bernie but I think he will be very pleased. He's obviously given the circuit a bit of flak over the last few years which, if that's helped trigger this investment, has been worthwhile."
It takes a lot to impress Bernie but I think he will be very pleased
And added, "The facility that Silverstone will enjoy will be comparable with any in the world and it will be a great pleasure to come here. I think it will have a new feel to it." The new and very fast pit lane entry had also caught Horner's attention. "It looks as if it is going to be a real challenge for the drivers. The driver is going to have to let you know he is in the pit lane because otherwise he could arrive quite quickly without you seeing him. Communication will be the key," the Briton said.
This year's British Grand Prix will take place on July 10 right after the European Grand Prix.
Race debut Nicolas Hamilton

Nicolas Hamilton, half-brother of 2008 World Champion Lewis Hamilton has made a successful race debut at the British Brands Hatch circuit. The 19-year old youngster made his debut in the AirAsia Renault Clio Cup last weekend. A remarkable achievement as Nicolas is suffering from cerebral palsy, a condition that causes physical disability in various parts of body movement. He is a motor racing fan and is frequently spotted in the McLaren Formula One pit to watch his big brother Lewis.
Nicolas Hamilton made his race debut at Brands Hatch
"When I was following Lewis around the Formula One paddocks I don't think anybody in my family thought this would happen. I have always wanted to race, I love it, but it wasn't until last November that I got into a car and found I could drive it at a good pace," he said to the UK Mail. Nicolas had prepared himself for the big day with racing games, "Lewis came along and helped me out. It made me realize how good he is because he was so consistent, he can get in any car and be fast. He gave me some pointers and I ended the day only a second off his pace, which I don't think is bad."
His older brother Lewis made a 14,000 miles round trip from Malaysia to watch his younger brother's debut. "I am so proud. He drove his heart out. It was well worth the trip back. Nic has been such an inspiration to me the way he has just got on with things," he said. And proudly added, "I can't imagine how proud my dad is but I am just incredibly proud. I was just smiling the whole way through the race."
Despite Nicolas only drove the car a few times before and had no experience in racing at all, he finished in 15th place on Sunday and in 12th place on Saturday. "Today was only my seventh time in the car and I was less than a second off the fastest driver. If you took someone off the street and put them in my shoes, they'd be hard pressed to do a better job," the younger Hamilton commented after the race.
This was my racing debut but I hope I'll be here for years to come!
About the race itself he said: "When I'm in the car it's just me. I'm on my own and I have to get on with it. At the moment I'm not worried about position as I'm racing against people with far more experience than me The car's in one piece, I didn't make a fool of myself and I'm glad people understand that I'm a novice. My mountain is steep, but to go from 4.5 seconds [in testing] to 0.9 seconds off the pace is pretty good." And he now seems to be infected with the race bug like his older brother, "I know I have a mountain to climb but I'm getting faster every time I get into the car. This was my racing debut but I hope I'll be here for years to come!"
Jean Todt versus Bernie Ecclestone

Ecclestone and FIA President Jean Todt are at war again, and the two little big men of Formula One have accused each other of 'not knowing what is best for the future of Formula One'. The verbal fight started after the FIA had announced the new engine formula for 2013: a compact 1.6 liter V4 turbo engine, greener and more fuel efficient than the current Formula One engines. Todt and the FIA are convinced this engine will secure a more environmentally friendlier future for Formula One, but Ecclestone fiercely opposes the FIA plans.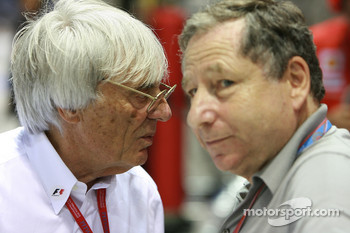 Jean Todt versus Bernie Ecclestone
Ecclestone has criticized the Frenchman's leadership style since he took over the helm from his predecessor Max Mosley in October 2009 and last month called him 'a poor man's Max' in an interview with the UK Daily Express. "He has been traveling around the world doing what Max [Mosley] didn't do too much -- kissing the babies and shaking the hands. It is probably good for the FIA but we don't need it in Formula One," Ecclestone further complained. He is not convinced the new engine will be an improvement for Formula One, and mentioned the engine 'didn't sound like Formula One at all'.
Ecclestone was also not impressed with the re-introduction of KERS this year. "It has just cost an awful lot of money and I don't know what it has proven. I don't think anyone knows or cares what it is or what it does. I get upset with these things, the 80-year old FOM boss said.
And how would Ecclestone tackle the problems? "We should write the rules with the teams. The competitors have got to race and have got a big investment. We have got a big investment," he answered. "We should write the rules, give them to the FIA and they should make sure they are followed. It should be like the police -- the police don't write the rules and say you've got to do 30 miles an hour. The FIA is a joke!"
But the new engine is not the only thing that is bothering Ecclestone, Todt yesterday revealed the FIA also wants a bigger piece of the cake. Under Mosley's leadership, the FIA had in 2001 sealed a deal with Ecclestone's SLEC Holdings regarding broadcasting and commercial rights. The current Concorde Agreement expires at the end of 2012, and negotiations for a new agreement are already on their way.
I prefer to achieve results with harmony rather than confrontation
Todt has indicated that times have changed and the FIA wants more money from Formula One. "I will make sure that everybody realizes that since the agreement has been signed and now, times have changed, technology has changed," Todt said in an interview with the Financial Times. "Fifteen years ago you didn't have all the sophisticated electronics you can enjoy today when you watch the TV. All that has a cost. Definitely we need to take that in consideration because I must make sure that the funding for the FIA is correct. Our costs are greater than they were 10 years ago. Evolution has a price," Todt explained.
FIA President Jean Todt
Todt also refused to get involved in a future war of words with Ecclestone, and stated: "It is important not to overreact. I feel with confrontation, unless it is necessary to achieve a result, you lose time. I prefer to achieve results with harmony rather than confrontation."
Meanwhile the Bloomberg business news agency has published some facts and figures about the financial state of Formula One. According to Bloomberg the financial loss of CVC, the commercial rights holder, has increased to $660 million, and the income for the teams have increased with 21 per cent in 2010.
In 2010 the prize money pool for the teams was $658 million, on average almost $55 million per team. But some teams get more, especially Red Bull Racing who took both titles last year, will get a considerable bigger share than for instance Force India or HRT. It was the third consecutive season prize money for the teams has increased, teams now receive 164 per cent more than in 2007, when the new Concorde Agreement which lasts until the end of 2012 was signed.
The net income for the sport was $296 million in 2010, and Ecclestone has nothing to complain about, as he was paid $7.9 million for his services last year, an increase of 21 per cent. And that is what it is in a nutshell, it is not just about the new regulations Ecclestone is worried about, but this is also about the money, both the FIA and the teams want more money, and Ecclestone and Todt are now sharpening their knifes ahead of the negotiations of the post 2012 Concorde Agreement. And by the looks of it, with Ecclestone and Todt both at the helm of the Formula One ship, it's going to be a long hot summer.
Join us again next week for another episode of "Formula One: On and off track"