Berthold Bouman, F1 Correspondent
Story Highlights
Alex Zanardi wins class in NYC marathon
Max Mosley wins French privacy case
Steve Nielsen to join Team Lotus
Alex Zanardi wins his class in New York City Marathon


Italian ex-Formula One and World Touring Car Championship driver plus holder of two CART championships (1997 and 1998), Alessandro "Alex" Zanardi has won the New York City Marathon in the handcycle division last weekend. Zanardi, who lost both legs during a terrible accident in 2001 during the German 500, the first ever CART race held in Europe on the German EuroSpeedway Lausitz, completed the marathon in one hour, 13 minutes and 58 seconds.
Two weeks earlier, on his birthday, he had participated in the Venice Marathon, but after he had crossed the finish line was told about the death of his compatriot Marco Simoncelli during the Malaysian MotoGP race. Despite his joy of participating in the marathon, Zanardi decided not to celebrate this once again extraordinary achievement and instead decided to honor Simoncelli. Zanardi commented, "Honestly, I lost all the enthusiasm to tell you about this memorable experience in the way it deserved; I will do this in the right time, I promise but today it is not that moment yet."
Alex Zanardi, a man who never gives up
But two weeks later he was already in New York for his next challenge; he had participated in the New York Marathon before, but never won it. The amiable Italian traveled to New York with his closest friends and family. Zanardi about his trip, "We had a lot of fun and, despite a very tight schedule, we managed to do all the things that have to be done in the "Big Apple". A visit to the Liberty Statue and Rockefeller Center, shopping in Times Square, a trip to Central Park. And so on so forth I would add, as in a simple walk about in New York is a special moment, especially if you can share it with people you love and you are well with."
But the race was anything but a walk in the park, and he certainly had to push hard to cross the finish line in leading position. "The sun and temperature were excellent and I started the race pushing but in a controlled way," he commented. "Without pushing too hard in descents and climbing up again on ascending plateau (the slope of the course is never constant) I warmed the "car" up as best as I could and I admit that I tested several times the resistance of my rivals using nearly all my resources."
But close to the finish line, Zanardi almost saw his race end in tears, "Drama hit while getting to Central Park from Columbus Circle at less than 700 meters to the finish line ... on the access ramp a bump made my chain getting off the gear." But he managed to get the chain back one and won the marathon.
After winning Zanardi also reflected on his past bond with the United States, which has been his home for four years, "I am really happy for the result, for triumphing in a country that gave me a lot and that did not forget what I have done in the past at a sportive level, judging from how many times my name was shouted from people along the course: this really warms my heart. I won the race I cared a lot about; I won the New York Marathon!"
Zanardi is still a man who wants to compete and wants to be the best, his sheer determination has helped him to overcome the loss of his legs, two years after his accident he returned to racing and competed in the FIA World Touring Car Championship for BMW from 2003 to 2009.
Zanardi was also involved in designing and building prosthetic legs, as he felt the commercially available prosthetic legs were not suitable for sport. In 2003 he returned to the Lausitzring, where he finished the last 13 laps of that almost fatal race in 2001, using a hand-operated brake and accelerator. And he wasn't just driving a few laps; in fact, he set times that would have given him fifth place during qualification. The man simply doesn't give up, and has earned the respect of many people, not just in motor sports, but now also in the world of Paralympic cycling.
Max Mosley wins French privacy case


Ex-FIA President Max Mosley has won another privacy case at a French court this week, after winning a similar case in Great Britain. Mosley, once a barrister himself, successfully won his case against the UK News of the World (NOTW) tabloid, who in 2008 had published a story about his alleged involvement in a Nazi-themed sex orgy.
Mosley won his case after a Paris Judge ruled his privacy had been violated, and NOTW owner News Corp has to pay Mosley 32,000 Euro in penalties and court costs. Yesterday he was awarded another 7,000 Euro by the French Court. According to the UK Independent newspaper, Mosley originally asked the court for 100,000 Euro from both News Corp and the tabloid's ex-chief reporter, Neville Thurlbeck. Mosley was able to sue NOTW in France as well as they had distributed about 3,000 copies of the Sunday tabloid in France.
Another man who never gives up, Max Mosley
Earlier this year News Corp owner Rupert Murdoch was forced to close down the NOTW after a it had emerged the tabloid was involved in illegal phone hacking after a private investigator had intercepted and deleted voice mails of Milly Dowler, a British teenager who was found murdered.
Mosley had already been rewarded £60,000 after winning a similar case against NOTW in the UK. After this success Mosley decided to also take his case to the European Court of Human Rights, demanding newspapers should warn people before exposing their private life, but the case was rejected on May 10 this year. Mosley was heavily criticized after the story about the orgy broke, but he nevertheless survived a vote of confidence during an Extraordinary General Meeting of the FIA on 3 June, 2008, and carried on and secured his last term as FIA President until Frenchman Jean Todt took over at the end of 2009.
Steve Nielsen to join Team Lotus


Yesterday Team Lotus led by Malaysian Tony Fernandes announced that Steve Nielsen will join the green and yellow livered team from December 12, 2011 as the new Sporting Director. He will replace Dieter Gass who will leave the team at the end of the year. Mike Gascoyne, Team Lotus Chief Technical Officer, thanked Gass for his work at Team Lotus, "We are obviously sorry to say goodbye at the end of the season to Dieter Gass who was instrumental in helping us put our first car on the grid in 2010 and for bringing the team to such a high level in record time."
Gascoyne also knows Nielsen, who has worked for Tyrell, Benetton Reanult and Arrows in the past. "I have worked with him extensively in the past at both Tyrrell and Renault where we played our parts in helping to build championship-winning teams, which is what we are aiming to do with Team Lotus." And he added, "I am sure he will integrate very quickly into our operation and will be made very welcome by everyone in Hingham and Malaysia."
Team owner and Team Principal Fernandes commented he had in the past already tried to get him onboard of his team, "I first met Steve in Singapore 2010 and offered him a job then which he turned down, so I am delighted he has finally taken up the chance to join us.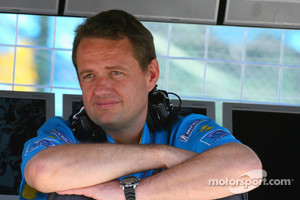 And Steve Nielsen also hasn't given up and joins Team Lotus at the end of the year
It is a good mark of our team that we can attract people of Steve's caliber and I am thrilled that someone who is so well respected, and is coming from a team that is ahead of us in so many ways, shares our belief in our ability to grow and, in due course, challenge the midfield."
Fernandes had more good news, as Graham Watson has renewed his contract with the Anglo/Malaysian team. "He has been one of the core pillars of our team, and has had a direct influence on our growth, both on and off track." Gascoybe agreed, "Team Manager Graham Watson has signed a new contract after having played a vital role in the factory and the race team since the early days of Team Lotus. This gives us a trackside team with experience, vision and strength in depth and I am sure both Steve and Graham will help us keep pushing forward as we make our challenge for long-term honours."
Fernandes also mentioned more news about the future of Team Lotus would be revealed the next few weeks and today indeed Fernandes confirmed his team will next year compete under the name Caterham F1 Team. The name dispute has now officially ended as Lotus Renault will simply be Lotus next season. It also has been confirmed they will still use the green and yellow livery next year, while Lotus will carry on with the black and gold livery.
Fernandes is adamant his team is on the right road to success, "Off track all the pieces are falling into place and we have now taken full control of our own destiny," said Fernandes. "I think we can guarantee that we have a very bright future."
Join us again next week for another episode of "Formula One: On and off track"