Get alerts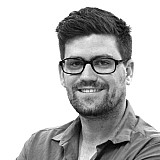 Sebastien Buemi will start this afternoon's Putrajaya ePrix from pole position after dominating both regular qualifying and the Super Pole shootout for Renault e.DAMS.
Buemi did it easy in the single-lap shootout that determined the grid for the Top 5, leading the way by nearly half a second with a 1m20.196s.
"There is still a long way to go," he said. "It's good to have a good qualifying. I'm quite happy with the lap."
Venturi's Stephane Sarrazin and Dragon's Loic Duval staged an epic battle for second on the grid, the pair setting identical times to the second sector on their Super Pole laps. But in the end, Sarrazin was able to find 0.247s in the final sector to secure a front-row spot, dropping Duval to third.
Antonio Felix da Costa put in a huge effort to qualify fourth for Aguri, while Nicolas Prost had an incredibly untidy Super Pole lap, switching between missing apexes and huge exit oversteer on his way to a disappointing 1m21.786s, which left him fifth and a whopping 1.590s off pole.
"The first part of the lap felt quite good, and then the car was undriveable," said Prost. "Maybe something broke, I don't know."
Group 1
Having been fastest in practice, Loic Duval was straight on the pace again when qualifying started. While it was Nicolas Prost who set the first serious lap-time with a 1m20.401s, Duval went immediately faster with a 1m20.251s.
In the end, both times were good enough for a Super Pole slot.
Nick Heidfeld had been within striking distance of Duval on the first two sectors of his quick lap, but poor third sector saw him finish up fourth in the group behind Bruno Senna, and ultimately 11th on the grid.
Group 2
The second group was a direct shootout between favourites Sebastien Buemi and Lucas di Grassi, but in the end only one driver wound up with a Super Pole spot.
That was Buemi, who despite not being impressed with his first two sectors managed to top the session comfortably with a 1m19.821s.
Meanwhile, having matched times with Buemi through the first two corners, di Grassi made a crucial mistake at the penultimate corner and grazed the wall. It cost him enough to see him miss out on the Super Pole, the Brazilian to start sixth.
"Mistakes is part of it," said di Grassi. "I had a very good first two sectors, I was going much faster than I think everybody else. And then in the last sector I touched the wall. It's not that bad, but not that ideal. For sure we can fix it for the race."
That mistake was also good news for Antonio Felix da Costa, the Aguri driver grabbing a Super Pole slot thanks to di Grassi missing out.
Group 3
Stephane Sarrazin was the star of the third group, booking a Super Pole spot with a 1m20.213s lap.
The biggest surprise, however, was the two DS Virgin cars. They ended up just 13th and 14th, Jean-Eric Vergne leading Sam Bird, after a tough session. For Bird, the problem was hitting the wall at Turn 3, while Vergne simply struggled with the bumps in the third sector, falling away from the lead times at the end of the lap.
Nelson Piquet Jr was left fuming after his lap, the reigning champion ending up third last, ahead of only NEXTEV team-mate Oliver Turvey and Simona de Silvestro at the end.
"There's not much to say," he said. "The team needs to get their stuff together. Silly mistakes are always going to cost us even more time. We need to start paying attention and start focussing a ittle bit more. We need to work harder and work better, because we're not on the right track."
Group 4
Jerome d'Ambrosio was the best of the final group, grabbing P7 on the grid with a 1m20.496s.
Daniel Abt failed to match his practice form and was just 10th fastest, while Jacques Villeneuve qualified 12th.