Citroen's DS brand joins Virgin Racing as partner
The long expected confirmation that Citroen's DS brand will partner the Virgin Racing Formula E team from season two was made at Battersea Park on Saturday.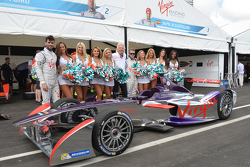 The new-look team will be known as DS Virgin Racing from the start of season two as part of a deal that sees DS supplying its expertise to the powertrain for the sophomore season of Formula E in 2015/16.
The aim of the partnership is to deliver infrastructure, racing experience, design and integration expertise in conjunction with Virgin Racing's design and engineering team.
Founder of Virgin Group, Sir Richard Branson, said: "I'm absolutely delighted that Virgin Racing has found a partner of the calibre of the DS brand.
"In Season 1, Formula E has delivered on its vision of creating exciting, fan-friendly racing spectacles where almost any team can win; now I look forward to building on this in Season 2 and with our new partner DS, aiming to compete to win multiple championships.
"I'm thrilled that Virgin Racing is playing a leading role in another of Formula E's visions, that of attracting the large automotive OEMs into the sport in order that the technology that is developed flows down into the cars that we can all drive.
"I have no doubt the partnership will prove a great success, not only on track but also in providing a catalyst to develop the electric vehicles of the future."
Yves Bonnefont, CEO of the DS brand, added: "The engagement of the DS brand in Formula E with our partner Virgin Racing is fully consistent with the brand's positioning.
"We fully share the values of Formula E: avant-garde technology and proximity to the public. The experiences that we will accumulate thanks to the races are key factors for us in the improvement of our technology directly serving our customers."  
Motorsport.com broke the news that aspects of the season two technology ran in a test car last month.
Virgin Racing is expected to confirm the re-signing of Sam Bird shortly, while a deal for his teammate is currently under discussion with at least two well-known French drivers.
Citroen's DS brand joins Virgin Racing as partner