Giuliano Alesi to step up to GP3 in 2016
Giuliano Alesi will step up to compete in the GP3 Series next year, his Grand Prix-winning father Jean has confirmed to Motorsport.com.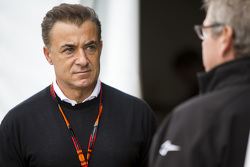 Giuliano raced in French Formula 4 last season and finished fourth in the championship in his rookie year in single-seaters, notching up three wins and a total of four podiums.
The 16-year-old was also present for the Indian-based MRF Challenge series' third round at the Dubai Autodrome, where former Ferrari and Benetton driver Jean revealed his son's 2016 plans to Motorsport.com.
"He will do GP3 next season, I can confirm to you," he said. When asked about the teams, he added that they are currently working on a deal, but yet to finalise the team.
Jean added: "For me it's a dream - I have done F1 for so many years and of course I never plan something for my kids.
"But Giuliano is my first boy and he grew up in an environment of motorsport and for sure I understand why he wants to be a driver.
"So, I am in a position now where I have time for him and we spend a lot time, and I am teaching him, giving advice on racing."
Giuliano was also present in post-season GP3 testing, spending two days with Jenzer Motorsport and a single day with Arden International, which has already confirmed Jake Dennis as part of its 2016 line-up.
Be first to get
breaking news
Giuliano Alesi to step up to GP3 in 2016